THERE are so many things to do and see at Hazendal in Stellenbosch, they require a six-page fold out guide, with three rows of activities on each page. Where to begin?
Maybe with the thing that first drew my attention on Facebook a few months ago – Wonderdal, the interactive, immersive and technologically advanced edu-play experience for children aged 5 to 13. This marvellous area is stunning to behold, and the good news is that adults can also do some of the activities. I know I'd totally go for the big climbing apparatus outside, and would have if I'd been wearing pants.
There's a small rock climbing wall too, and another (separate) outdoor area for children younger than five where they can do their thing with supervision by parents. In Wonderland, the staff keep a watchful eye on them, and guide them through the activities which are designed to have many different educational benefits. These range from science and nutrition, to the wonderful world of reading and storytelling, with nooks I covet for my own home.
Then there's the second "main" reason we visited: the Russian High Tea. Hazendal's history began when  when German settler Christoffel Hazenwinkel made his way to South Africa's Cape and was granted the land in 1699; today, a range of wines is named after him. The Hazen part refers to hares in Dutch. Fast forward to 1994, which is when current owner Dr Mark Voloshin bought the property. In case the name doesn't give you a clue, this is the Russian connection.
Hazendal closed for two years for extensive restoration and redevelopment, and reopened in December 2018 to reclaim its place on the Stellenbosch Wine Route, specifically the Bottelary sub-route. This illustrates the SWR is bigger than you think, with Hazendal's location being either the first or the last farm on the route, depending from which side you approach.
The tea is served in the tea garden when weather permits; it was a bit rainy the day we were there so we were hosted in the restaurant, with its impressive ceiling mural and an aquarium which fills the wall alongside the bar. Everything is lavish and opulent, from the chandeliers to the mirrors, from the Babushka Deli (described as an "urban farmhouse kitchen") to the wine tasting room, and even the bathrooms. No spoilers, go look for yourself.
We were put in the capable hands of Blessing (how lovely it must be to be named thus, to know how your parents were so overjoyed), who greeted us with dobro pazhalovat – which means "welcome". He explained the significance and history of the ceremony, how the samovar came to be used and how they work, and why it is decorated with a necklace of biscuit rings (baranki) which you break off and dip in your tea.
The tea – a black tea blend specially sourced for Hazendal – was poured into delicate porcelain cups by the ever-vigilant Blessing, using a tea strainer. As tradition dictates, we were to sweeten it to taste with strawberry jam. If the tea steeping on top of the samovar grew too strong, we could dilute it with hot water from the tap at the bottom.
Then came the plates of edibles, which Blessing said we should eat in a clockwise direction, beginning with the savoury and ending with the sweet. In the middle of the platter was potato salad, which was to be followed by blinchik (crêpe rolled with mushroom cream cheese and herbs); blini with salmon trout, sour cream, pickled onion and lemon pearls; and piroshok, a half-moon pastry filled with braised beef and black lentils.
Moving on to the sweet, there was a kompot, a jar filled with Russian cream and topped with berries and mini meringues; medovik (my favourite, a honey layered cake with burnt honey cream and walnuts); pryanik, an iced gingerbread cookie; and sharlotka, which is an apple cake clad in white chocolate, with whipped cream, vanilla cream cheese, and a touch of gold leaf.
Vegetarian, gluten-free and children's options are available, and if you're feeling truly decadent (and wealthy) you can do the full Kremlin experience with 15g of caviar on a blini and Hazendal's Scarlet Sails MCC.
When we could eat no more, we adjourned to the tasting room (above) to have a few sips of Hazendal's wines. The entry level Christoffel Hazenwinkel range of a white blend, red blend, and Blanc De Noir; and the flagship range which comprises a Semillon/Sauvignon Blanc, Chenin Blanc, and Chardonnay. Note the beautiful and unusual bottle (see below).
We'd popped into the gorgeous deli earlier, where you can buy delicious goodies for the home pantry, as well as tempting pastries and wine. A small restaurant serves light meals. After the wine tasting, we browsed the Marvol art gallery, where visitors can learn more about the Voloshin family's involvement through an installation. After that, there is a small collection of fascinating painting by Russian and South African artists (for sale) and a few selected items from the Voloshin private collection. You might even be lucky enough to see the precious jewelled Fabergé eggs…
Other attractions at Hazendal include wedding and conference facilities (the island pavilion is breathtakingly lovely), beer garden, MTB trail, wine library, cellar tours, landscape art, and a harvest garden which we found on our way out. You might not notice it at the time (we didn't) but it is actually a labyrinth.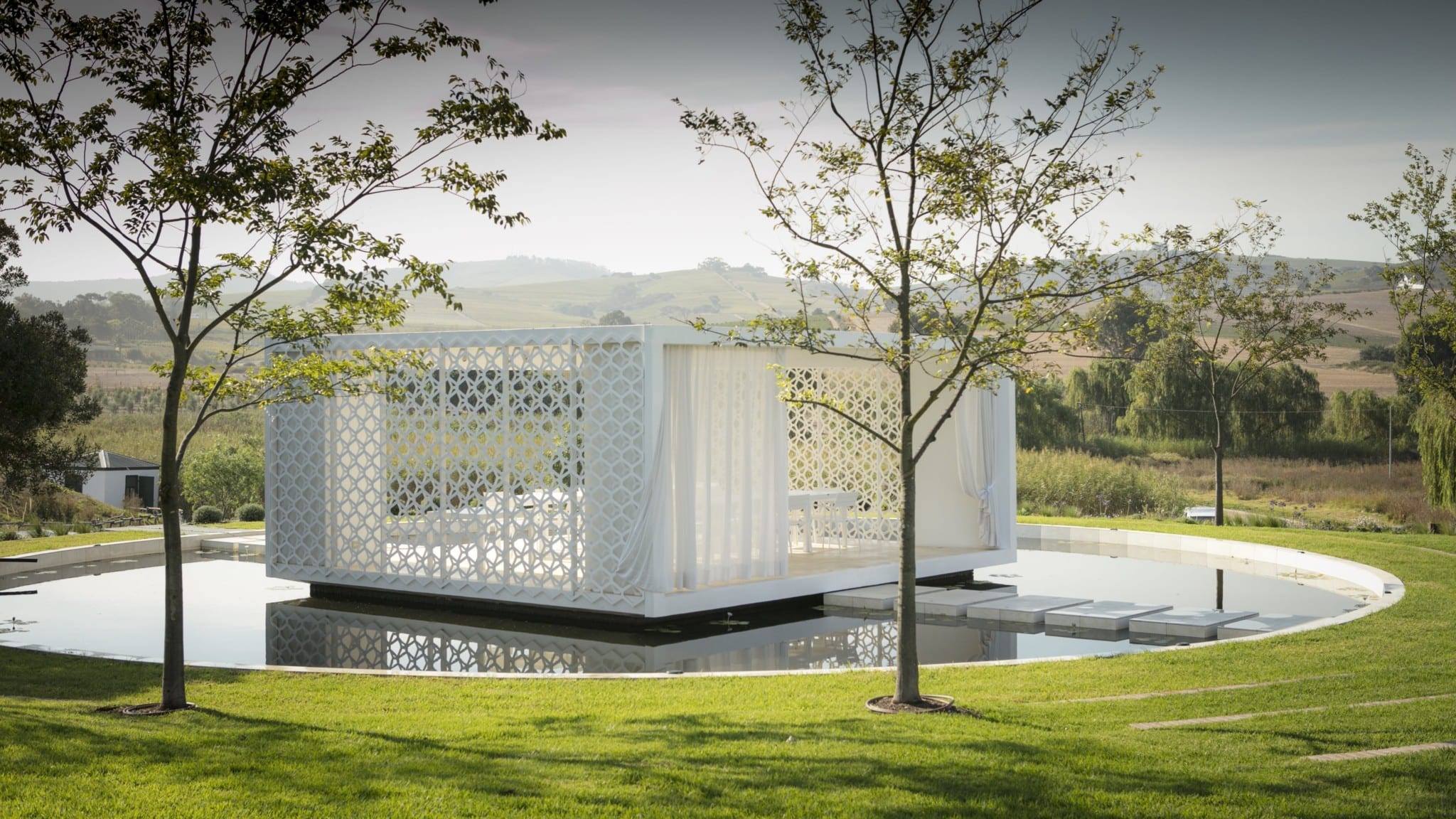 Still to come in 2020 are an 18-hole golf course; a home for Dr Voloshin's classic cars; the completion of the current renovation of the homestead to serve as a guest house, and its adjoining conservatory; and a boutique hotel. When it opens its doors you'll be able to stay longer to enjoy everything Hazendal has to offer.
For more information, click here.