RESTAURANTS are having a tough time of it during lockdown, from only being able to do deliveries, to opening for sit-down but without alcohol, curfews, and a cautious public who are not rushing in their droves to dine out.
Places that have outdoor seating are enjoying an advantage it seems, and to pop my Covid eating out cherry, as it were, we went to Vadas Smokehouse & Bakery at Spier. My partner had been out to a restaurant already, but it was my first time. Even if we weren't spending the weekend in Stellenbosch (also a first-time experience during lockdown) I'd be happy to have a meal at Vadas. That it was one of the two Cape Town winter weather options (beautifully warm without being uncomfortable, as opposed to lashing rain coming at you sideways) was a bonus.
There has been some evolution in terms of what's available. For example, there is a Vadas At Home section on the menu – breads, pizza bases, and a selection of sweet and savoury pies (available from the Spier Café as well, and online). There's a large outdoor area with seating under umbrellas and big ole oak trees, and a huge lawn for children to roam and frolic. In the distance, the Spier Café.
Owner PJ Vadas told me the lockdown has been good to the restaurant in that it's bringing a lot more locals in, which is very important now there's no tourism trade to speak of, and who knows when that might resume. Bans on international travel cannot stay in place indefinitely, however, because "economies have to open up, people have to work, trade has to resume", according to the World Health Organisation, in a Daily Maverick story today.
Obviously, one of the biggest stumbling blocks is the alcohol ban. At Vadas, besides the usual hot and cold beverage like soft drinks and teas and coffees, there are some virgin cocktails. A mojito without the rum is lemon cordial, fresh mint, fresh limes and soda water, for example. There are two non-alcoholic beers, and a cider.
On the food side of things, the smokehouse meats can be ordered in portions of 100g (buttermilk fried chicken by the quarter), along with creative side dishes and snacks so you can create your own platter. My partner was running late and I was hungry so I started without him by ordering a Porky pizza: pulled pork, avo and feta on a sourdough base. I do believe that the longer you have been craving something, the better it is once you get it. The pizza was proof of this theory – utterly delicious, rich and with spikes of saltiness and green peppery olive oil. Thank heavens I still have my sense of taste.
My partner ordered a selection which included pork belly (normally with a Korean BBQ vibe but left off on account of gluten intolerance) with kimchi, and smoked beef brisket (also without its BBQ sauce). Added to this was a bowl of greens with fynbos vinegar and oil, a head of fire-roasted broccoli with smoked Stanford cheese and macadamia nuts for crunch, and a trio of smoked and grilled jalapeño poppers stuffed with bacon and feta. The cucumber pickle is standard with all the meats, and there was salsa verde too – both are excellent zingy foils for the rich meats.
Menus are presented on clipboards, and you tick the dishes you want. It very quickly occurred to me that having been ensconced at home where you have full control over sanitising surfaces and anything that comes in from the outside world, you have to put a high level of trust into restaurants. We ended up eating out a further three times that weekend and each place had different protocols. Now there's a word I never imagined in my wildest nightmares I would use in a food reviews. I would suggest being observant and diligent with the sanitiser (if you're not already carrying it in your handbag, you should be). Everyone is urging everyone to "stay safe", which I'm pretty sure we all want to do but we also have to take some responsibility for that.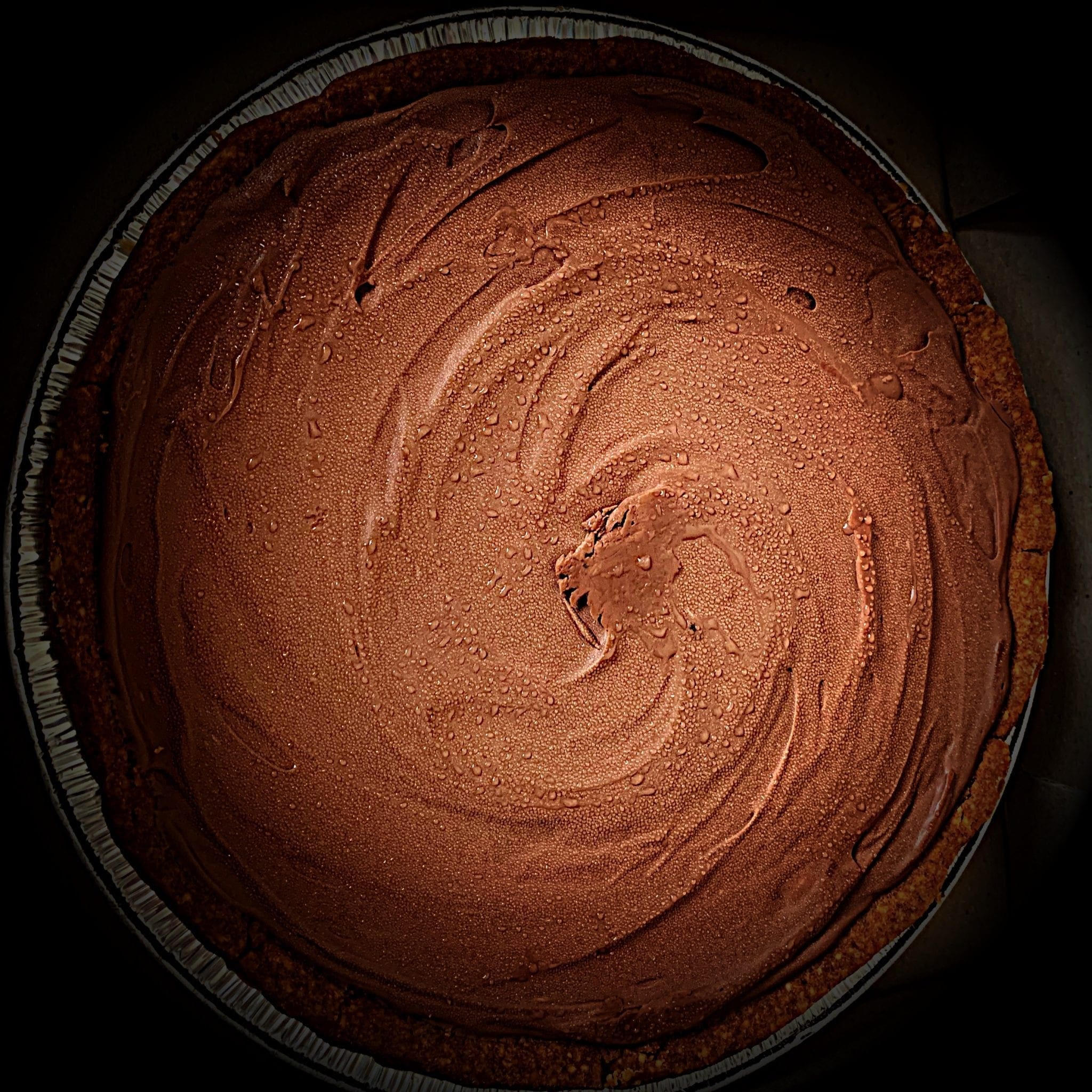 Anyway. Being a hot day, and having cycled from Cape Town with punctures and wrong turns, my partner had a large tub of lemon sorbet for dessert (below), and I fed scraps of my pizza crust to the birds. It was a comfortable way to ease into this eating out business. I popped in again on my way home to pick up a frozen chocolate brownie pie (gluten- and sugar-free, pictured above) which is ridiculously decadent, especially with a dollop of whipped cream, and a box of pastéis de nata, those delectable little Portuguese custard tarts which are soft and creamy inside a crisp pastry shell. How many I ate in one sitting with my cup of tea is nobody's damn business.
For more information and the full menu, click here.
PHOTO CREDIT: BIANCA COLEMAN ©