NOORDHOEK resident Leanne Watkins has one mission in life right now and that is to provide her customers with the most delicious, home-made cakes and cupcakes that are custom made to suit bespoke celebrations, events and special occasions.
This 29-year-old pastry chef studied and honed her craft at Capsicum Culinary Studio's Cape Town campus before graduating in 2016 and, shortly thereafter, running her own pastry business – called Crumbs & Frosting – fulltime.
Says Watkins: "I actually started Crumbs & Frosting during the Capsicum school holidays. It was meant to keep me busy and bring in some extra money but ended up taking off and I just never ended up closing it. Working on cakes while studying was tough, I was exhausted, but it was well worth it in the end and I am pleased to say that the business is doing well."
Watkins has been interested in food from an early age and was influenced by her grandmother and her mother. "I would spend time with my grandparents over the school holidays and my Oumie taught me how to make her famous melting moments and the family's delicious rusk recipe."
Shortly after leaving school she found herself managing a restaurant but ended up in the kitchen a little too often and eventually realised it was time for her to learn how to run her own business. So Watkins enrolled for a patisserie course at Capsicum. Her choice was driven by the fact the school has branches across the country, something which she found really useful for those needing to transfer as "it was something I was considering at one point."
Now Watkins is flying high with her much in demand birthday cakes, wedding cakes, speciality cakes, cupcakes, biscuits, chocolate brownies, fudge and donuts. She also caters for vegan and gluten-free customers and the many accolades on her Facebook page are testament to her prowess in the kitchen. Watkins says she has made good use of her extra time in lockdown learning to make Kouign Aman (pronounced queen-a-mahn), which is said to be one of the world's greatest pastries (pictured at the top of the page).
The New York Times called it "the fattiest pastry in all of Europe," and it is described as a round multi-layered cake originally made with bread dough and containing layers of butter and sugar folded in, similar in fashion to puff pastry albeit with fewer layers. The cake is slowly baked until the butter puffs up the dough – resulting in its layered structure – and the sugar caramelises. The effect is similar to a muffin-shaped, caramelised croissant. The name comes from the Breton language words for cake (kouign) and butter (amann).
"It was a big tick off my baking bucket list," she says, "as it is a real labour of love and takes a lot of practice to get it just right."
Watkins bakes sourdough bread regularly and really enjoys that, and while macarons are always a little scary in the beginning, now that she's conquered the process, she enjoys making them too.
"Blown sugar sculpting is something I still want to master for sure," she laughs, "but that's going to be another labour of love!"
WHITE CHOCOLATE & MARMALADE BRIOCHE BUNS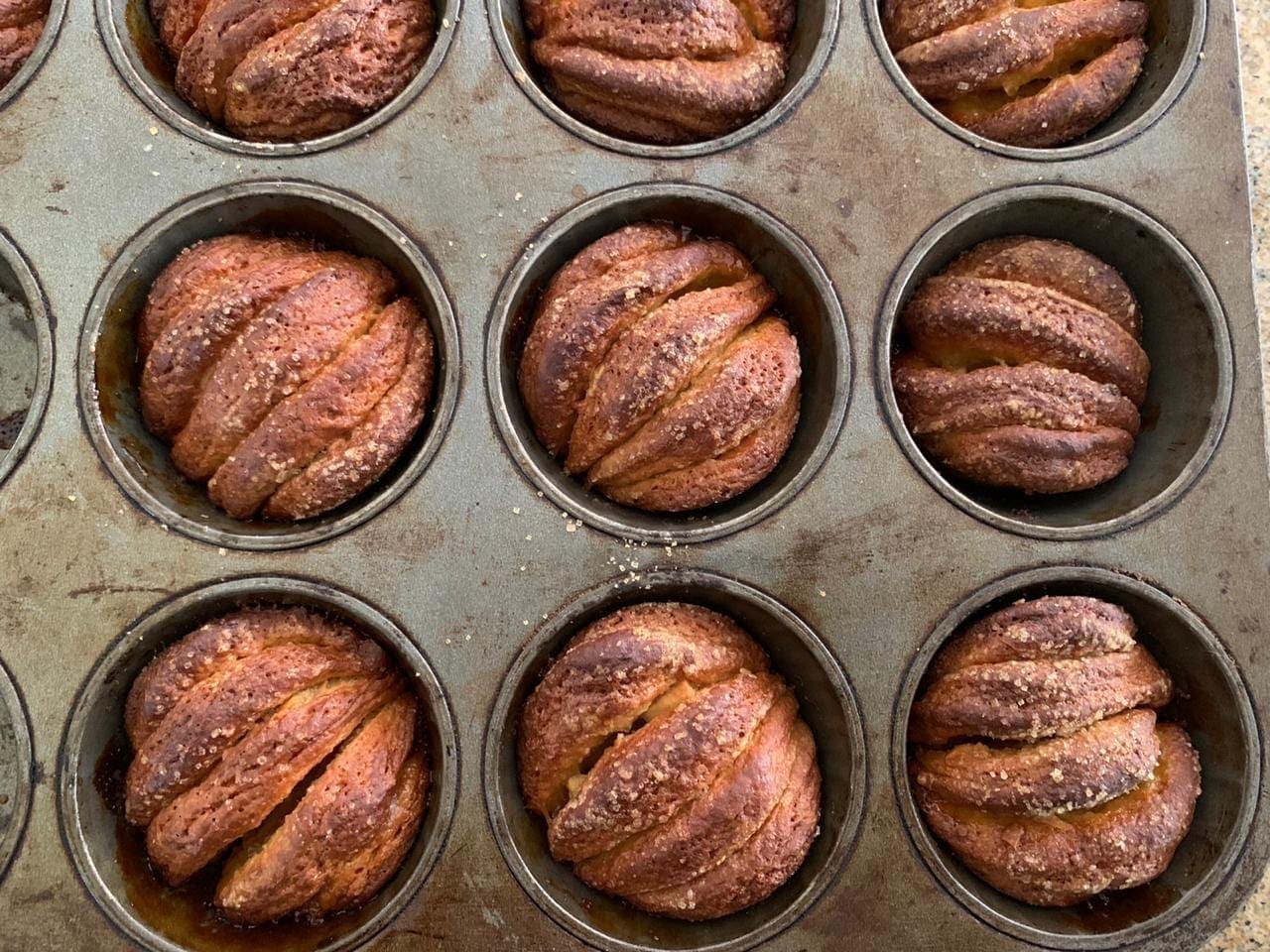 Ingredients
1 tsp dried yeast
2 Tbsp lukewarm water
1 orange, zested
2 Tbsp (25g) castor sugar
¼ tsp sea salt
1 tbsp lukewarm milk
1 cup (120g) bread flour
1 large egg, lightly beaten
75g butter, cubed and softened
100g brown sugar, for sprinkling
Marmalade, for spreading
200g good-quality white chocolate, chopped plus extra melted, for drizzling
milk, for brushing
Method
Combine the yeast and water in a bowl and set aside in a warm area for six minutes.
In a separate bowl, combine the orange zest and sugar by rubbing the two together with your fingers then add the salt and milk.
Place the flour, yeast mixture and egg in a stand mixer bowl and mix on low speed for one minute using a dough hook.
Increase speed to high, add the milk mixture and mix for 10 minutes or until the dough comes away from the sides of the bowl.
Keep the mixer running and gradually add the butter, one block at a time until fully incorporated, mix for about seven minutes or until smooth and elastic.
Cover the dough with plastic wrap and set aside in a warm place for 2–3 hours or until the dough has doubled in size.
Spray a 12-hole muffin pan with cooking spray and preheat oven to 180°C.
Roll out the brioche dough until 1cm thick and use a medium cookie cutter to cut out rounds 5cm wide.
Toss each round of brioche dough in the brown sugar, coating each side and spoon half a teaspoon of marmalade on each round then sprinkle with a few shards of white chocolate. Layer five rounds on top of each other and cut the stack in half down the middle.
Place each half in its own muffin pan, cut side down.
Cover with a clean, damp cloth and set aside for one hour or until doubled in size.
Once doubled in size, brush with the milk and sprinkle with the brown sugar.
Bake in the preheated oven for 25-30 minutes or until golden and cooked through.
Remove from pan while hot or they will stick.
If you want to hone your cooking skills but don't have time to study fulltime, then think about Capsicum Culinary Studios' internationally recognised and accredited courses including Chef 101 which you can do from home. This top international digital learning platform guides users through culinary technique building blocks, giving them the ability to launch themselves into further studies, a career as a chef or to become an amazing home cook. Chef 101 includes 20 cooking courses. To find out more information or to register click here.