FROM Creation Wines on the scenic Hemel-en-Aarde Ridge near Hermanus comes the delectable news that the team has just relaunched its famous Paradoxical Wine and Chocolate Pairing.
Why "paradoxical"? Carolyn Martin, Creation co-owner and marketing director explains: "Many people think chocolate simply shouldn't be paired with wine. At Creation we thought: 'challenge accepted'! The premise is that instead of pairing the chocolate itself with wine, the chocolate serves as a vessel infused with vivid flavour profiles to elevate the flavours within the wine."
When it comes to wine pairing the Creation motto is "what grows together, goes together" and thus its choice to collaborate with master chocolatier Richard von Geusau from the neighbouring town of Greyton was a natural one. "Distinguishing features of his chocolates are the high cocoa content and the absence of artificial flavours and vegetable fats," says Martin. Only the finest raw materials are sourced from the African Continent and like Creation's wines, all the chocolates are vegan-friendly.
The new Wine and Chocolate Pairing comprises five award-winning Creation wines paired with five hand-crafted Von Geusau chocolates to bring you matches made in heaven.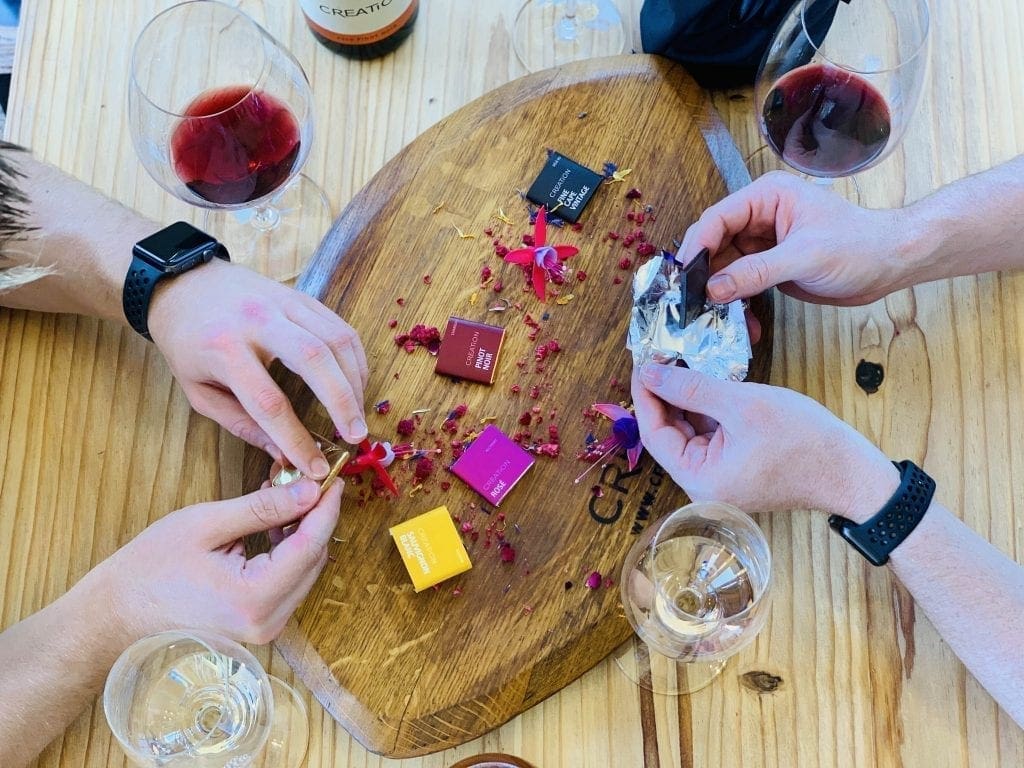 Creation Sauvignon Blanc – Passion Pairing 
To beautifully enhance the flavour profile of the wine, the Passion chocolate bar rewards with gorgeous aromas and flavours of granadilla pulp and cocoa butter. Scrumptious symmetry!
Creation Rosé – Alchemy Pairing
An exciting aspect is the visual impact: the cocoa beans used for the chocolate are naturally pink in colour to match the delicate hue of the wine. Lingering cardamom and subtle berry notes blend seamlessly with the exquisitely perfumed Rosé.
Creation Pinot Noir – Charisma Pairing 
Bright raspberry, cocoa butter and a hint of rose tea make a stunning accompaniment to the famous Creation Pinot Noir. The texture of the chocolate, due to the finely ground rose tea, serves to accentuate the silkiness of the wine.
Creation Syrah, Grenache – Resonance Pairing 
The 60% dark chocolate bar with piquant liquorice root resonates with the intense flavours of ripe plum, black pepper, tapenade and umami in the wine. What's more, the liquorice root is super healthy and calming to the central nervous system and vocal cords.
Creation Fine Cape Vintage – Déjà Vu Pairing
The ultimate festive indulgence, the aromatics of dark chocolate with the exotic tonka bean (best described as vanilla meets almond meets frankincense) harmonise splendidly with the deep, spicy bouquet of this glorious port-style wine.
Coinciding with the launch of the new Summertime Story of Creation Pairing Menu, the relaunch of the Creation Paradoxical Wine and Chocolate Pairing offers holidaymakers yet another festive reason to visit this beautiful estate. To make a reservation, click here or phone 028 212 1107. Wine and Chocolate Pairing kits are also available online to be enjoyed in the comfort of your own home.