YOU can't go wrong with a good old-fashioned burger and shake and if it's a huge choice you're after, Gibson's Gourmet Burgers & Ribs at V&A Waterfront is where you should be heading.
The newly refined menu has a whopping 44 burgers and more than 120 creatively decadent shakes so if you have a problem with making up your mind, best you get there early.
The enticing photographs in the menu do make it slightly easier. Slightly. Bella Boo, our 10-year-old test subject, wasted no time in ordering a shake literally bigger than her head (we encouraged her with the "life is short, dessert first" thing). The humungous 850ml Freek™ Shakes are jam-packed with indulgent treats. Let me talk you through this.
Inside the Chocolate Nemesis Freek is chocolate ganache, chocolate brownie pieces, dark chocolate discs, Oreos, and oh yes, chocolate shake. Around the rim is more chocolate ganache with salted pretzels stuck to it. On top of all this is more of everything that's inside, as well as a fan of chocolate-wafers and a huge swirl of whipped cream just for good measure.
It's so big you'd expect a prize for finishing it; it got the best of three of us sharing but rumour has it there are actually people who can eat/drink the whole thing even after a burger. Besides the Freeks, there are nine yoghurt shakes in fresh fruity flavours; and all can be served for lovers (with two straws), and/or spiked with alcohol (for over-18s obviously). Just for fun, and so your mind can boggle as much as mine, I've included the list of milkshake flavours at the end of this story.
Gibson's won the Savanna Best Burger Eatery award at the 2016 Eat Out Mercedes-Benz Best Everyday Eateries competition, and is hoping to do so again this year. To this end, the owners visited some of the burger capitals of the world – Chicago, New York and Las Vegas – and then tapped into the expertise of Belthazar's master butcher (the restaurants are both part of the Slick group), their 27 years' of experience in making sauces, and feedback from hundreds of burger tastings with colleagues, friends and customers. The result was the creation of "The Ultimate Burger".
Found under the Roll's Royce (yes, they spell it like that on purpose) section of the menu, The Ultimate is a beef and chicken burger, topped with bacon and double cheese.
There are gourmet burgers, Roll's Royce burgers, and designer burgers. There are beef burgers, chicken burgers, pork burgers (yes, one made with just bacon, and cheese), and vegetarian burgers. New additions include a Roll's Royce sweet and sour burger topped with salami, Gruyère, Gorgonzola and caramelised onions; a Roll's Royce blazing hot burger with a Mexican salsa and your choice of chilli sauces on the side; chicken burger with mango atchar, pineapple and fresh red onion; and an onion vegetarian burger made with the restaurant's signature onion blossom topped with creamy No 6 sauce and all the trimmings (no patty obviously).
Those trimmings are shredded lettuce, tomato, caramelised onions, and pickled cucumber, and the burgers come with a choice of simply amazing thick-cut fries (potato, sweet potato or half-and-half). The default setting is a sesame seed bun but for five more Rands, you can upgrade to a brioche bun.
If you already feel a food coma coming on, relax – there are salads (and a salad "burger") as well as a Banting burger with bacon, cheese and avo, served with coleslaw, tomato and onion salsa and cauli mash. Not a bun nor a fry in sight.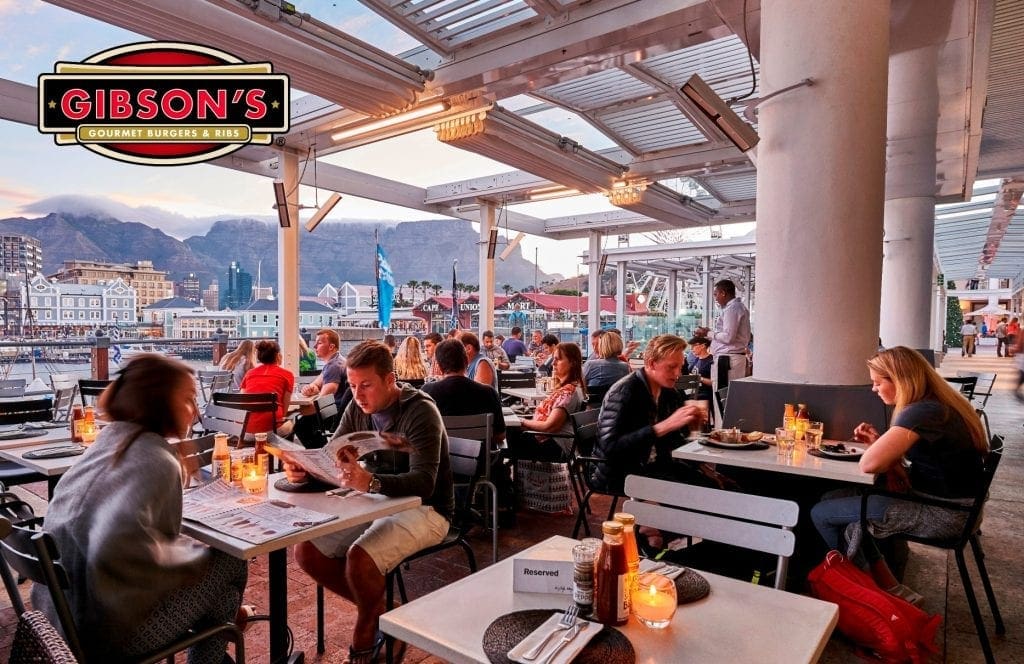 Previously inside the mall, Gibson's now occupies prime real estate overlooking Quay 5. Seventy guests can be seated inside, and 120 outside where they can enjoy the view of Table Mountain and the Cape Wheel.
Gibson's is open daily from 11am till 10pm, Shop 157, Victoria Wharf, V&A Waterfront, Cape Town. For more information, call 087 357 3465, email [email protected], or click here.
GIBSON'S GOURMET SHAKES
Cinnamon Doughnut, Cheesecake, Chocolate Brownie, Peppermint Crisp, Brown Cow, Banana, Rocky Road, Caramel Fudge, Peanut Butter, Kids Surprise, Salted Caramel, Summer Burst, Blueberry, Real Vanilla, Coffee Shake, Vanilla Chocolate Honey, Banana & Custard, Real Chocolate, Bar One, Real Strawberry, Bubble Gum, Black Cherry, Mocha, Lunch Bar, Frozen Berries, Chocolate & Salty Pretzel, Lindt, Rum & Raisin, Coconut Ice, Butterscotch, Cookies & Cream, Trifle, Oreo & Mint, Mango, Lemon Curd, English Toffee, Apple Pie & Cream, Banoffee, Cappuccino, Creme Soda, Sparberry, Peanut Butter & Crunchie, Honeycomb, Kit Kat, Sweet & Salted Popcorn, Rose Water & Marshmallow, Nutella, Toasted Almond, Fanta Orange, Apple Pie & Custard, Chocolate Salted Caramel, Orange Blossom & Pansies, Smarties, Halawa,  Tahini Chocolate & Banana, Toffee Apple & Fudge, Nutella & Mascarpone, Ice Lolly, Tutti-Frutti, Oreo Cheesecake, Jelly & Custard, Peanut Butter Brownie, Malva & Custard, Gingerbread Man, Turtle Sundae, Caramel Cashew, Chocolate Cheesecake, Mandarin Dream, Chocolate Peanut Brittle, Butter Pecan, Butter Almond, Chocolate & Orange Rind, Banana Cream Pie, Lemon Meringue, Chocolate & Maldon Salt, Coffee & Doughnut, Crème Brûlée, Honey & Nut, Milky Bar White Chocolate, Fanta Grape, Choc Chip Cookie Dough, Chocolate Peppermint Crisp, Oreo & Strawberry, Peach Melba, Honey Rooibos, Vanilla Mint, Top Deck, Romany Cream, Tiramisu, Chocolate & Coconut, Amarula, Flake Chocolate, Milo Banana, Stracciatella, Strawberry & Banana, Vanilla Cream, Vanilla Choc Chip, Freezechino and Freezechino Chai.