THERE is so much to do, see, eat, drink and enjoy at Boschendal that even a full 48-hour weekend isn't long enough to fit it all in. But as my mother taught. me, always leave some things not done so you have a reason to return.
With this in mind, I've decided to break down my experiences into a few stories, beginning with my arrival and check in at one of the Werf Cottages. There are seven of them, and of the accommodations available on the farm, they're closest to all the main action along the werf itself, where you'll find the deli, the farm shop, and Die Werf Restaurant.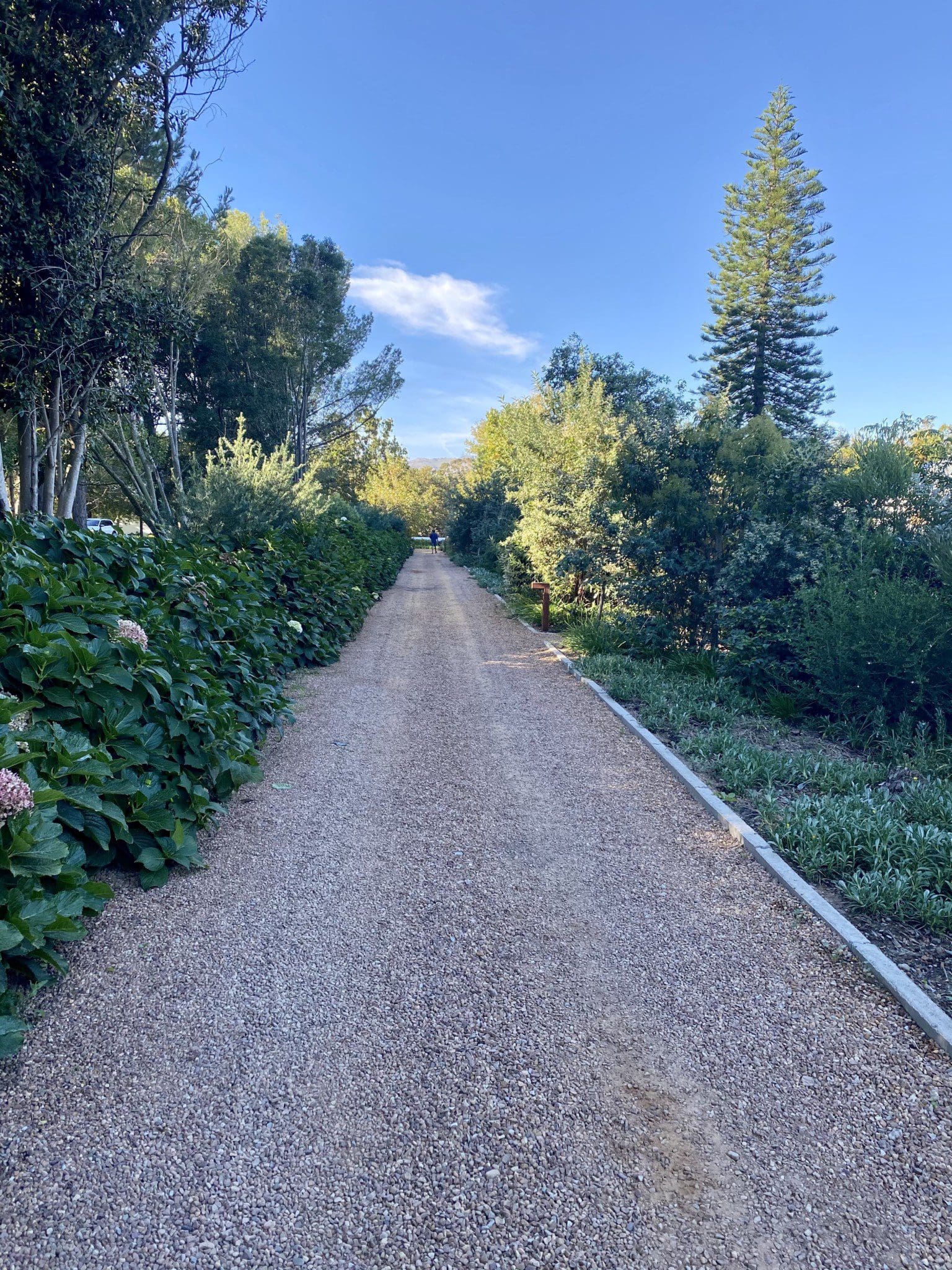 In English, werf translates to yard, which isn't nearly as charming. At Boschendal, it's a wide avenue lined with oak trees, leading to the original Manor House. You can read more about the history of this beautiful estate here.
Covid protocols are strictly in place; your temperature is taken as you drive in, and a red dot sticker placed on your lapel. This goes for staff as well as guests. Check in is a pleasant experience, with all the information you need and a map on the wall for orientation. It's not a far walk to the cottages but naturally one must avail oneself of the golf cart.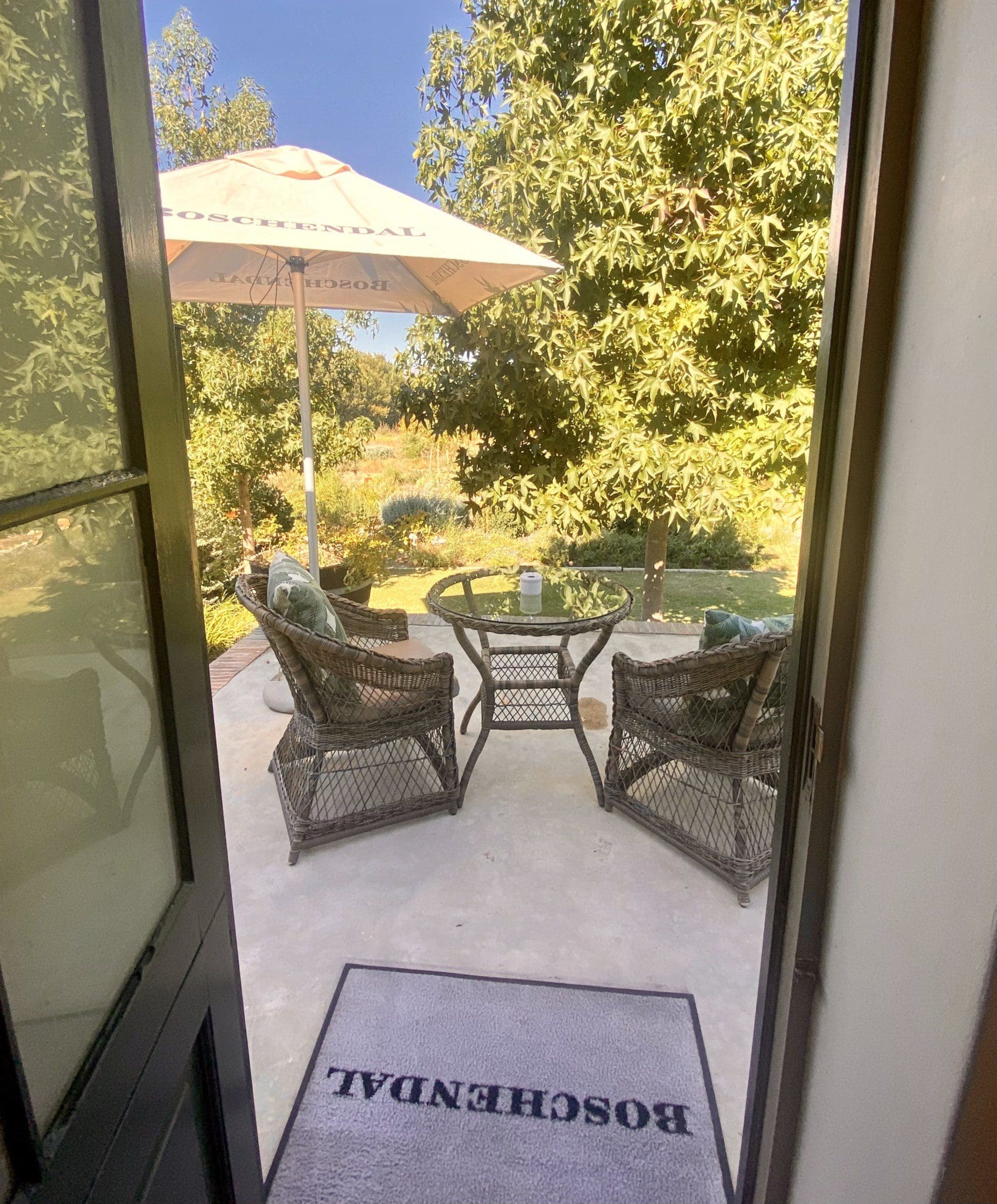 My cottage, number four, was exquisite so naturally I assume they all are, which is reasonable. If you can think of anything that is not already provided, I'd like to hear about it. On the dining table in the open-plan kitchen/living area was a welcome hamper from the farm shop, containing wine, bread, a bunch of rosemary, cheese, strawberry jam and chocolate biscotti, should I by chance get peckish.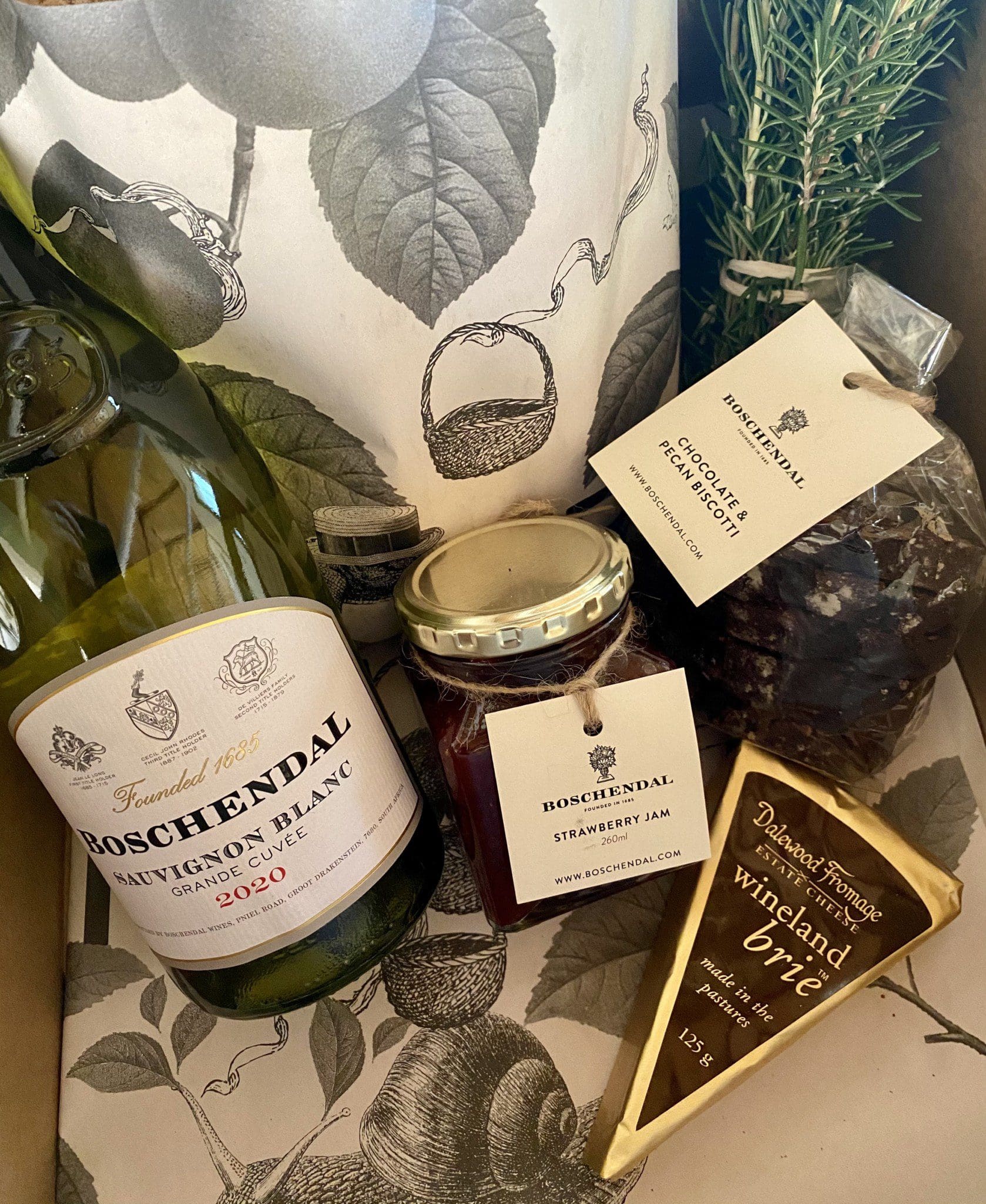 Two comfortable armchairs face the fireplace, where I burned all the wood later (it was a lot). Look, if it's there, I will burn it. Obviously I am able to start my own fires, but when there is someone willing to do it for me, why not? "Our porters love lighting the fires," I was told at reception. And who am I to argue with that? On that note, throughout my visit, the staff at Boschendal were absolutely fantastic; every interaction with them was genuine and sincere, and filled with the impression they not only relish their work there, but firmly believe in everything the farm stands for and are happy to share it with guests. It's quite infectious.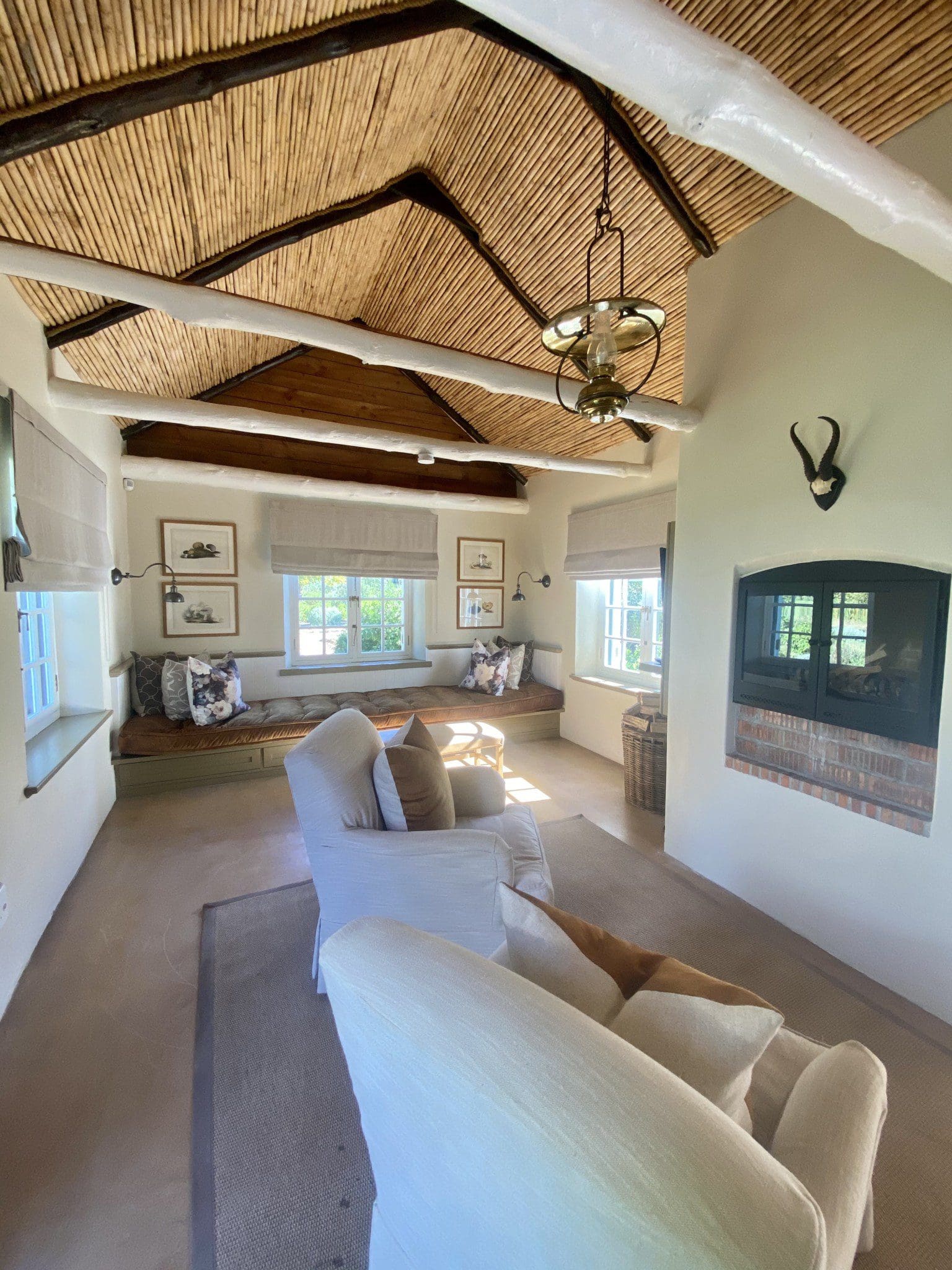 Along the entire one side of the lounge area is a banquette with cushions at either end. It was perfect for reclining with a book, and the window sill is at the perfect height for a wine glass to be within easy reach. Out back is a raised stoep with chairs, table and umbrella, and a view of the fragrant fynbos garden with meandering pathways to explore, the Drakenstein mountains peeping through the trees, and some of the other cottages (none of them was intrusive and our privacy was never violated).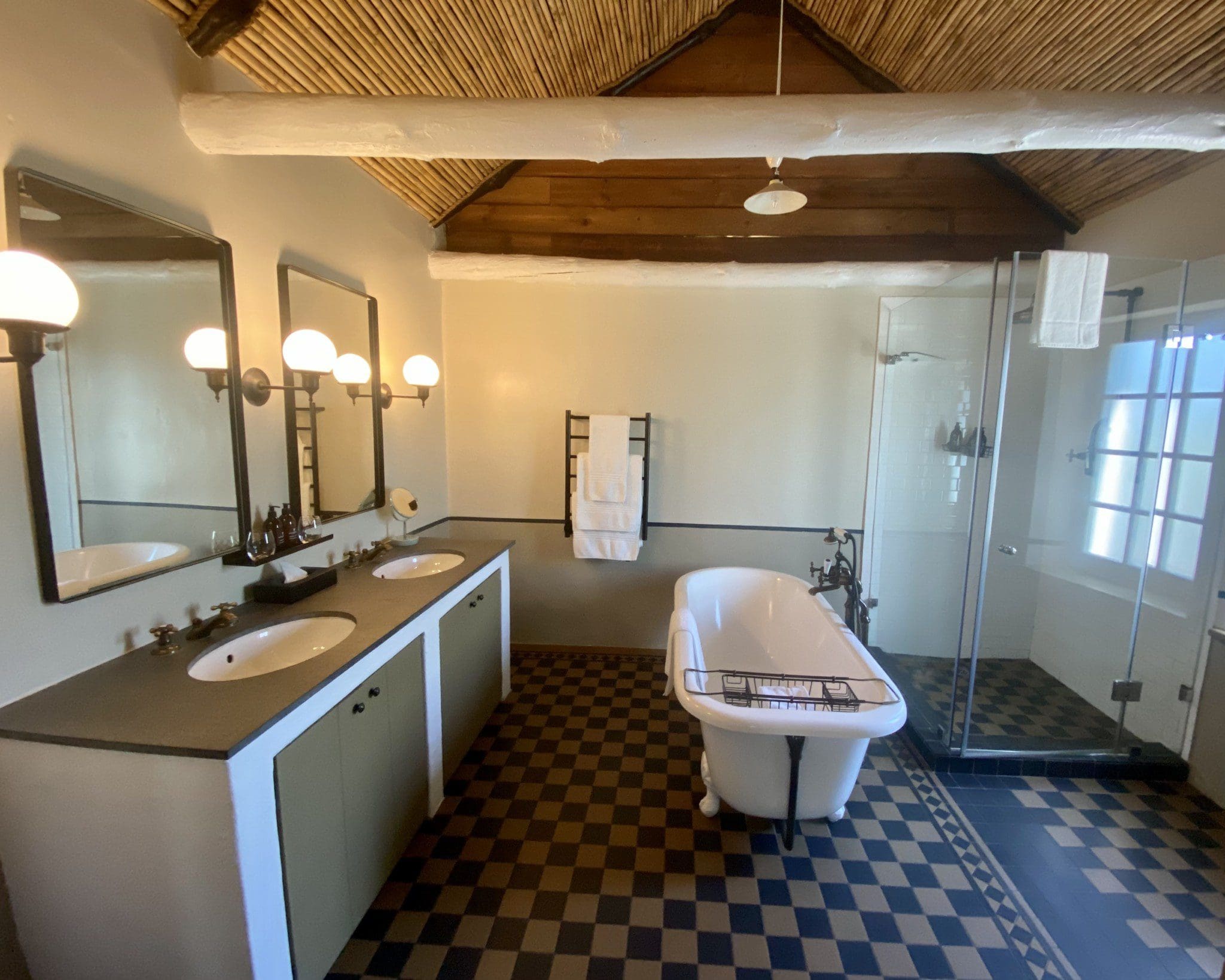 The bathroom is like a fairy tale with its claw-foot tub fairly crying out for deep bubble baths, and the bed is fit for a princess who can't sleep on account of the pea. I loved the billowing white curtains, so romantic. Essentials like luxurious robes, and puffy slippers (my friends know I call them "feet pillows") were in the cupboard. It turned out to be a tough weekend for the poor feet pillows; some went home with my friends, others got ruined with balsamic vinegar and red wine, and that's a story for another day. A bashful request at reception for more was graciously acknowledged and I ended up with an abundance of them, no questions asked.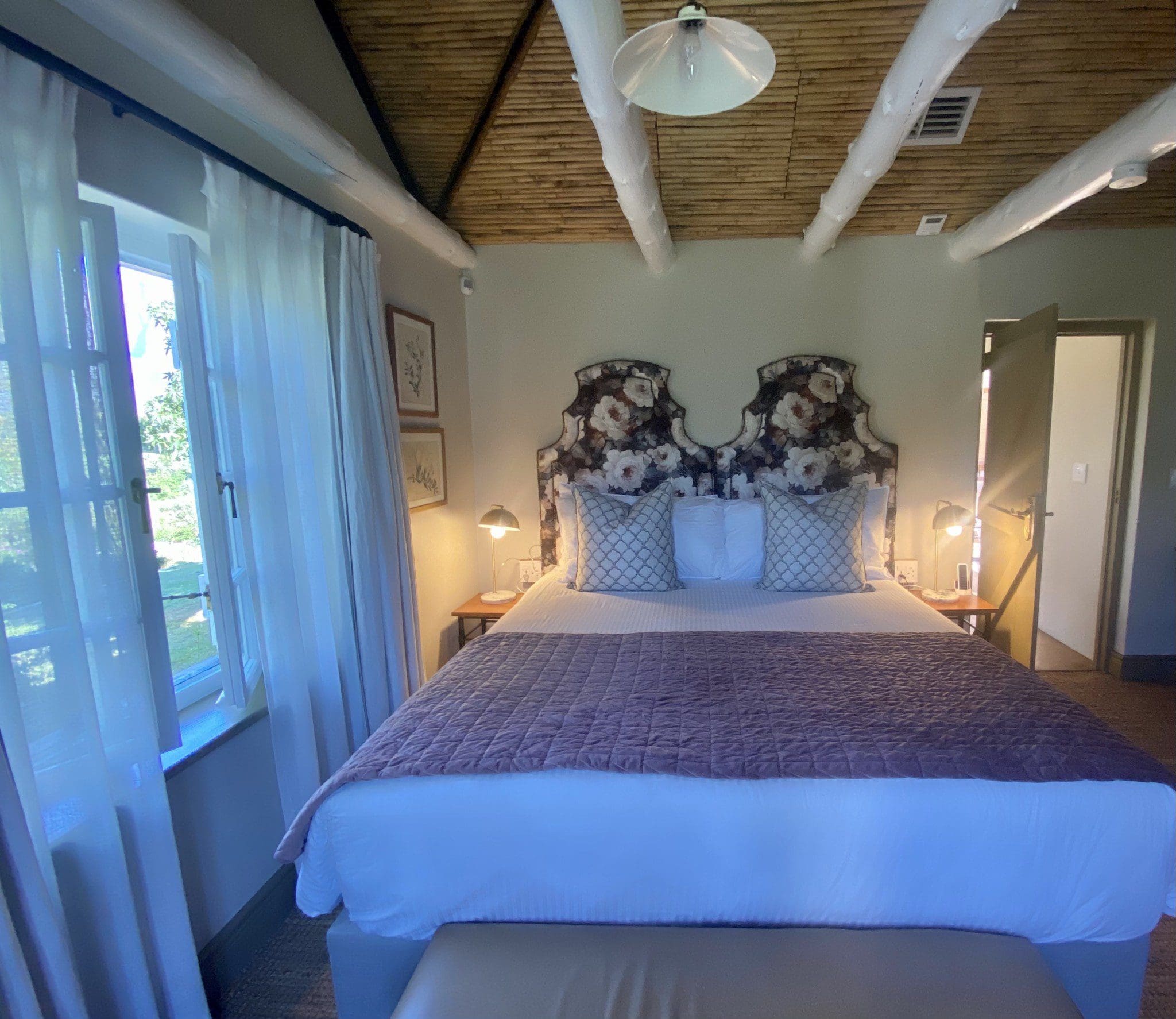 The cottages are self-catering, with a compact little kitchenette, and a sideboard bearing crockery and glassware and Le Creuset cookware, teas and coffees, and little packets of miniature chai spice cookies (full size ones available in the Farm Shop and absolutely in my shopping basket) and crisps (normal and sweet potato). There's milk in the fridge, wine, a selection of ciders and bottled water.
You could, of course, see to yourself for meals while staying here, but this is not a flat on the Durban beachfront and there are so many other tempting eating options, like breakfast at the Deli or Die Werf (same menu, different view). Or you could go to the Farm Shop for supplies – and oh my word, this is luscious! I bought a box full of stuff while I was there, and I've now signed up at the online shop because I simply cannot do without lavender shortbread, and the best biltong (fatty and moist, still no problem with that word) from the Black Angus cattle reared right there on the doorstep. I may as well just give them my credit card right now.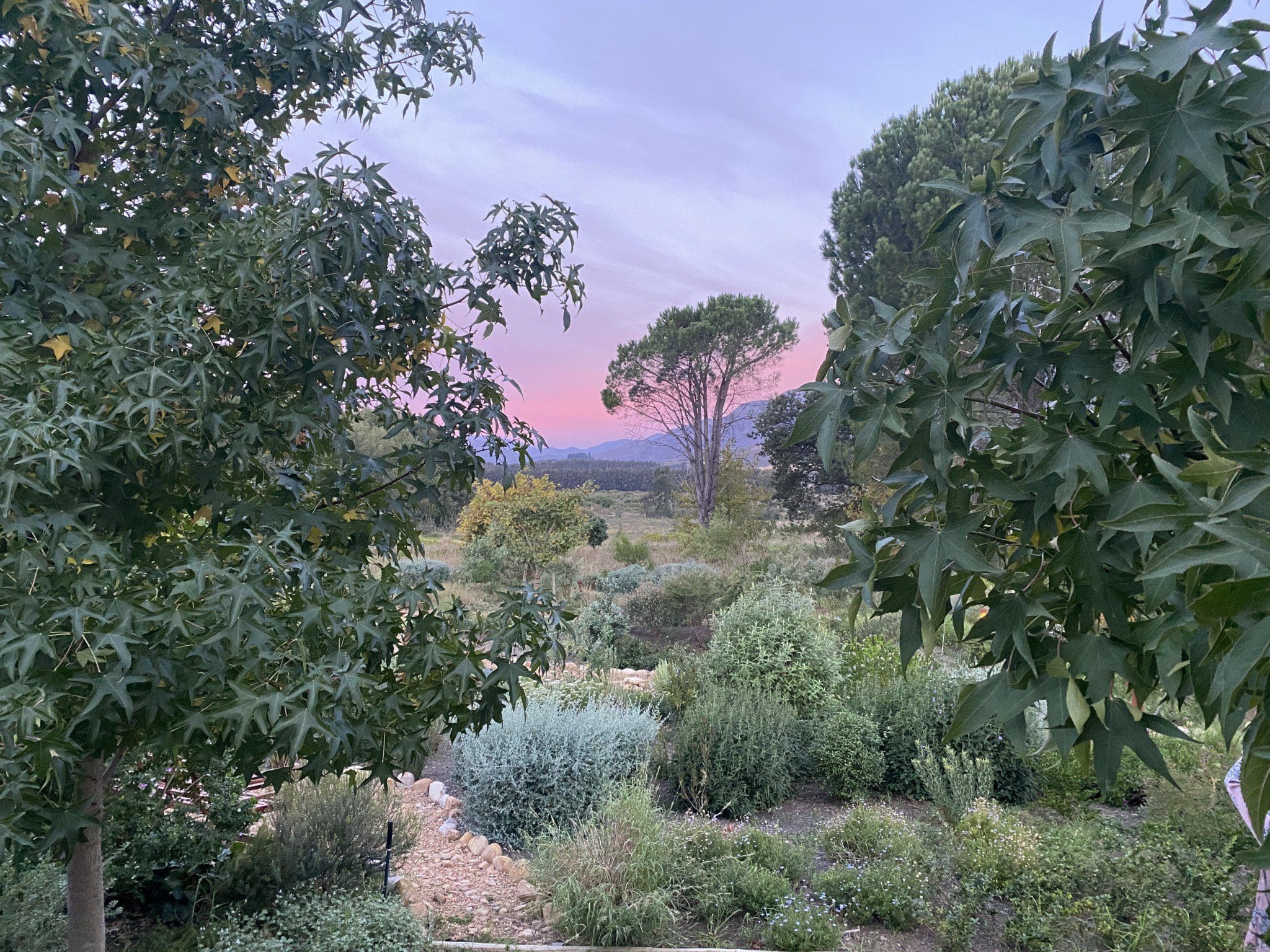 A braai box can be ordered – and a Weber provided at the cottage – which contains meat (seasoning and sauces), salads (the potato salad was the best I've had that doesn't have bacon), and a garlic bread which will fell Dracula at 500m. Oh my word, it was good. There aren't any pics because, full disclosure, I didn't actually get to make the braai that evening, because we'd had a couple of bottles of Boschendal's famous Blanc de Noir, with some cheese and charcuterie from Die Werf (featured image at the top of the article), and then the fire and a bottle of S&M red. But trust me – I've subsequently partaken of the braai box and it gets my seal of approval.
I can feel myself getting a bit carried away here so I'm going to sign off now, and save some for the next story. Heck, this was only the first afternoon and evening!
For more information about Boschendal, click here.
PHOTO CREDIT: Bianca Coleman ©