RIGHT now is the best time to be planning your trip up the West Coast to see the spring flowers. Groote Post is about an hour's drive from Cape Town and is a great place to stop for lunch – Wednesdays to Sundays – and taste some super wines, from the Old Man's Blends to MCC to stars like Seasalter and Salt Of The Earth. They even make a Riesling.
On my way to Darling, I visited for a meal at Hilda's Kitchen, run by Shaun (front of house) and Debbie (in the kitchen) McLaughlin; I was joined by winemaker Lukas Wentzel and owner Nick Pentz, who gave generously of their time – and their wines.
We began, as one should, with MCC NV Brut. It's something Lukas has always loved making and wanted to have in his portfolio. He's been at Groote Post since the beginning of 2001, and in 2003 he started making Merlot bubbly. The traditional Chardonnay and Pinot Noir were available but Lukas had to convince Nick and his dad Peter (the "old man") because making MCC is a long and expensive process. Using the Merlot also gave him the chance to thin the vines, which results in better fruit.
Until about a year ago, Lukas made only rosé, but the Brut now is predominantly Chardonnay. "It's on the lees for between 15 and 20 – let's call it 18 – months. We try to make it not too briochey – less biscuit and more fruit, dried apple is quite pronounced here," he explains.
The menu at Hilda's Kitchen changes daily, although there are some dishes that will always be available, like the Old Man's Steak Roll, which is what I ordered. I didn't choose a starter because I was (quite rightly as it turned out) eyeing the white chocolate cheesecake for dessert. Nick ordered the salmon tart and asked for it to be served in two portions so I could taste it. I'm so glad he did that; it's truly wonderful and the crust is crumbly and short as short should be.
Lukas shared his roast butternut, quinoa, Danish feta and chickpea salad with me, which was very nice too but the salmon tart…especially with the 2021 Sauvignon Blanc which holds the promise of summer on the nose. Given that Groote Post is only a few kilometres from the ocean, the saltiness and minerality of the region is apparent in the wines. This Sauvignon is not that asparagus and green pepper kind; it's the riper, softer, fruiter style which is what Lukas believes wine drinkers prefer now.
"Stylistically, this is what people want," he says. "The green pepper became too much, it was overdone. You have to put so many ice cubes in, by the time you're finished it's just water," he teases.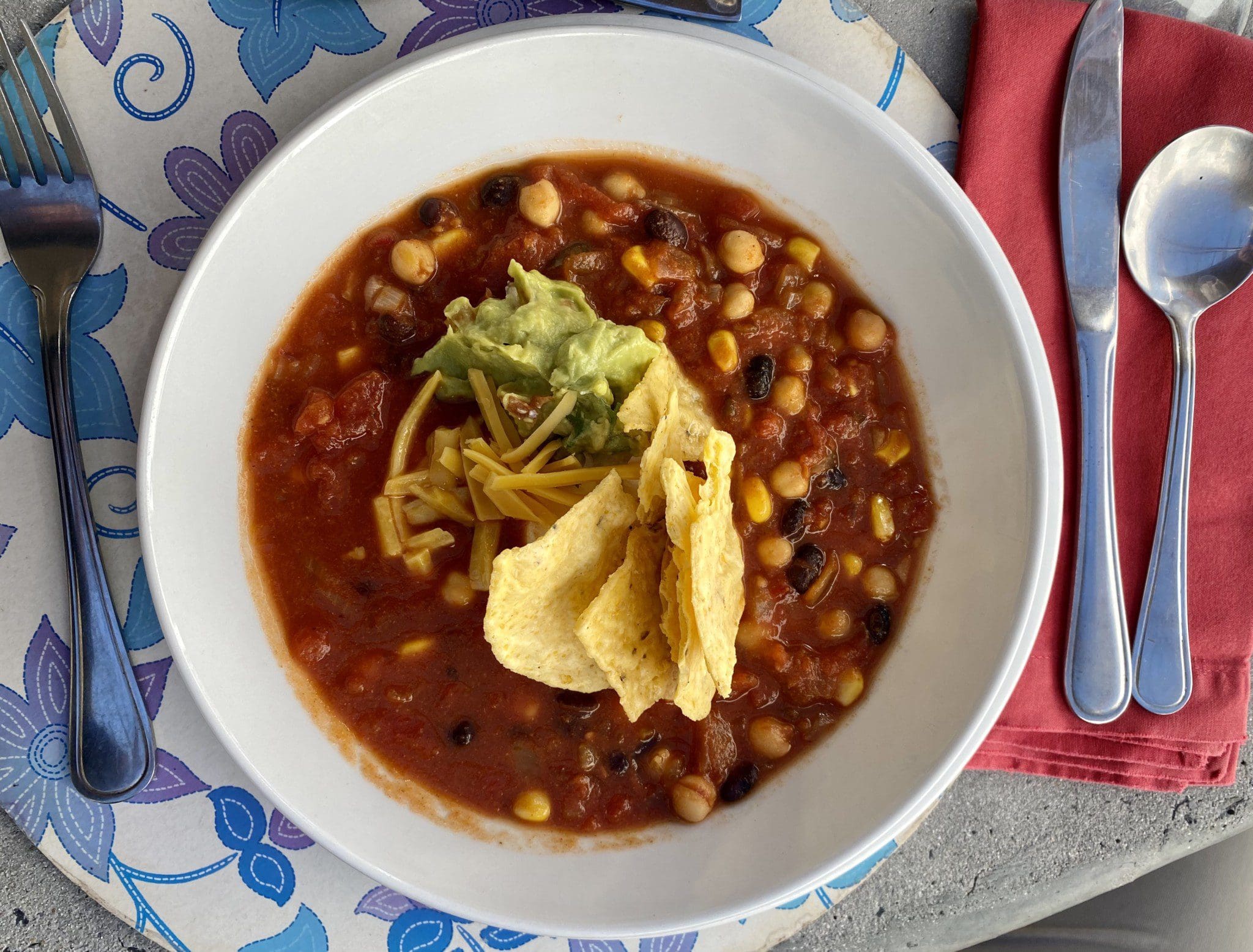 Seasalter is fast becoming Groote Post's famous wine, with its West Coast saltiness and minerality, "and almost a bit guava and gooseberry," says Lukas. "It must still develop in the bottle. There is yellow fruit, and little bit of greener notes – but kiwi fruit. The wood rounds off the Sauvignon." This wine is 90% Sauvignon Blanc which spends eight months in barrels which are specifically not smokey or toasty, and 10% Semillon. "The wood mustn't overpower it, you must still know you're drinking a Sauvignon Blanc," says Lukas.
For main courses, I was more than happy with my steak roll and thick cut chips. Nick had what is technically a starter but could so easily be a main dish too: spicy Mexican bean soup with guacamole, sour cream and nachos. We all agreed we love our meat but we love veggies too. Lukas walked the talk with the sesame coated black bean and quinoa felafels with roasted vegetables and hummus.
By then we were onto the lightly wooded Chardonnay, followed by the Riesling. It's a fascinating wine for me. It can be weirdly oily and gasoline-like on the nose and then follows up with floral fruitiness. Nothing like a bit of contradiction to keep us on our toes. The story behind this one is that back in 2006 or '07, there was some Cabernet Sauvignon that wasn't working. Rather than pull it out and plant something new which would take five or six years to begin producing, Lukas grafted Riesling onto it as an experiment.
"It worked fantastically and has given us something different. A bit of ginger and stone fruit gives me the flavours I enjoy from a Riesling. It will go well with sushi. It's just off dry, and the combination of acid and sweetness just makes it drink nicely. It's one of the wines that does well for us. Tim Atkin, this English writer, you may have heard of him, he likes our Riesling and it's always done consistently well," smiled Lukas.
Then we pondered the distinctive shape of the Riesling bottle and the bottom line is, that's just how it is. You wouldn't put it in any other shape, and you wouldn't put another wine in the Riesling bottle.
The penultimate wine was lovely Merlot, which is made from bunches that are well exposed to sunshine for optimal ripeness. It takes effort in the vineyard and in the cellar, says Lukas. The grand finale was Salt Of The Earth, first made in 2015, a blend of Shiraz and old vine Cinsault.
After lunch, Nick drove me up to the very top of the Groote Post farm from where you can see for days, and where they were busy planting new Sauvignon Blanc before the next rain. One day I will be able to drink that wine and say I remember when it was just an unremarkable bunch of twigs and roots. And thus wines are born.
For more information, click here.
PHOTO CREDIT: Bianca Coleman ©