ONCE I have entered the lobby, been relieved of my bags, and dispatched the niceties of being welcomed back to the 12 Apostles Hotel & Spa, is it rude to enquire: "Where is the cat?"
Naturally I am there for the luxurious room and the extravagantly mirrored bathrooms. The gin, and the sushi. Dinner at Azure. Even the mountain walk. But I am also there for the cat. Ingwe is a sensible and clever cat. She gave up her feral life for one of five-star luxury (oh we can all but dream…). She roams the hotel and sleeps wherever she pleases. She's also very friendly and open to chin scritches, which is very gratifying for me, whose purpose in life is to befriend and pet every cat I meet.
And so I demand to know Ingwe's whereabouts whenever possible, and I shall be the one on my hands and knees on the lobby floor, talking to her. The 12A is a pet-friendly hotel, but I think all fur babies need to be screened by Ingwe before checking in. Always remember, she was there first.
The trek to my room was a fairly long one, but it was worth it for the corner view of the ocean and the mountain, the actual Twelve Apostles range at the back of Table Mountain. There was a cheerful balloon tied to a plate of sweet treats as a further welcome return to the hotel. Still clutching the glass of bubbly I was given at check-in, I immediately located my feet pillows (slippers) and slid across the floor Tom Cruise Risky Business-style. Fun, but can lead to injury.
As the sunset hour approached, my friend Keith and I repaired to the Leopard Bar for a superb gin tasting hosted by Fernando (yes we sang Abba like it was the first time anyone had ever made that connection). There was bubbly too, for me, and Fernando made a special one-of-a-kind mocktail for Keith based on his specific preferences – not too sweet, mainly.
We devoured the sushi prepared by chef Xolisa Peter. We'd both had sushi at 12A before, and Keith was as impressed by the vegetarian offering this time. Yes, a vegetarian AND a teetotaller. And all-round fabulous guy; look, he finds me funny and that's always a win.
Off to Azure we went for dinner. That day and night was when the South Easter was at its hissy worst. I've lived in Cape Town all my life but the spring wind never fails to surprise me with its ferocity. This one was blowing wrought iron furniture across the deck.
Having gorged on sushi, I opted for two starters: a chopped salad (it has bacon), hold the celery; that stuff is just evil unless it's part of a mirepoix destined for a higher purpose; and smoked snoek cheesecake which was utterly divine. Its elements include citrus and miso quick cured fish, cabbage and cucumber salad, crispy snoek, burnt orange and miso gel, and coriander. I don't know where the cheese it but I also don't care. I loved it.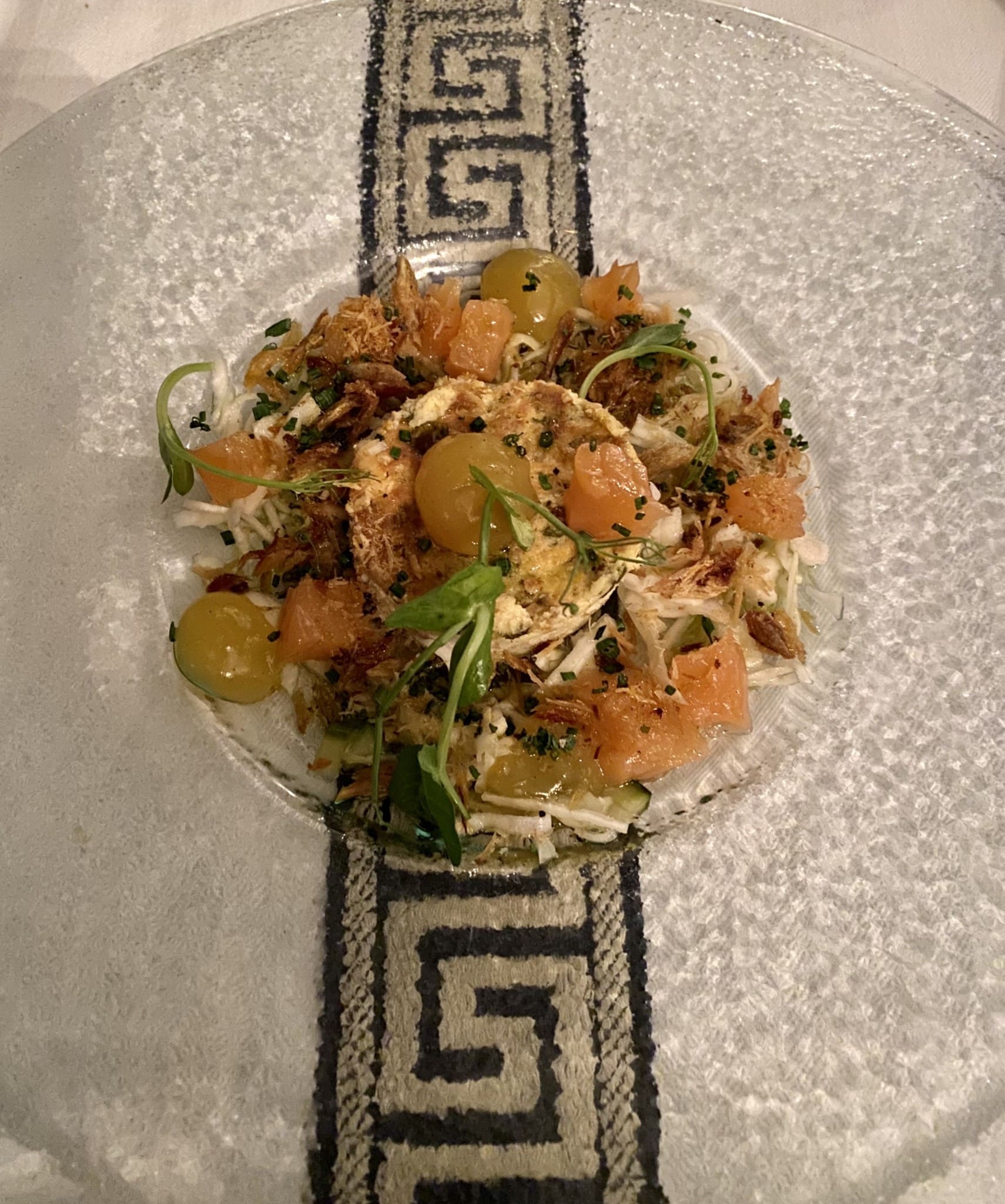 Keith was presented with the vegan menu (which covers vegetarians), from which he ordered the barbecued beetroot risotto with smoked beetroot purée, onion cream, picked beetroot, rice puffs, roasted beetroot jam and herb dressing. Because it's vegetarian but not vegan, I told him about the roasted pumpkin ricotta gnocchi on my menu, with creamed leeks, teriyaki, truffle and mushroom purée, pumpkin seed crumbs and shimeji mushrooms and for that I think he owes me a lifelong debt of gratitude. It certainly seems that way, given how much he enjoyed it.
There was still dessert…hot peanut and chocolate doughnuts. I think that says enough.
The following morning, with the hotel still standing despite the howling wind, we rose early to go for a walk on the mountain. It's lovely, really it is, and the round trip is about 6km – an easy 6km except for one little bit of uphill – but the weather conditions just weren't nice. So we went a little way, oohed at the view, and went back for breakfast. I like the way they do the buffet, with everything in individual little jars. For my money, it should always be done like that, forever, because then no one can breathe their germs over the smoked salmon, or manhandle the cheese and cold cuts. Croissants are served at the table.
In the first round of a new game, Keith suggested what I order in my omelette: chorizo, mushroom and mozzarella. We've agreed to do this for each other in future, but we're not allowed to be nasty. Which means I can't make him drink rooibos tea…no, sorry, it's a tisane.
Naturally, by the time we wheeled our bags out, the wind had died down and guests were lounging by the pool without being swept away into the sea. There's always next time (and the helicopter ride which was also scuppered because of the gale), and Ingwe was there to console me.
For more information, click here.
PHOTO CREDIT: Bianca Coleman ©