GROOTE POST, the historic wine farm in the Darling Hills owned by the Pentz family, has released a new Brut Méthode Cap Classique – in perfect time for the festive season.
"We are always very excited when we welcome a new wine to our portfolio," says Nick Pentz, "especially when it is a wine that sparkles with promise after a challenging year, its millions of tiny bubbles lifting spirits, adding joy to hearts and smiles to faces. Everyone knows that there is something magical about popping open a bottle of one's favourite Cap Classique."
The Groote Post Brut is a blend of traditional Champagne varietals, 60% Chardonnay and 40% Pinot Noir, harnessing structure and acidity from the Chardonnay and fruity components from the Pinot Noir. The grapes are whole bunch pressed, an important process when creating fine sparkling wines. To prevent too much colour extraction from the Pinot Noir, only the first free-run juice of the Pinot is used. The juice spends three months on the lees after the first fermentation. The wine then undergoes a second fermentation in the bottle and matures for 15 months on the lees, adding a creaminess and beautiful texture to the wine. Thereafter the disgorging and dosage take place.
Stylishly packaged, the Groote Post Brut is an elegant refreshing Cap Classique displaying a vibrant pale gold colour, a fine creamy mousse, zesty notes of green apple and white pear with hints of brioche, a well-rounded velvety yet lively mouthfeel and a crisp lingering finish. Served well chilled, it is perfect on its own and also delicious with West Coast oysters.
The Groote Post Brut is available from the Groote Post cellar door, online, and nationally at select wine retailers. Approximate retail price: R163.
Chef Debbie Mclaughlin from Hilda's Kitchen has created an appetising starter to serve this festive season with a glass of Groote Post's new Brut Cap Classique.
RETRO PRAWN & AVO RITZ COCKTAIL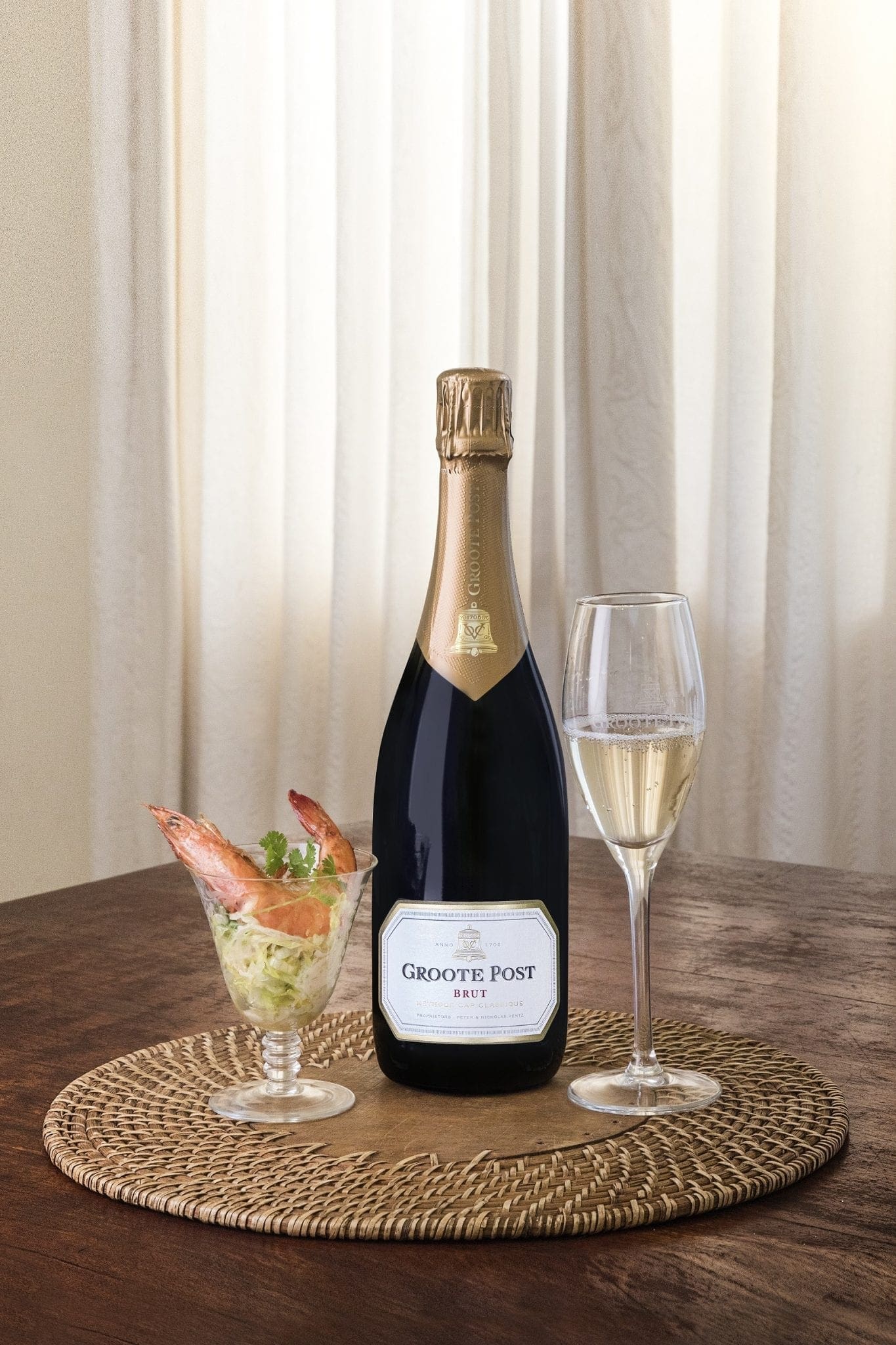 INGREDIENTS
600g cooked prawns (tails and head intact), deveined
2 Tbs sweet chilli sauce
1½ Tbs fish sauce
Finely grated zest and juice of 1 lime
⅓ cup of Greek yoghurt
2 Tbs homemade mayonnaise
1 Tsp caster sugar
¼ iceberg lettuce finely sliced
1 avo, peeled and thinly sliced
METHOD
Whisk fish and sweet chili sauces, yoghurt, lime zest, mayonnaise and caster sugar until the mixture is smooth.
Divide lettuce among glasses and add avo and prawns.
Drizzle with sauce and garnish with lime wedges.
Enjoy with a glass of Groote Post MCC Brut.