THE second annual International #ShirazWineDay takes place on July 22, 2021, a special occasion to celebrate all there is to love about this popular full-bodied red wine.
It's the perfect tie-in with the announcement of the champions in the ninth annual Shiraz Challenge, which were revealed in Paarl last week. Held under the auspices of cultivar association, Shiraz SA, the function to announce the winners had to go the online route again this year.
Vinventions SA, global supplier of complete wine closure solutions, was the principal sponsor. The well-known television personality Marciel Hopkins acted as hostess and led the online programme. South African rock singer, composer and talk show host, Karen Zoid was the celebrity guest and had the honour of announcing the winners.
The top 12 Shiraz wines singled out for 2021 are:
Cederberg Shiraz 2018
Driehoek Syrah 2019
Koelfontein Shiraz 2019
Landskroon Paul de Villiers Shiraz 2019
Flagstone Dark Horse Shiraz 2017
Neil Ellis Groenekloof Syrah 2019
Glen Carlou Syrah 2019
 Kleine Zalze Family Reserve Shiraz 2017
Kleine Zalze Vineyard Selection Shiraz 2018
Saronsberg Shiraz 2019
Stellenbosch Vineyards Credo Shiraz 2018
Rooiberg Winery Shiraz Reserve 2019
Runners-up in this category are Diemersdal Shiraz 2018; Fairview Beacon Shiraz 2016; Fairview Eenzaamheid Shiraz 2017; Lomond Cat's Tail Shiraz 2019; Rainbow's End Shiraz 2019; Spier Seaward Shiraz 2019; Villion Syrah 2019 and Wellington Wines La Cave Shiraz 2018.
Since 2014, Shiraz blends have been included in the competition and a significant increase in entries was seen this year. The winning Shiraz blends are Anura SMG Reserve 2018;, Stellenzicht Acheulean Red 2018, and KWV Roodeberg Dr Charles Niehaus 2018. The finalists in the blend category were Alvi's Drift Albertus Viljoen Bismarck 2019, Babylonstoren Babel 2019 and Flagstone Velvet 2017.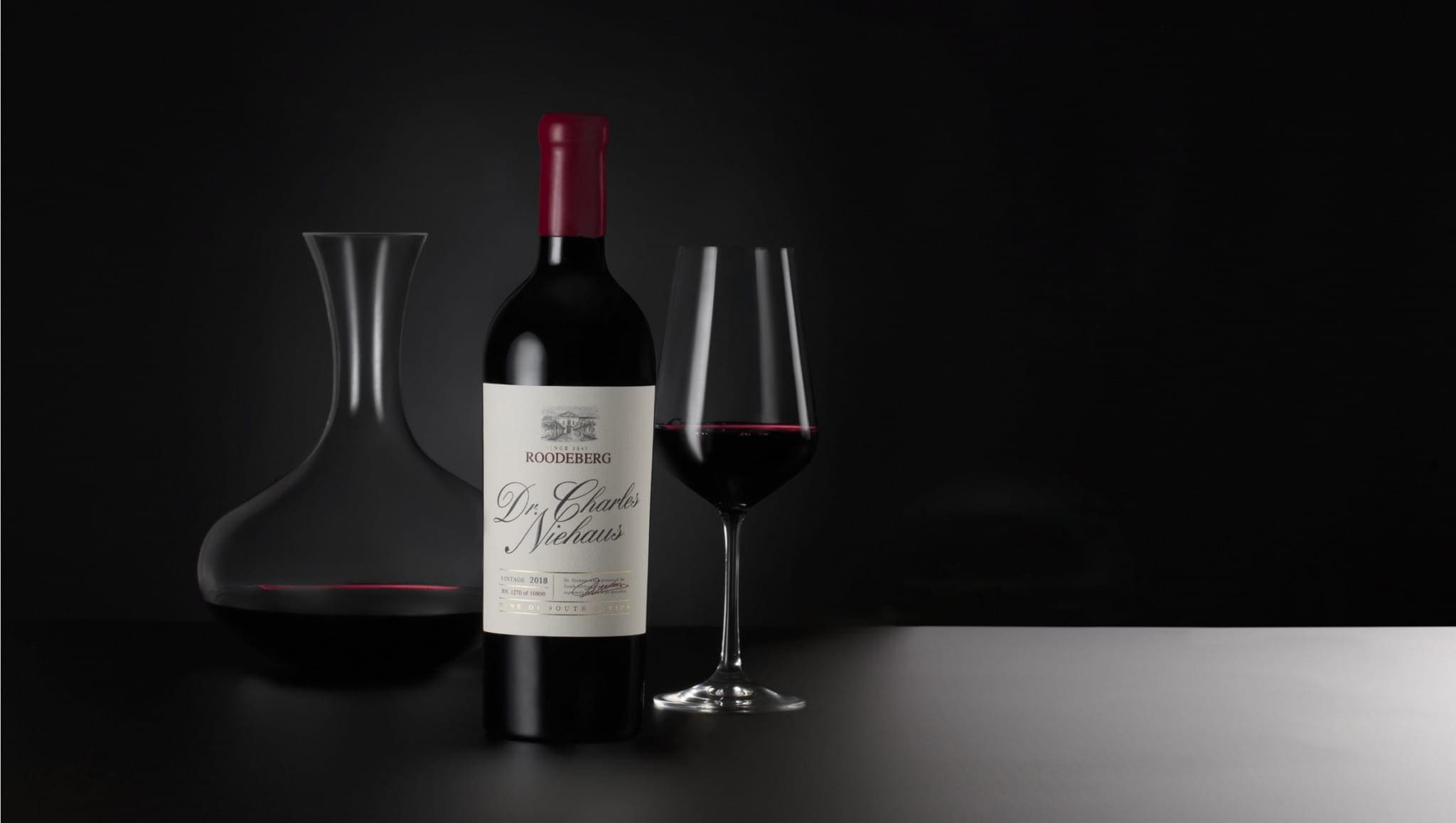 Dr Charles Niehaus 2018, named after Roodeberg's founder, won the award for Shiraz driven blends in the annual competition showcasing the diverse styles and best wines produced locally from this grape variety.
Fruit purity and complexity are the crux of this super-premium wine that has evolved since its maiden vintage in 2010 into a masterly crafted wine. The award winning 2018 vintage is a harmonious blend of Shiraz (41%), Cabernet Sauvignon (27%), Cabernet Franc (12%), Petite Sirah (12%) and Malbec (8%).
Rich and juicy with great depth and fruit concentration, the wine erupts in your glass with aromatic layers of blackcurrant, mulberries and plum enlivened by hints of violets. It is generous and well-integrated on the palate with a grippy tannin structure rewarding with an intense and lasting finish.
This jewel in the Roodeberg crown is a fitting tribute to Dr Niehaus for his pioneering winemaking achievements and creator of this cherished South African wine brand more than 70 years ago.
For more information click here.
As in 2020, the category for rosé drew only a few entries with the three finalist wines all from the 2021 vintage. Villion Family Wines Rosa Rabbedoe Rosé 2021 was crowned the winner with Lyngrove Collection Shiraz Rosé and Saronsberg Shiraz Rosé coming in as runners-up.
During the presentation, chairman of Shiraz SA, Edmund Terblanche, announced that Shiraz SA recently decided to proclaim August 21 as National Shiraz Day, so there's another reason to rejoice next month, when hopefully wine sales will be allowed. "International Shiraz Day is February 16, a date picked for the Northern hemisphere winter, but not ideal for South Africa as this is the height of our summer. August is the perfect opportunity to showcase Shiraz and also to drive our Seven Days of Shiraz & Venison event."
In the meantime, try this recipe courtesy of Fat Bastard Wines.
BAKED CHORIZO GNOCCHI 
Serves 4
Ingredients
1 Tbsp olive oil
2 onions, finely sliced

 

150g spicy chorizo, skin removed & diced

 

4 cloves of garlic, minced
1 small fresh chilli, finely diced

 

2 tsp dried Italian herbs

 

2 Tbsp tomato paste
1 x 400g tin diced tomatoes
½ cup 125ml fresh cream

 

500g potato gnocchi
¼ cup fresh basil, roughly torn
300g Fior di Latte mozzarella
Salt and pepper, to taste
Olive oil
Fresh basil, to garnish
Method
Preheat oven to 200ºC.
(You can cook this dish in an ovenproof pan from the beginning or else transfer everything to an ovenproof dish at the end to bake.)
Using a drizzle of olive oil, fry sliced onions and chorizo over a medium heat until soft and golden brown. Add the minced garlic, chilli and dried herbs and cook for 2 minutes.
Add the tomato paste and cook for a few minutes until it turns a warm brick red colour and smells fragrant. Add the tinned tomatoes and reduce the heat to low and simmer for 15 minutes until the sauce has thickened slightly. Add the cream and season with salt and pepper. Remove from the heat.

 

Bring a large pot of salted water to the boil. Add the gnocchi and cook according to package instructions. Gnocchi will be cooked once it starts floating on the surface. Do not overcook.

 

Drain gnocchi and add it to the tomato sauce along with the fresh basil. Mix.

 

Scatter over roughly torn pieces of the fresh mozzarella.

 

Bake for 15–20 minutes or until bubbling and golden brown.

 

Garnish with fresh basil and a sprinkle of salt and freshly ground black pepper.

 

Serve with crusty bread and a fresh green salad.

 

Enjoy with a glass of the luscious FAT bastard Shiraz – sumptuous, smooth, spicy and complex with an abundance of brambly red fruit intertwined with notes of vanilla and freshly crushed black pepper aromas with touches of cloves and cinnamon, and a lingering silky finish.
The FAT bastard Shiraz can be purchased online and is widely available nationally, retailing at around R120. 
For more information, click here. Be part of the conversation – follow Shiraz SA on Twitter @Shiraz_SA, Facebook (ShirazSouthAfrica) and Instagram @shirazsouthafrica.
#ShirazSAAwards