Journey's End Vineyards has released the latest vintages of its new-look Tales Series, a range of four wines, each with eye-catching modern designs to show the inspiration behind the labels.
The new releases include Journey's End Weather Station Sauvignon Blanc 2020, Journey's End Haystack Chardonnay 2019, Journey's End The Huntsman Shiraz Mourvèdre Grenache 2019, and Journey's End Pastor's Blend – Cabernet Sauvignon Merlot Cabernet Franc – 2019.
Winemaker Mike Dawson has shared two of his favourite recipes for food pairing with the Weather Station Sauvignon Blanc and The Huntsman Shiraz Mourvèdre Grenache. Mike focuses on sustainable grape growing and winemaking with a minimal intervention approach, incorporating organic practices wherever possible. He is also mindful in his day-to-day life at Journey's End Vineyards, which he calls home. Here, Mike grows and tends to his own bountiful vegetable and herb garden, and very much enjoys cooking seasonally with his produce.
"The Sauvignon Blanc is a fresh style of wine, with beautiful natural acidity and tropical fruit flavours, which makes it a perfect pairing with seafood, of which mussels is my favourite. The freshness of the wine cuts through the creaminess of the soup. This is a match made in heaven," says Mike.
WHITE WINE MUSSEL SOUP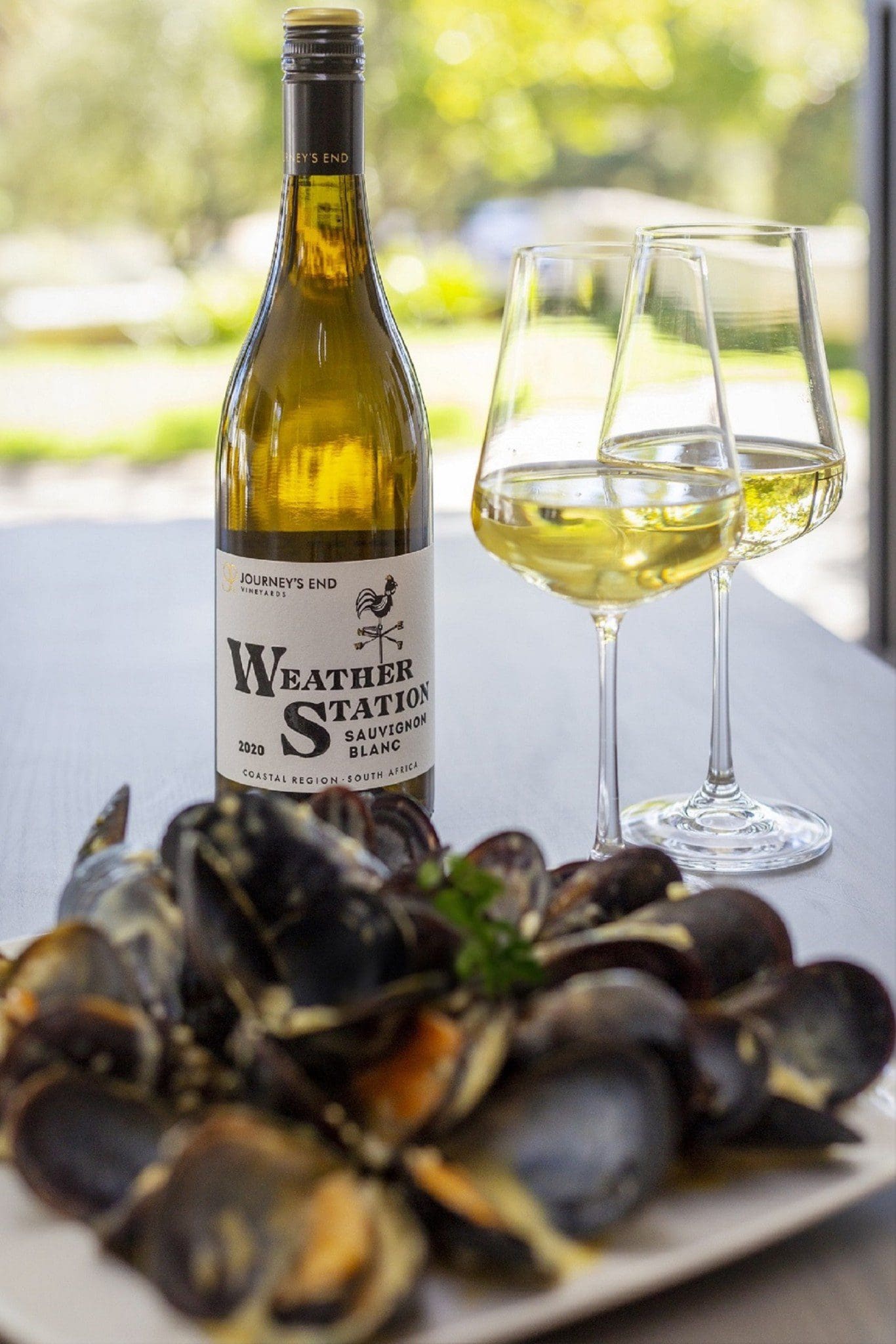 Ingredients
3kg fresh mussels
2 onions
1 leek
2 celery sticks
1 cup of water
1 cup of chicken broth
1 cup of Journeys End Weather Station Sauvignon Blanc (be a little more generous if you are feeling adventurous)
1 cup of clam juice (you can also buy canned clams and drain out the juice, or if you can't find canned clams, then substitute with another cup of chicken broth)
A quarter cup of fresh parsley
3 mashed garlic cloves
Salt and pepper of course
1 cup of cream
Method
Add onions, leeks, celery, parsley, garlic, water, wine, chicken broth, clam juice, salt and pepper into a potjie pot over hot coals, and bring this to boil.
Reduce the heat, add the mussels, cover, and simmer for 5 mins or until mussels have opened.
Add the cream right at the end and you're good to go.
This recipe serves four, but my girlfriend Tynika and I are more than capable of finishing two servings each.
Enjoy with Journey's End Weather Station Sauvignon Blanc.
"Our Rhône-styled red blend is predominantly driven by Shiraz, which brings with it an ever-evident white pepper spice. The blend is rounded by Mourvèdre (which adds a nice savoury character) and Grenache (which brings beautiful red fruit to the blend)," says Mike. "This wine perfectly complements a beautiful rich red meat dish on a cold winter's day and is also a perfect choice for a casual hot summer's day when chilled down to 14 degrees. It certainly won't disappoint. It is a wine to be enjoyed on all occasions!"
FILLET WITH PEPPERCORN SAUCE
Ingredients
1 tbsp vegetable oil
25g clarified butter
2 fillet steaks (ideally beef matured for 3-5 weeks), about 140g/5oz each, at room temperature
A knob of butter
2 large shallots, finely chopped
6 medium mushrooms, sliced
2 tsp green and pink peppercorns, crushed
3 tbsp brandy
100ml Journey's End The Huntsman (we use a bit more than that)
200ml good-quality beef stock
3 tbsp double cream
Method
Heat a frying pan over a medium-to-high heat, then pour in the oil and the clarified butter. Add the steaks, season them with salt and plenty of freshly ground black pepper and cook to your liking (2 mins each side for medium-rare, 3 mins each side for medium, depending on the thickness of your steaks). Be sure to seal the rounded edges, too. Transfer to a plate.
Add the knob of butter to the pan, then fry the shallots, mushrooms, and peppercorns over a medium heat for 5 mins, until the shallots have softened, and the mushrooms have browned.
Return the steaks to the pan. Heat the brandy in a metal ladle, light with a match then carefully pour into the hot pan, standing as far back as you can. Once the pan has stopped flaming, remove the steaks again.
Pour the wine into the pan, turn up the heat and boil rapidly until reduced by half. This will take about 5 mins. Add the stock and reduce again, this time by two-thirds.
Stir the cream into the sauce and allow it to thicken slightly. Check the sauce for seasoning, then return the fillets to the pan to warm through, spooning the sauce over. Serve straight away.
Enjoy with Journey's End The Huntsman Shiraz MourvèDre Grenache.
Journey's End Vineyards, Sir Lowry'S Pass Road, Somerset West. Call 021 858 1929 or email [email protected]