WITH the festive season just around the corner, it is time to start planning to miss the mad Christmas rush. Husband and wife Luke Williams and Jessica Merton, of Bree Street's Culture Club Cheese, have put together a delightful selection of luxury cheese and wine hampers, conveniently delivered to your door.
Now in its third year, Culture Club Cheese is Cape Town's first boutique artisan cheese hub, fermented foods hotspot and restaurant, boasting 80% local and 20% imported cheeses.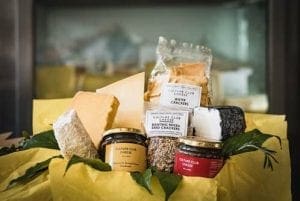 Says Luke: "We're ethical producer-led, and all the items in our shop tell a story that we've chosen for a specific reason. We see ourselves as a platform for market vendors to offer their seasonal and artisanal products, and to help them grow. Animal welfare and husbandry is our priority, and our focus is on honest food, with no additives, preservatives, antibiotics or hormones added."
Jessica adds: "After making and mongering cheese for 10 years in England and South Africa, Luke decided it was time to open shop. Obviously our focus is on cheese – we know all our farmers intimately. We travelled South Africa for over a year to meet the makers and ensure that all cheese is made from grass fed animals, with no hormones, antibiotics and additives used and to help farmers perfect their cheese making processes."
As the only affineurs (carers of cheese) in the country, the duo constantly experiments to find the perfect combinations and balance. "We wash our cheese in different solutions to give them different flavour profiles and characteristics," says Luke. "We make bespoke cheese and have used different alcohols to create drunken pecorinos etc. Most importantly, we look after our cheeses and mature them for longer than anyone in the country."
With a world-class selection of both local and imported cheeses, Culture Clubs offers a selection of festive season hampers delivered in the CBD, Atlantic Seaboard and Constantia areas. "A luxury cheese hamper is the perfect gift for anyone," says Jessica.
Culture Club Cheese products are available in store at 215 Bree Street, Cape Town.
For more information, click here.
Dear Santa
Please send me this top-of-the-range (obviously) one:
LUXURY CHRISTMAS & NEW YEAR HAMPER
· Four types of cheese eating at their absolute best, including Stilton
· A bottle of Le Lude Method Cap Classique MCC
Accompaniments:
· An engraved luxury cheese board
· A beautiful cheese knife
· Two types of in-house crackers
· A small production Italian salami made in George
· A jar of pomegranate & pear preserve
· A box of locally made chocolate
· A jar of organic honey
· A jar of marinated olives
· A jar of shitake mushroom pesto
· Locally foraged porcini mushroom salt
· Christmas Pannetone
· Optional: Add a Vacherin