WITH autumn climes beginning to waft in, it is time to make the most of the last plums of the season and showcase their sweet, juicy goodness in comforting autumnal desserts.
Plums are abundant from November to April and even as the season comes to a close, you will still find these jewel-toned stone fruit on supermarket shelves in a range of colours and flavours from very sweet to appealingly tart.
Plums are a nutritious powerhouse. They are packed with vital nutrients and anti-oxidants, and have a lower GI and less sugar than many other fruits. Always look for firm, brightly coloured fruit but make sure you allow them to ripen to develop their full sweetness before you tuck in.
Feel inspired by following @juicydelicioussa on Instagram or click here for more tempting stone fruit recipes.
Yummy Plummy Bread And Butter Pudding (picture above)
By Jenny Morris
Serves 4
Ingredients
10 slices of stale white bread, crusts removed and buttered on both sides
2 heaped Tbsp of strawberry jam
Zest and juice of one lemon
6 large plums stoned and chopped into small pieces
350ml milk
125ml cream
2 large eggs
½ tsp ground cinnamon
2 Tbsp caster sugar
Extra caster sugar for sprinkling
Flaked almonds (optional)
Method
Preheat the oven to 180°C.
Cut the buttered bread into triangles.
Place the jam, lemon zest and juice along with the plums into a saucepan, bring to the boil and remove from the heat.
 Arrange half the bread in a baking dish, spoon over the plum mixture and cover with the remaining bread.
 Whisk together the milk, cream, eggs cinnamon and caster sugar. Pour it over the bread and let the pudding stand for 30 minutes before baking.
Sprinkle over the caster sugar and almonds if you are using them.
Bake for 30 to 40 minutes, or until the custard has just set and the top is golden brown.
Remove from the oven and dust with icing sugar. Serve warm with whipped cream or great blobs of vanilla ice cream.
Spicy Chinese Plum Sauce
By Karen Hart
Makes 1 litre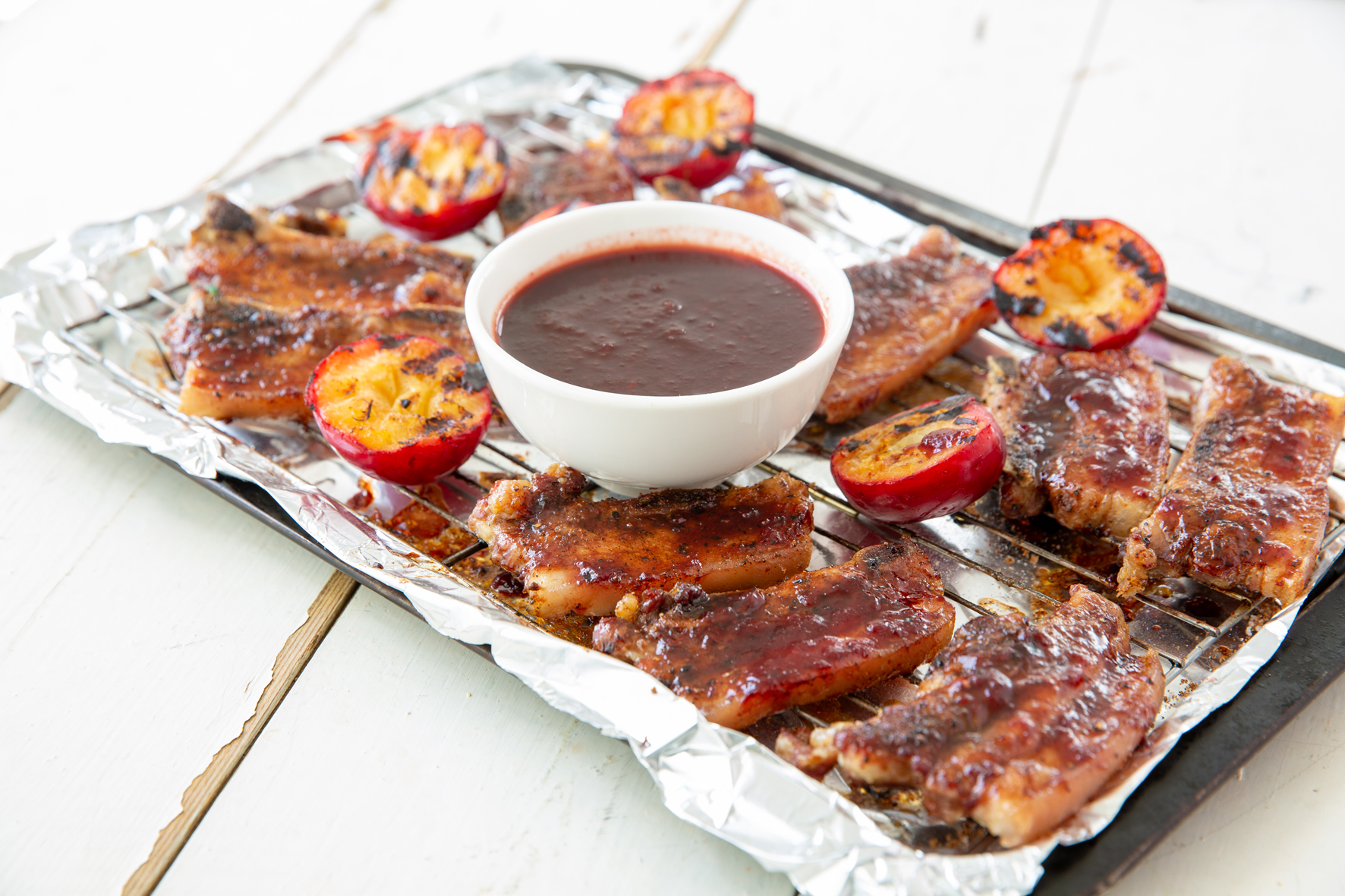 Ingredients
2kg ripe plums
5-6 medium sized onions, chopped
Cloves from 1 head of garlic, peeled and chopped
20cm fresh ginger, peeled and chopped
1 cup soy sauce
4 cups apple cider vinegar
4 red chillies, deseeded and chopped
5 cups brown sugar
6 star anise, ground
Method
Cut the plums in half and remove the stones.
Put all the ingredients, except the sugar and star anise, in a large saucepan or preserving pan.
Bring to the boil, cover and simmer for 20 minutes or until or the ingredients are very soft. Pass the ingredients through a mouli or coarse sieve and return to the cleaned saucepan or preserving pan.
Add the sugar and star anise and bring back to the boil, stirring frequently to ensure that the sugar dissolves.
Simmer for an hour until the mixture is thick and creamy.
Pour the sauce into sterilised bottles and seal with vinegar-proof lids.