Time for a change? Vriesenhof Vineyards is getting in the mood for the new decade by releasing a full line-up of new vintages across their award-winning range. The Stellenbosch farm, owned by rugby legend Jan "Boland" Coetzee, produces a range of red and white wines which are "something to behold", according to Coetzee, who made his first wine on the farm in 1981.
Vriesenhof's newly released vintages are the Unwooded Chardonnay 2018, Barrel Fermented Chardonnay 2016, Grenache Rose 2019, Pinot Noir 2016, Grenache 2018, Grenache Syrah Mourvedre (GSM) 2017 and the flagship red blend, Kallista 2016. These wines were made in a more fruit-driven style, with the introduction of a larger percentage of new oak, according to Vriesenhof winemaker Nicky Claasens. "These are elegant and fruit driven wines which have a solid structure that will evolve beautifully over time," he says.
The Vriesenhof Unwooded Chardonnay 2018 has beautiful aromas of citrus and gooseberries, with flavours of pear and white peach and a lingering lemon freshness. The Vriesenhof Chardonnay 2016, rated 92 by international wine judge Tim Atkin, has a lean elegance with aromas of almond and hints of white peach and pear on the palate, with a citrus finish after 12 months in French oak barrels.
A "vintage where nature has done all the work" is the Vriesenhof Pinot Noir 2018, which bursts with sweet red fruit, strawberries and dried apricot and ends with an earthy finish. This wine spent 12 months in French oak barrels. With a bright ruby colour, the Vriesenhof Grenache 2018 shines in the glass. Floral, delicate and beautifully balanced with cherries and raspberry on the finish, it was matured in French oak barrels for a year.
The Vriesenhof Grenache Rosé 2019 has hints of grapefruit and cherries, with floral aromatics on the finish. A South African classic varietal, the Vriesenhof Pinotage 2017 boasts a beautiful balance of raspberry and dark fruit, with tobacco and leather, with a lingering finish of sour cherries.
Claasens recommends the Vriesenhof GSM for those looking for accessibility and drinkability. "This Grenache-based blend with Shiraz and Mourvedre shows the diversity within our range." It is a wine bursting with flavours of dark cherries, chocolate with beautiful savouriness and white pepper and a lingering finish of raspberries and leather.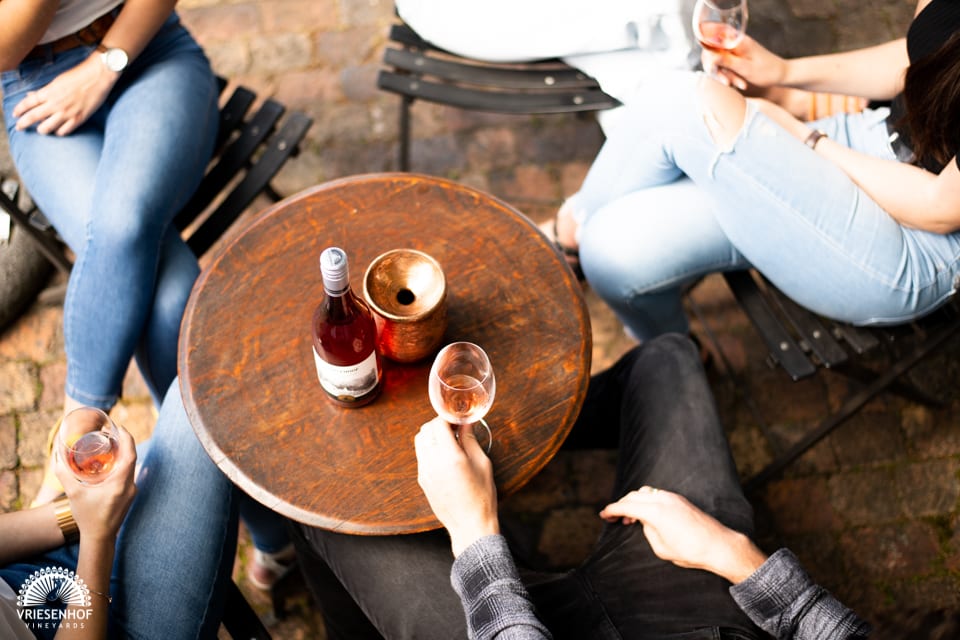 The pride of Vriesenhof is the Kallista, and the 2016 vintage of this Bordeaux blend lives up to expectations. "It shows red berries and a firm minerality which flaunts its ability to age," says Claasens. It finishes with pencil lead and spicy white pepper. Displaying its seriousness as a wine, it was matured as single varieties for 12 months in older French oak barrels, followed by another 12 months after blending.  "The 2016 vintage was warmerin comparison to 2015, and we compensated by picking earlier to enhance the elegance without compromising on the fruit character."
Look out for the soon-to-be-released Cabernet Sauvignon 2015, bottled as a rare single varietal for the estate, and which was awarded 94 points by Atkin. Claasens says the diverse range of wines will appeal to current fans as well as those who were still to try the terroir-driven wines. "We make our wines not to suit trends, but which take their lead from nature."
SOCIAL MEDIA
FB: Vriesenhof Wines
TW: @Vriesenhof
IG: @Vriesenhof
WEB: www.vriesenhof.co.za