CELEBRATE the summer of '22 with the irresistible pairing of plums, Queens of the Stone Fruit, with South Africa's brilliant and delicious craft gin. There's no better way to get through hot days and fun nights than with a clinking, cold gin cocktail in hand. Plums, brimming with juicy sweetness and a dash of tart flair, bring an unmistakable freshness to two trendy new cocktails shared by Derrick Hartman, aka Decks (pictured below), mixologist at Hope Distillery.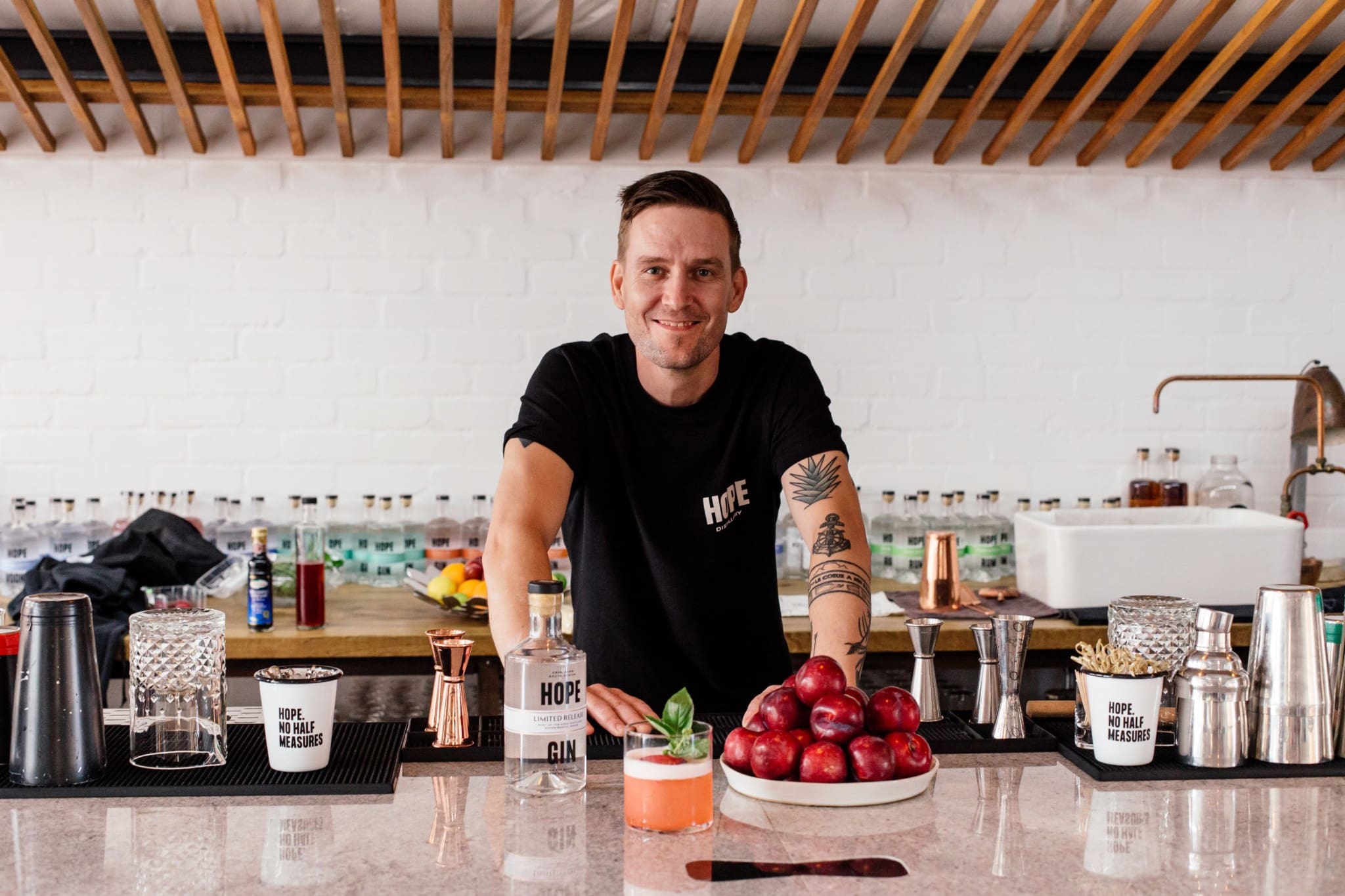 Quick and easy to make at home, the Plum & Basil Smash and Plum Collins are designed to delight and impress your family and friends over the festive season. The cocktail recipes call for Hope Limited Release Gin, a boldly citrus gin distilled with juniper, coriander seeds, angelica and fresh oranges that pairs particularly well with plums.  These cocktails are a good excuse to expand your craft gin adventures.
Plums are often paired with citrus, raspberries, peaches, apricots, ginger, black pepper, almonds, hazelnuts honey, vanilla, cinnamon, basil and rocket. Decks draws on some of these inspirations for this summer's signature gin and plum cocktails.
PLUM & BASIL SMASH
(pictured above)
Ingredients
1 plum
4-6 basil leaves
Black pepper
Rich sugar syrup – bring 2 parts sugar and 1 part water to just under a boil and keep just under boiling point until all sugar is dissolved, let cool and bottle. Refrigerate for up to a month.
Lemon juice
50 ml Hope Limited Release Gin
Method
Muddle a quarter to half a plum with 4-6 basil leaves and a crack or two of black pepper in a shaker.
Add 5-10 ml sugar syrup, 15-25 ml lemon juice, 50 ml Hope Limited Release Gin and ice to the shaker – start with the lower amounts of sugar syrup and lemon juice and taste along the way. Add more to taste.
Shake hard, fine strain into a tumbler with fresh ice, garnish with a plum wheel and basil leaf.
PLUM COLLINS
Ingredients
50 ml Hope Limited Release Gin
20-25 ml plum & honey syrup
15-25 ml lemon juice
Soda water
Preparation
To make the plum & honey syrup, bring 2 parts sugar, 1 part honey and 3 parts chopped plum to just under a boil, let it cool and infuse for at least one hour, strain and bottle. Refrigerate for up to two weeks.
Method
Pour the gin, the plum & honey syrup and the lemon juice into a high ball glass filled with ice
Stir gently and top up with soda
Garnish with a plum wedge and sprig of mint
Making cocktails at home – top mixologist tips from Decks
Make the plums for cocktails last longer with a Plum Shrub: Place 4-5 medium chopped plums, 1 cup sugar, 1 cup vinegar (apple cider, white vinegar or rice vinegar) in a sealable jar. If you like, you can add a herb like mint or basil to the mix too. Give it a shake every 4 hours and let it macerate for at least 24 hours. Strain and refrigerate for up to 6 months.
Always save the best looking of your fruit to use as the garnish, because when it comes to garnish it's all about looks.
Do some research on what botanicals are in the gin you're using, and aim to pair the fruit you use with what's already in the gin to either complement or enhance flavour.
Use good quality ice blocks – the reason for ice is to keep the drink cold and not to dilute it, so big or well-frozen ice blocks are always better.
Follow @juicydelicioussa on Instagram or click here.