WARNING – this article contains spoilers for all five seasons of Yellowstone, because I have some thoughts.
Currently available on DStv Online, plus the first prequel 1883 – yes, the first – with the second prequel 1923 arriving from June 22. But it's far from over for the fans. We know the eight episodes in season five were not the end; the balance has been promised but not delivered. Production on these have been delayed for various reasons widely reported, so no one really knows when we might find out how it all ends.
Star and executive producer Kevin Costner is going through some personal issues, shame, plus he's apparently off filming another Western, and it's believed his character will be killed off but the end of season five (don't cry; it's a natural conclusion). Then you need to factor in the writers' strike; I was shocked to read about their circumstances which are worse than those of freelance journalists.
According to The New York Times, "Paramount announced…that Yellowstone will return in November for a final batch of episodes and that another Yellowstone sequel will premiere in December. "Surely we are approaching full Yellowstone saturation at this point," states TV critic Margaret Lyons. It's not even a question.
To support this, here are the planned spinoffs as per Wikipedia:
Lawmen: Bass Reeves: A spinoff series to 1883 titled Bass Reeves was announced in May 2022 and will consist of six episodes. The series will focus on the life of the titular character, the first black US Marshal. The series will star David Oyelowo as Bass Reeves and Dennis Quaid as Sherill Lynn. In January 2023, filming for the series had begun.
1944: Another prequel series, set during the titular year, was reportedly in development as of February 2023. It will serve as a sequel to 1923 and will be filmed in Bitterroot Valley.
6666: Another planned spin-off, titled 6666, is set in the present day on the Four Sixes Ranch in Texas. It will premiere on Paramount Network in 2023. The 6666 Ranch is also featured during the fourth and fifth seasons of Yellowstone. Fun fact: the Four Sixes is a real ranch (Yellowstone is not).
Untitled spin-off scheduled after Costner departure: It was reported by Esquire magazine in May 2023 that following the departure of Costner from the series at the end of part two of season five, that the series is to conclude, and to be followed by an as yet untitled sequel which will partly feature the Yellowstone name in its subtitles and to star Matthew McConaughey in a new leading role for the franchise.
Lyons is clearly not wrong, but I do think it depends on how you consume the series. For a long time, those seasons sat on my DStv watchlist, taunting me. I suspected, correctly, that once I began watching I would find it hard to stop. I cracked through the first three seasons in a week, the constant drama exhausting. By the time I got to season four, real life began creeping in, and of course load shedding interfered with my Herculean ability to binge watch. Also, I didn't like season four that much, which worried me.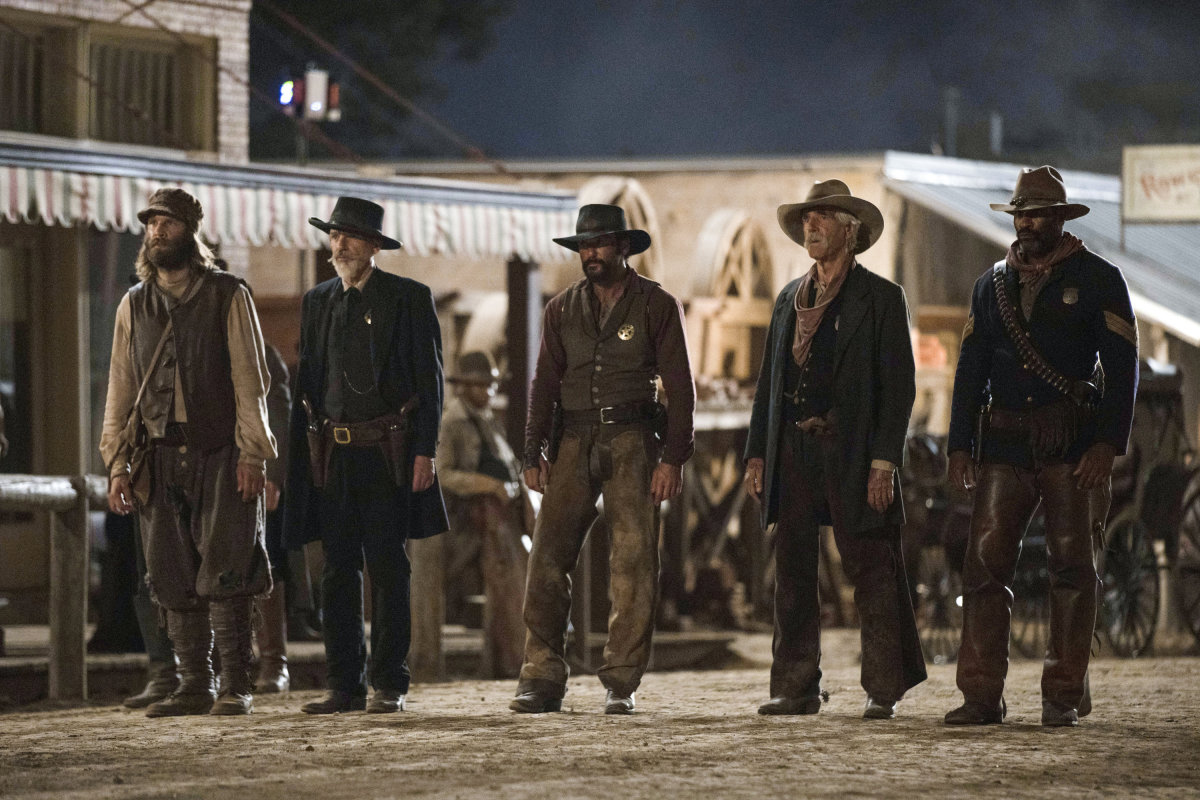 First of all, and most of all, I thought that whole storyline about Jamie's biological father having pulled off the mass assassination attempt on the Dutton family to be way beyond my level of suspension of disbelief. Of course, no one likes Jamie (Wes Bentley) and not just because of his hair helmet. And a lot falls into place when we find out what he did to Beth (and Rip) when she was a teenager. That woman sure can hold a grudge, and who can blame her?
I love Beth (Kelly Reilly). Look up "badass" in the dictionary and you'll find her. There are a few other things you could accurately call her too, which may or may not be complimentary, but you sure do want her on your side in a bar brawl. I adore her tempestuous relationship with Rip (Cole Hauser), which settles into such an accepting and enduring love. Another character I found endearing is Jimmy (Jefferson White), dragged into the cowboy life, a useless rider and unlikely rodeo star. I just couldn't work out the time frames; Beth got beat up, Jimmy broke his back – and he recovered fully before Beth's face. She also bounced back really well after being burned in the bomb blast.
This kind of thing happens many times throughout the series. Like when Teeter (Jennifer Landon) and Colby (Denim Richards) got trampled it was broad daylight, and full dark when they got out the water.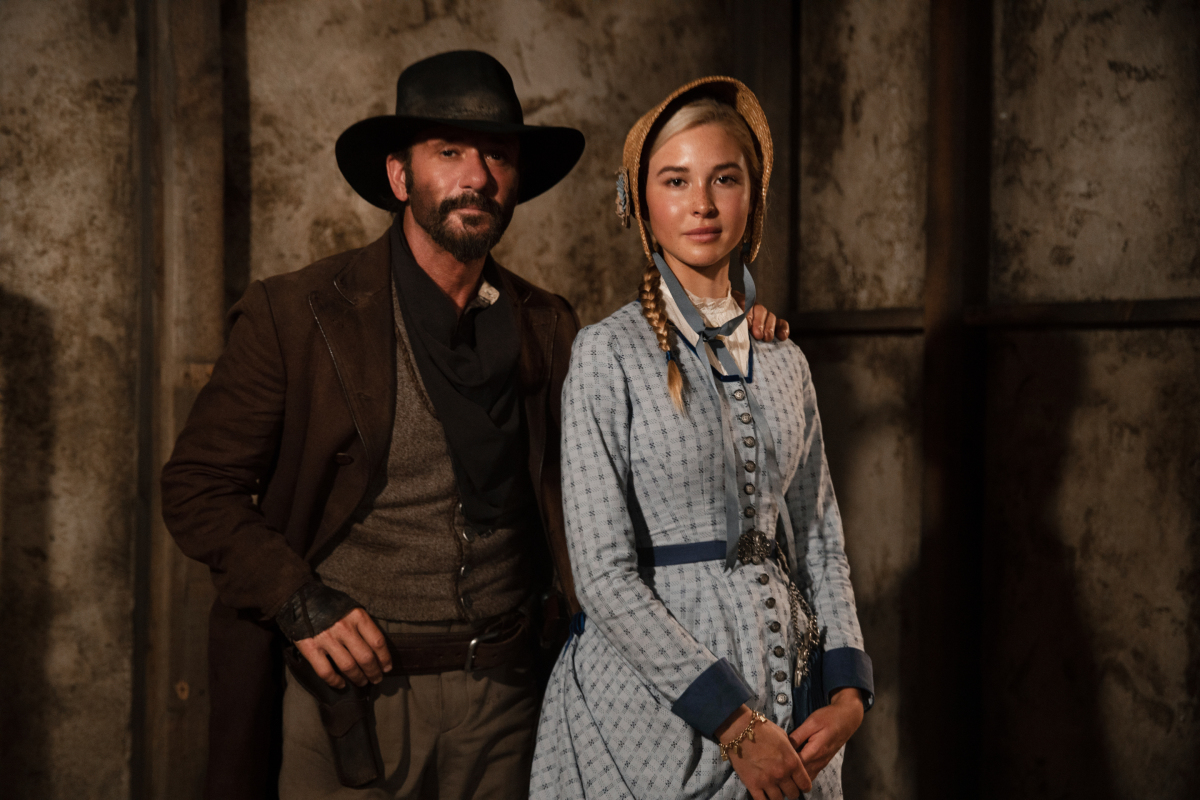 But I don't want to moan about these things. I enjoy the Neo-Western genre and cowboys are sexy as. Fight me. They look so comfortable on their horses and the show and rodeo scenes are great. Have a shot of whiskey and chuckle whenever someone in the bunkhouse says "f***ing barrel racers". There's a whole other drama going on in there, like the upstairs and downstairs of Downton Abbey, if you will, what with Lloyd (Forrie J Smith) and Walker (Ryan Bingham) and one of those barrel racers and a guitar.
I'm a few episodes into 1883 now, and it it's, well, okay. It's the era of the classic Western, which is fine by me. The M-Net PR explains it is "a stark retelling of Western expansion, and an intense study of one family fleeing poverty in Texas to seek a better future in America's promised land – Montana. Real-life couple Tim McGraw and Faith Hill star as James Dutton and Margaret Dutton, while Sam Elliott (Outstanding Performance by a Male Actor in a Television Movie or Limited Series at this year's Screen Actors Guild Awards) portrays Shea Brennan, a tough cowboy with sadness in his past. Other cast members include Isabel May (playing Elsa Dutton), LaMonica Garrett (Thomas) and Dawn Olivieri (Claire Dutton). Billy Bob Thornton guest stars and Tom Hanks cameos in a Civil War flashback scene."
If Sam Elliot isn't Lloyd's great-great-granddaddy then someone was switched at birth.
They're certainly not shy about bringing in the big guns – names, I mean names. "1923, spans 8-episodes (M-Net from Thursday, 22 June at 9pm, then on Catch Up and DStv Online) and carries on the storyline from 1883 – with a slightly new generation of characters. Viewers will see how the Dutton family progressed with their newfound power and land ownership in Montana during the time of western expansion, Prohibition, and the Great Depression.
"But here's the kicker: Legendary Hollywood stars Helen Mirren and Harrison Ford are set to take the lead roles as Cara and Jacob Dutton. Variety shared: 'Mirren and Ford make for such a potent pairing; their chemistry alone is enough to make 1923 feel like an elevated version of [co-creator Taylor] Sheridan's neo-Western fare.'"
One more reason to hold Yellowstone close to my heart: the music. The score is by Brian Tyler, complemented by a fine selection of country, which you can download from the various platforms. And it's not just for show; the playlist is considered, and there is an "in memory of" card at the end of episode three, season four, for musician John Prine. You can read more here.