IT seems like every time I visit this tiny Swartland town, I end up drinking far too much and making a lot of new friends.
"It's because you're here on your own," said the profoundly wise Elizabeth, as we shared a bottle of pinot noir on my balcony. We'd met for the first time the previous night. "When you're not involved with being in someone else's company, you're open to new people and new experiences," she observed.
It made a lot of sense, especially in the context of the braai I was hosting, about which the entire town seemed to know but thankfully didn't all pitch up to enjoy the joyful and abundant hospitality I'd been flinging around at midnight. Either that, or the people of Riebeek Kasteel are simply that friendly, which I believe they are.
Like they do on television, let's fade to black and reopen the scene one year ago. While spending a weekend, I'd wandered in to The Wine Kollective. This was not an accident. The shop stocks fabulous wines from the Swartland region, sold with exceptional knowledge and advice. One thing led to another, and after some wine tasting, owner Anton Espost took me upstairs to show me the Santa Cecilia Boudoir.
I know what that sounds like, but it wasn't, I swear. "Next time you must come stay here," Anton said.
And so it came to pass, I was booked in for another weekend of fun and revelry.
The Boudoir, or penthouse, or loft apartment, or studio – whatever you prefer to call it – is right above Wine Kollective. What could possibly go wrong?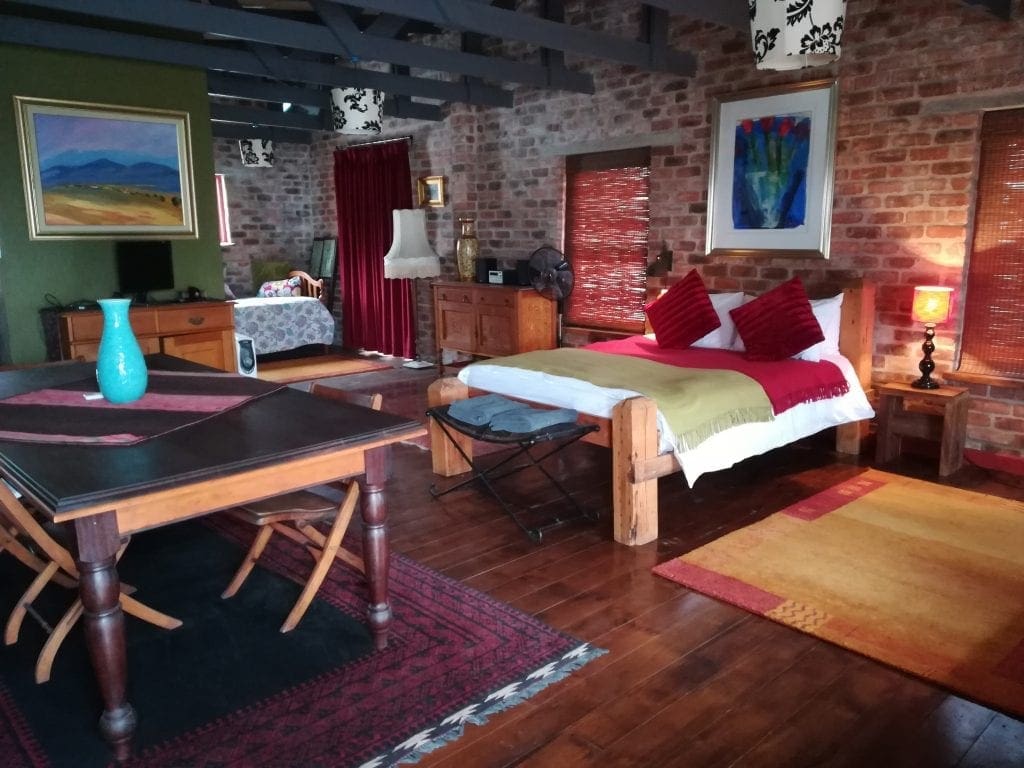 Eclectically decorated, it's spacious and open-plan with an enclosed shower room in the middle, a double bed and a day bed for reading or if you want to have a friend for a sleepover. The kitchenette has the necessary appliances including a coffee pod machine, fridge and microwave; there's a small television with access to Netflix (what a win), speakers to which you can hook up your phone to play music, beautiful old pieces of furniture (the dressing table with its little drawers and cubbyholes is divine) mixed with modern splashes, original artworks hung on bare brick walls, air conditioning for the brutal summer heat, and a small balcony with a Weber and a view.
Obviously I had to have a braai at some point, but first I decided to walk across the square to Kasteelberg Country Inn to have a drink with proprietor Allan Barnard (whom some will know from the radio where he is famous). In the Village Common bar where Glyn Lewis was playing his guitar and singing songs we all knew the words to, Allan opened a fine bottle of local Barbera from Bester Family Wines.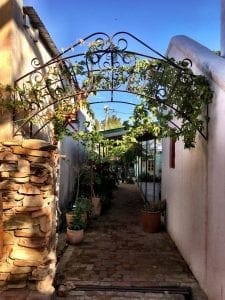 Our table of two grew to three as another guest joined us, and then there were some tequilas that materialised out of nowhere, and before I knew it, we were lurching back across the square to The Alchemist, the popular wine bar.
That's the thing about Riebeek Kasteel: because it's really really small, not only does everyone know your name and your business, but it's possible to walk everywhere. This is good, especially since I was now only steps away from the Boudoir, which is centrally located across the road from the Royal Hotel (and the church, if need be).
Details after that have been lost in the mists of time, but I do know there was dancing, and a blanket invitation to all and sundry to come to my place the next afternoon.
Saturday dawned bright and hot and sunny, requiring me to take my throbbing, remorseful head around the corner to Mama Cucina. Owned by Johan Hurter and Coenie Kruger – who also have a gorgeous guest house in neighbouring Riebeek West called Dennehof House – the restaurant is my favourite here. The pizzas are to die for, and the blackboard specials are incredible. I'm delighted they're open for breakfast on weekends now, so I could have a giant Bloody Mary and a steaming cappuccino with my scrambled eggs with bacon, Brie and tomato salsa on sourdough.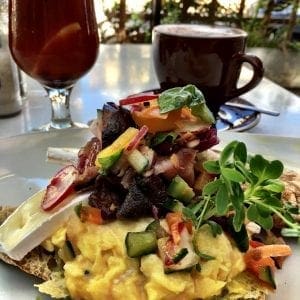 Riebeek Kasteel is not only about revelry and hangovers, however; the valley on the slopes of the Kasteelberg ("castle mountain") which is about an hour's drive from Cape Town on the N7 (currently beset by ghastly roadworks) is famous for its olives as well as its wines. These can be sampled at the surrounding farms, or in the village itself – at Wine Kollective, Riebeek Cellars, and Aitsa, a family-run business which supports local producers from all over the Swartland region. There's also a secondhand bookshop in there if you need some reading material.
Riebeek Kasteel attracts the artistic souls, whose creative juices are set flowing here, and the results filter through to the various art galleries, boutiques and décor shops. Vintage White & Crystal Twine, for example, is a warehouse filled to the ceiling with a delightful treasure trove of French-inspired furniture and homeware.
My other tips are Beans About Coffee (as recommended by locals); Garagista Beer Co. Brewery which ironically mocks itself by calling one of its beers Tears Of The Hipster but yet is still full of bearded dudes in skinny jeans, beanies and shoes with no socks; and Crisp market where you can get Deli-Co Butchery streaky bacon (if you don't want to drive 3km to the actual farm) and litre bottles of spicy Tabasco Bloody Mary mix, just add vodka.
If you're there over the last weekend of the month, pop in at Riebeek Valley Museum's Kattebak Mark for all sorts of fun and quirky stuff. "We cultivate a laid back atmosphere at the market, but if you like airs and graces, you're welcome to bring your own," they say. It's run by the aforementioned Elizabeth so do tell my new friend I say hello.
RIEBEEK VALLEY TOURISM
Where: 7 Plein St, Riebeeck Kasteel
Telephone: 022 448 1545
Email: [email protected]
Website: www.riebeekvalley.info
This story first appeared in Independent Traveller on May 5/6, 2018