WHEN you go see The Producers, the Mel Brooks comedy at Theatre On The Bay until March 28, and you're sitting comfortably in your seat with your boiled sweets or glass of wine, pause for a moment to marvel at the sheer physical energy and stamina required of the triple threat cast.
Acting, singing AND dancing all at the same time is not easy, not even for seasoned performers. Terence Bridgett, who plays Roger De Bris, had to go into training for several months to pull off this role.
"Getting musical theatre fit took five months; it's been 10 years since I did Jesus Christ Superstar in which played Herod. I did the narrator in Rocky Horror six years ago, and it's five years since I've been on stage in Midsummer Night's Dream at Maynardville," he says.
"So getting stage fit – and specifically musical fit – is a whole different level because you're singing and dancing and acting so an enormous amount of breath is required. With television you can get a little lazy sometimes in terms of keeping up your cardio fitness."
Roger De Bris makes his entrance wearing a frock…a fabulous frock, slinky and tight fitting. "I wanted to look hour glassy in it," says Terence. "Not that it's a drag moment, because he is very much a man, who's halfway getting dressed for a ball," he elaborates.
So to rock this frock, Terence began a regimen of park runs, no carbs, no sugars, low or no fat (and obviously no fun either, shame), and dance classes to get the body back in motion. In a production where almost everybody on stage tap dances, this was one thing left off the agenda.
"There is major orchestral scoring. Duane Alexander's choreography is beautiful and he hauled out the tap sequences," says Terence of this original South African production. "I don't tap. I would love to but you can't pick that up in four weeks."
Never mind simply being fit enough to be in a musical, try being in two musicals – at the same time. During rehearsals, Earl Gregory (and two ensemble colleagues) were still performing the last few weeks of the smash hit Kinky Boots. Alan Committie, who plays the lead role in The Producers, Max Bialystock, was finishing the run of his one-man show, The Lying King. And when The Producers moves up to Joburg in April, Terence will be shooting an Afrikaans drama series for kykNET, Die Bewolkte Hart, during the day and camping it up as Roger De Bris by night.
Theatre is not for sissies.
And if that's not quite enough on one plate, Terence also teaches graduate students in their final year of drama studies – a Shakespeare module, and screen acting. "The last couple of years I've stretching my tool box in different directions. I thoroughly enjoy teaching and find it incredibly rewarding, particularly the Shakespeare," he says. "Screen acting is challenging to teach because it's a different vocab and a lot of technique which you actually only learn on the floor."
Terence has also been writing again, which is "fantastic", he says. His one-man cabaret titled Terence Bridgett Is All Soaped Up (somewhere between fact, foam and fiction) about a classically trained actor who becomes SA's original soap slut ("as my website says," comments Terence) will be followed by Oopgeskeur (ripped open, or torn open) another one-man cabaret. "I'm going to do the festival circuit in 2021, and a Baxter run," he shares.
But back to the present. Helmed by West End director Joseph Pitcher, The Producers is over-the-top, almost farcical comedy, and often outrageously camp.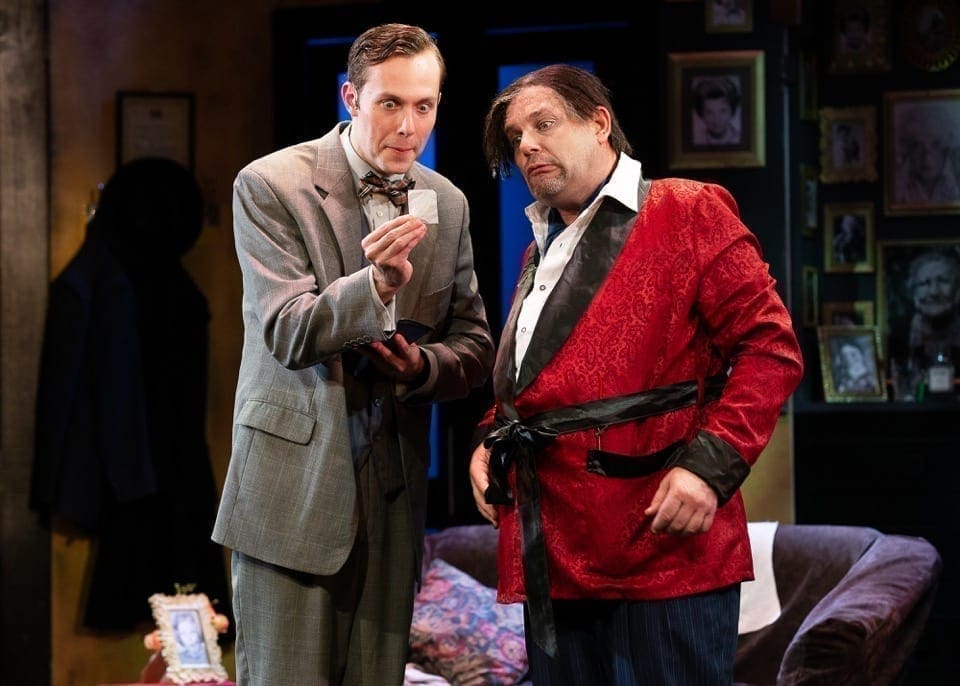 "It's deeply irreverent, with such a twinkle in the eye. It's charming and humorous, a fast-paced belly laugh in a big MGM Broadway style extravaganza," says Terence.
Alan Committie plays once successful but now washed up Broadway producer Max Bialystock. The original description of this character is "arrogant, self-righteous, menacing, argumentative, sarcastic, benevolent, intelligent, artful, loving, rude, shiftless, thoughtful, obnoxious, caring and keen – a man who is only interested in making money." He sounds quite awful, and Alan is more than up to the task of portraying all this in one character. What a brilliant actor, at whatever he does on stage; I have such admiration for this man.
An encounter with meek and mild mannered accountant Leo Bloom (Richard White, who is a hoot) leads to them realising more money can be made with a flop than a hit show. To this end, they seek out the most appalling script possible ("Springtime For Hitler") and the worst director (our man Roger De Bris), with the intention of opening a show only to close it the very same night. Of course, nothing goes quite as planned, with hilarious results.
Terence had two very big reasons to want this role as much as he did. "Alan and I graduated from university 25 years ago. We have made theatre together but never acted together on the same stage – until now," he explains. "It's fantastic! And deeply special. It was one of the reasons I was so adamant to do this production."
The other goes back to 2004 on the West End, before the remake of the movie: "I saw The Producers – and this character – and left the theatre going 'I have to play this man'. It took 15 years but here we are. Literally a bucket list role.
"I am having the time of my life, being at home, being on stage and playing a dream role opposite one of my closest friends."
The Producers runs at Theatre On The Bay until March 28, 2020, and thereafter at Pieter Toerien's Montecasino Theatre from April 3 until May 31. Book through Computicket
PHOTO CREDIT: Production images by Jesse Kramer