IT was a momentous occasion – our first road trip in nearly two years. The reason for the delay is valid: Divine Lady D was with child. Now that the infant has grown sufficiently, it is time to get back out there and this was a jolly good way to begin.
Our destination was Bot Rivier in the Overberg, the region east of Cape Town beyond the Hottentots-Holland mountains. It is literally over the mountain, and over Sir Lowry's Pass which in my mind constitutes the beginning of a proper road trip. If that road happens to turn to gravel at some point, so much the better. The mechanic who works on my car does not feel the same way.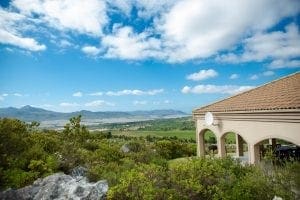 Our fabulous itinerary included spending the night at Barton Villas, set within Barton Vineyards. Just off the R43 to Hermanus, the farm is on the gentle slopes of the Kogelberg overlooking the Bot Rivier valley to Walker Bay, with vineyards, olive groves, and essential oil plantations (lavender and such). There are five villas of varying sizes which sleep anywhere between four and eight humans although two are quite welcome. While we were merrily tasting wine at Gabriëlskloof (well, I was; the Lady does not imbibe), Wilmari Geyer from Barton messaged to say she had upgraded us to the Plover villa. Very well then. If you insist.
After some time on a winding gravel road (yay!) we arrived at our home for the night. You know that feeling when you unexpectedly receive something way in excess of what you expected, or get given too much change at the shop? Yes, like that.
The split-level Plover has three bedrooms, all with en-suite bathrooms. Our explorations took us below decks where we found another bedroom adjoining the garage. It has three – THREE! – verandas. A huge open plan kitchen, lounge and dining room with 10-seater table. A swimming pool. A Jacuzzi. A fireplace inside and a braai outside. Oh, and the views from every angle…breathtaking is an adjective that is bandied about willy-nilly but in this case it truly applies.
We made a live video for Facebook in which we found ourselves to be hilarious, before choosing the appropriate west-facing veranda for sundowners. Heck, there was even a dog thrown in for a true homely feel (they live on the farm and come to visit). Later I persevered with damp wood until I got a respectable blaze going, without using the entire box of firelighters, which gave me no small sense of pride. Wilmari had kindly and thoughtfully provided two bottles of wine. Red, a slab of Lindor dark chocolate, a book, wifi, my bestie and the flames. Pure bliss.
The kitchen is well-equipped (as is the entire villa, really) so the next morning we made a slap-up breakfast with supplies bought from Peregrine Farm Stall (best streaky bacon from Joostenberg, sadly sold out by the time we were on our way home), and drank gallons of coffee on the other two verandas. Washing up? Nope, there's a dishwasher. And a washing machine, which I wish I'd known; I would have brought a load of laundry.
At one point, we stood next to the pool and surveyed our surroundings. "One could, if one were so inclined, take a walk up that there hill," I pondered out loud. Lady D contemplated this for a while. "Yes, one could," she concurred. We went to sit down and light another cigarette.
Jokes aside, visitors are welcome to use the farm for walking, cycling, picnics and bird watching. And as a happy surprise, when we stopped in at the wine tasting room as we were leaving, I learned villa guests get a 10% discount on their purchases.
There are lots more little treats and surprises at Barton Villas so for more information click here, or call 028 284 9283.