SHAKESPEARE should never be performed anywhere other than the idyllic, leafy setting of the Maynardville Open-Air Theatre on a mid-summer's night (with apologies to William!); it should be a rule, like saving water in Cape Town.
This particular interpretation is directed by the award-winning Tara Notcutt and her vision that translates onto the boards is hip, refreshing and laugh-out-loud funny, which is hard to attain even with one of the Bard's comedies.
I must admit, I struggle to follow Shakespeare at the best of times though I love the poetry of the language, rhyming couplets and all. But this version was so accessible and easy to follow, with dreamy traditional dialogue interspersed with contemporary music (think: Beyonce and Tom Jones) and choreographed dance sequences which all fit and flow fluidly.
The piece de resistance of this crisp production is its all-female cast, perhaps a not-too-subtle feminist nod to strictly males being allowed to portray all the roles, women included, when the original plays were performed.
Stand-out performances include Naledia Majola as Tranio who is an enjoyable mixture of classic and cool. Daneel van der Walt's Petruchio is both commanding and dynamic.
On until March 1, this theatrical battle of the sexes is a must-see.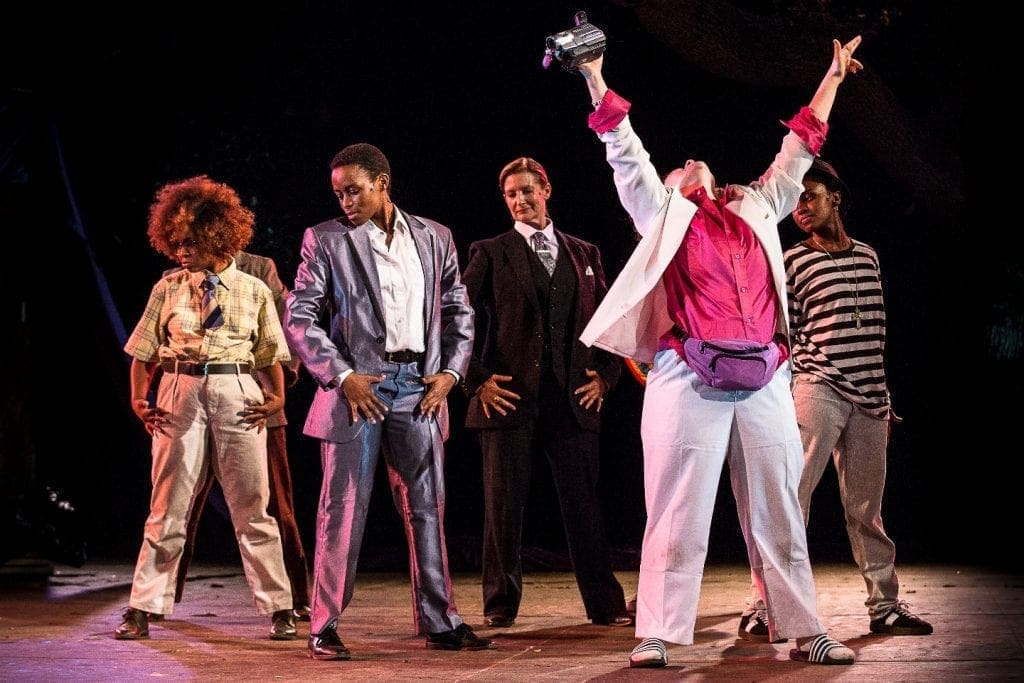 PHOTO CREDIT: JESSE KRAMER
GUEST WRITER: Desiree-Anne Martin is an author, poet and general word junkie, therapist, wife, full-time mother, part-time warrior. She believes caffeine, chocolate, bacon and cigarettes are the four major food groups.
THE PRESS RELEASE
The Taming Of The Shrew is presented by Siv Ngesi and The Pink Couch, in association with the Maynardville Open-Air Theatre Trust and LiquidMATCH Productions, supported by Artscape Theatre Centre. The production forms part of the inaugural Maynardville Open-Air Festival, featuring an exciting programme of music, dance, comedy and more, under the stars.
Award-winning director Notcutt is making history with something never seen before on a South African stage: an all-female version of a Shakespeare play. She leads some of South Africa's most celebrated actresses in a version of The Taming Of The Shrew: a meeting of classic text with modern twists, including lip-synching, '90s fashion, and an all-female cast playing men and playing women, supported by an all-female creative team. Dara Beth (Nasty Womxn, Just a Song and a Dance) is assistant director.
The Taming Of The Shrew is Shakespeare's wonderful battle of the sexes. Matters of gender, marriage, and family come together in this dark comedy of Kate, a headstrong woman, and her tempestuous relationship with Petruchio, the man who is set on wooing and winning her.
In the lead roles of Kate is Alicia McCormick (Angels On Horseback: Reloaded, Dirty Words), Daneel van der Walt (Dani And The Lion, The Rocky Horror Show) as Petruchio and Buhle Ngaba (…Missing, The Swan Song) as Kate's sister Bianca.  Lynita Crofford (An Audience With Miss Hobhouse, Violet Online) plays Baptista; Dianne Simpson (Rose Red, The Sisters Ugly) is Gremio and Ann Juries (Krotoa Van Vandag, Hectic Nine 9) plays Grumio. Kathleen Stephens (I Love You Sally Field And Other Stories, Nasty Womxn) is Lucentio, Naledi Majola (The Dangerous Misadventures Of Order and Chaos, All Of It, Everything, Now, Together) is Tranio, Kate Pinchuck (My Children! My Africa!, Down to A Sunless Sea) is Hortensio and Masali Baduza (Nasty Womxn, The Circle Of Life: An Adaptation of The Lion King) is Biondello.
Costume design is by Mariechen Vosloo, set design and decor by Jo Glanville and lighting design by Ronel Jordaan. Choreography is by Cleo Notcutt.
In the 62-year-history of Maynardville Open-Air Theatre, The Taming Of The Shrew has been performed five times – the first production at Maynardville in 1956, then 1965, 1984, 1996, and 2011.
"I am honoured to be directing my first Shakespearean play at Cape Town's iconic Shakespearean venue," says Notcutt. "This historic production is a first, featuring an all female cast and team, while at the same time, honouring the vision of Maynardville's founders – to present world-class productions of Shakespeare's plays in the magic of an open-air venue. It is fitting that The Taming Of The Shrew was the first play presented at Maynardville, and now it is taking us into the next era."
Performances are at 8.15pm, Mondays to Saturdays. Tickets – Computicket 0861 915 8000, online or at any Shoprite Checkers outlet – are from R150 to R220.