I ADORE the theatre. What I love even more is thought-provoking and excellently executed theatre. Lara Foot's play The Inconvenience Of Wings, currently running at The Theatre On The Bay, is uncomfortably brilliant.
It features Andrew Buckland, Jennifer Steyn and Mncedisi Shabangu and while the entire trio shines in this performance, Steyn's portrayal of a woman struggling under the unpredictable weight of bipolar mood disorder is particularly authentic. She is frenetic, she is out of control and she hates the f*%cking perfect PTA women and their cupcakes. The play also makes subtle references to infidelity, and other compulsive behaviour, but Buckland's portrayal of the hopelessly codependent spouse is both riveting and awkward to watch.
Fluid scene and costume changes, intimate detail, and flowing effortlessly beetwen reality, memory and dreams, The Inconvenience Of Wings is challenging theatre at its best.
Written and directed by Lara Foot, The Inconvenience Of Wings is at Theatre On The Bay until February 10.
Age restriction: 16 (nudity, language)
Tickets range between R120 – R180 and can be booked through Computicket or by calling
021 438 3301.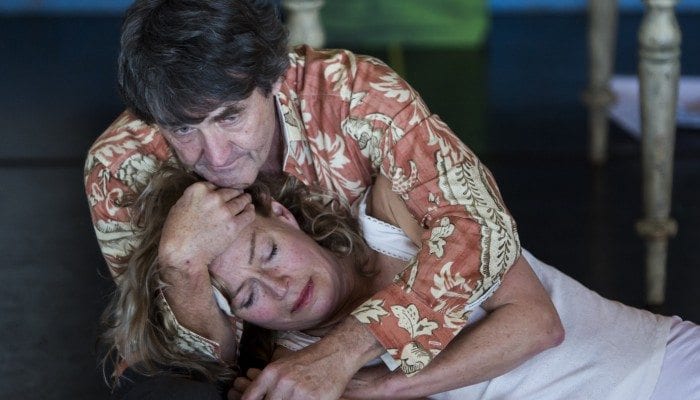 Desiree-Anne Martin is an author, poet and general word junkie, therapist, wife, full-time mother, part-time warrior. She believes caffeine, chocolate, bacon and cigarettes are the four major food groups.
Since its premiere in 2016 the award-winning play has received sold-out success in South Africa at the National Arts Festival in Grahamstown, the Baxter Theatre in Cape Town and the Market Theatre in Johannesburg, amassing five-star reviews along the way, including the Edinburgh Assembly Fringe Festival.
"If there is a better piece of theatre at the Festival, please lead me to it … It is a piece that no serious theatre lover should miss … Be there, and tot up the number of awards for which it will be nominated, most of which it will win. It's that good." – John Matham, CapeTalk
"Again, I take my hat off to Foot. She gets it, she truly, deeply, gets it across in this most excellent play … once you get into the meat of the story it grips you and takes you all the way." – Tony Jackman, Daily Maverick
Set in a landscape of memory and dreams, The Inconvenience of Wings, tackles the issues of friendship, dysfunction, addiction and angels. Sara (Steyn) has been diagnosed with bipolar disorder; she is compulsive, alive and hates women who know how to make cupcakes. Paul (Buckland), her husband, is on a mission to find a cure for her afflictions and Professor James (Shabangu) quietly tries to save Paul from the inconvenience of his wings.
The play is, at its heart, a love story, which makes for compelling viewing with burning contemporary themes such as bipolar disorder and compulsion and its devastating effect on the family. It cuts close to the bone for anyone who has suffered mental illness themselves, or has lived with someone who is afflicted.
This powerful and poignant drama was inspired by author Abraham J Twerski`s book Addictive Thinking that examines the notion of compulsion, addiction, denial and abuse of self as well as conversations on bipolar disorder that Foot had with celebrated psychiatrist Dr Sean Baumann, it was further stirred by her father who has suffered from dementia for more than a decade.
PHOTO CREDIT: OSCAR O'RYAN