TODAY we continue our A to Z exploration of Stellenbosch. My next letters are G, H and I and these are the places I visited.
Glenelly Glass Museum and wine tasting: Lady May de Lencquesaing believes in the symbiosis between wine and glass, which is the inspiration for her magnificent personal collection of ancient and contemporary glass. The Glass Museum at Glenelly displays pieces from as far back as the first century BC through to modern pieces created by some of the finest artists of the 20th century including Salvidor Dali and Lino Tagliapietra, Lalique and Murano.
The connection between the glass and the wine lies in the soil; in both cases it is from this which they are created, particularly poor soil which can ultimately be the source of great beauty. And when put together, they make a fine couple.
The museum is a treasure trove of delicate etched glass, glass cloudy with age, glass blown into softly coloured petals, glass molded into heavy undulating waves of brilliant colour containing luminescent bubbles of air.
The displays include rare pieces from ancient Rome – vessels once used to hold expensive perfumes, oils and medicines – to European pieces ranging across the centuries. Transparent and opaque glass are adorned with engravings, while some are painted; and a room is dedicated to the exquisite Art Noveau and Art Deco pieces.
Not only is the glass beautiful to look at but it is a testament to one woman's lifelong passion.
While the farm has been producing wine for a relatively short time – having previously been planted with orchards – Glenelly's heritage lies in the capable hands of its matriarch whose family has a centuries-old involvement in the Bordeaux wine industry.
In 2003, at the age of 78, Lady May bought Glenelly Estate and with careful consideration of the terroir, she planted the first vines. Nestled in a natural amphitheatre, most of the blocks are south-east facing and benefit from cool ocean breezes and slow ripening. Wines are made with minimal intervention in the multi-level gravity flow winery, a thoroughly modern construction and one which has a unique view of the farm through floor to ceiling glass.
The result is a collection of superb wines in two ranges: Glass Collection premium single varietals, and Estate Reserve comprising a sublime red blend and a complex oaked Chardonnay. The flagship wine is the Lady May herself, sourced from a single block of Cabernet Sauvignon with a dash of other traditional Bordeaux grapes which translate into a heavenly glass of rich, dark red velvet.
Visitors can select any four Glass Collection wines for tasting – unoaked Chardonnay, Cabernet Sauvignon, Cabernet Franc, Merlot and Syrah – while the Estate Reserve experience includes vertical tastings of the Chardonnay and the red blend.
Gin tasting at Blaauwklippen: Renowned for its wonderful wines, Blaauwklippen is also home to a host of spirits, including its own award-winning brandies, eight- and 10-year-old pot stilled brandies, and a range of three gins. All can be tasted and savoured in the Spirits Room, along with a selection of other premium brands.
The gin tasting showcases the Triple Three range. The 100% juniper berry gin is a classic inspired by the earliest recorded gin recipes. With its fresh menthol, eucalyptus, pine, cloves and lime fragrances with notes of sweet vanilla and rose petals, this gin goes hand in hand with its perfect partner of tonic.
The South African craft gin market has exploded in recent years and we have a plethora of local plants with which to create our unique gins. One such gin is the African Botanicals Gin in the Triple Three range, which uses a blend of seven botanicals including the flora of the Western Cape. Expect a herbaceous flavour from herbs, dried and fresh tea leaves of buchu and rooibos.
Completing the trio is the zesty Citrus Infusion Gin which draws its flavour from fruit like natural sun-ripened oranges from the Eastern Cape and Stellenbosch-grown organic lemons.
Haskell Vineyards and Longtable restaurant: Haskell Vineyards is on the slopes of the "Golden Triangle" sub region in Stellenbosch, an area widely recognised as South Africa's finest wine growing sub region. No wonder the farm's main focus has been to create gorgeous terroir-driven wines since 2002.
Visitors to the tasting room can sample wines from the flagship Haskell range and the Dombeya lifestyle range, before or after a cellar tour.
Alternatively, head to the estate's newly renovated Longtable restaurant where you'll be treated to not only superb cuisine which can be matched with suggested wines for ultimate pleasure, but a spectacular view to accompany.
The Longtable concept is one of sharing so the small plates menu allows you to sample a kaleidoscope of dishes, preferably at leisure. The kitchen is headed by Charles Joubert whose sterling pedigree includes a stint under another Stellenbosch food legend, Michael Broughton of Terroir. His food is exquisitely plated and a symphony of creative flavours and textures to delight any gastronome.
Longtable is open Tuesdays to Sundays for lunch.
Indigenous plants at the Botanical Garden: One of Stellenbosch's best kept secrets is the Botanical Garden on the periphery of the town centre. The oldest university botanical garden in South Africa, it's a small and unexpected oasis of rampant foliage, greenhouses, and peaceful water features where you'd least expect it and can be accessed for the paltry entrance fee of just R10.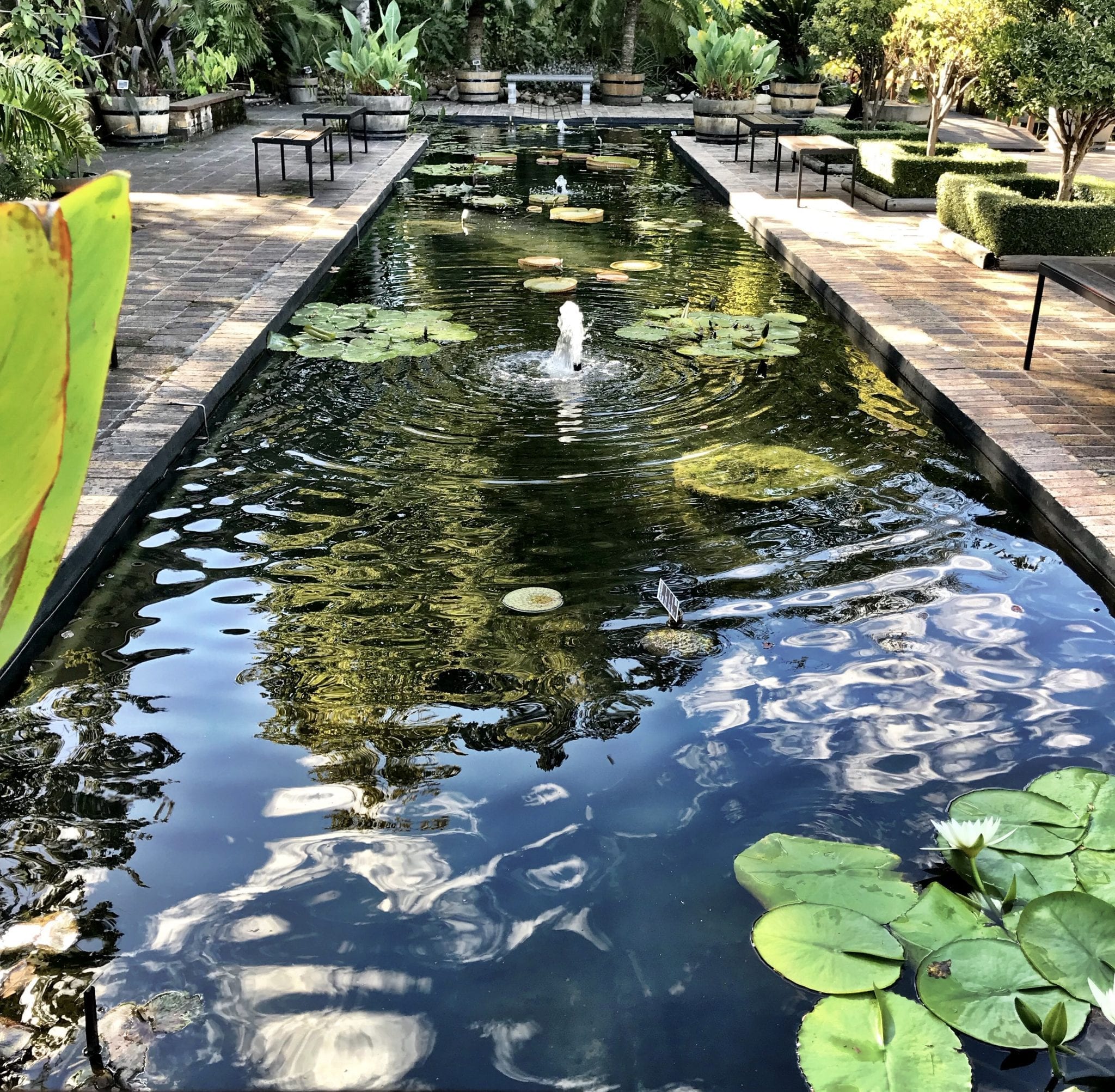 The garden contains a huge diversity of plants, both those indigenous to South Africa and exotic. Themed gardens include a bonsai-en, bulb beds, water lily ponds, rockeries, a fern house, a steamy tropical glasshouse and an arid glasshouse filled with cacti and succulents. Some of these date back to the founding of the garden in the 1920s and some are still used by university students for practicals while others fulfill a purely aesthetic purpose. You certainly don't have to be any kind of plant expert to appreciate the beauty of the garden.
When you've strolled around for a while, take a rest on one of the benches overlooking a pond or head to the tea room for a refreshing beverage and a bite to eat.
Follow Stellenbosch Wine Routes on Facebook for the complete set of videos.
PHOTO CREDIT: BIANCA COLEMAN