ONE of the unexpected silver linings that Covid-19 has brought to travel, is more or less compulsory room service for breakfast, with no extra tray charge.
I've been on two staycations in the past two weeks, and at both guesthouses, breakfast was served to the room. The first place offered the option of the garden, which was fine because there were no other guests; at that time, only business travel was permitted. Now restrictions have been loosened a bit, leisure travellers are filling up accommodation (still with certain Ts&Cs involved, which determine a phased reopening for most places). Cascade Country Manor in Dal Josafat, Paarl, being as full as it was allowed to be over the weekend, so breakfast came to us.
Like the weekend in Stellenbosch, the weather was warm and sunny on the Saturday, cold and pouring with rain on the Sunday. On the first morning, breakfast was taken on the private patio outside the room, which overlooked the rolling (really, it has peaks and dips) lawn and swimming pool. You fill in a form the evening before, marking the items you don't want (you get everything else). There's orange juice, tea, coffee, cheeses, cold meats, preserves, croissants, toast, muesli trifles with honey and yoghurt, and a hot meal of an "omelette bowl" – scrambled eggs with all the toppings you don't cross off: bacon, ham, avo, tomatoes, mushrooms, cheese.
On day two, with the rain coming down vertically as well as horizontally, breakfast was in the room and I'd adjusted the order slightly (you can communicate with reception via Whatsapp) to include extra bacon. It was just as well, because the beautiful resident battle-scarred ginger kitty who had pitched up shortly after I arrived on the Friday afternoon and immediately jumped on my lap to purr and give me head boops, came sprinting in across the aforementioned rolling lawn to take brief shelter from the weather. She got dried off with a towel, poddled on the bed for a bit, then ate all my bacon and some of my cheese. A friend has suggested in future I shouldn't stay anywhere that doesn't have a cat, so putting that out there.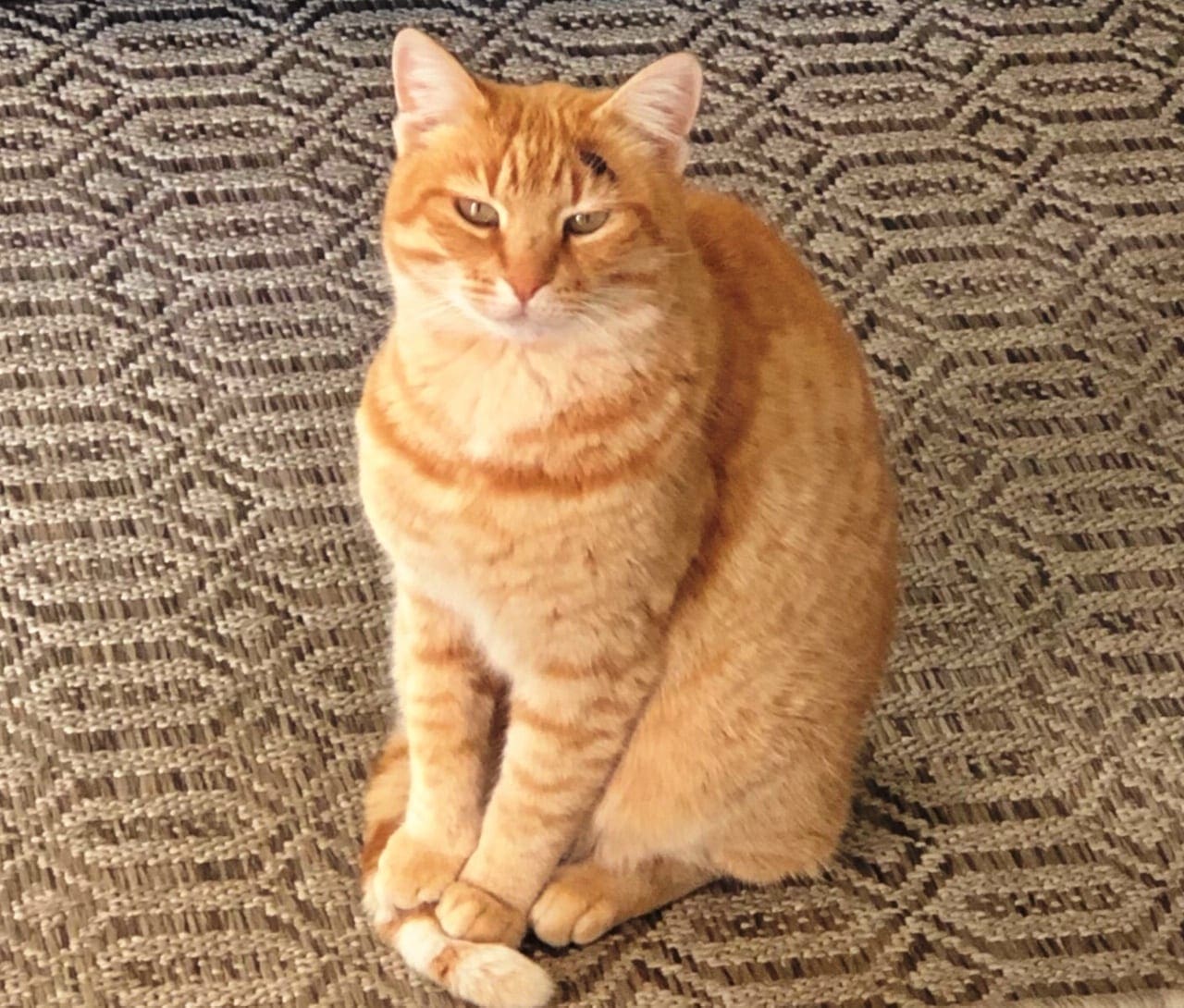 Cascade Country Manor is where I call the "back" of Paarl, right up against the Klein Drakenstein Mountains (you take the last exit off the N1 before the tunnel). Close enough to the building that you can hear it from the stoep, is a waterfall (which rushed over the rocks even louder after the rain). It's a brief stroll through an olive grove (pictured below), and past the secret garden and Barefoot Walk. There are some old ruins, and two chairs should you wish to sit and contemplate the beauty. In dreams, waterfalls symbolise the process of letting go, the process of cleansing and the continuous flow of energy and life.
"The olive grove surrounding Cascade is more than 100 years old and for the oil production the trees have been 'rejuvenated'," says Maika Goetze, who owns the guesthouse with her husband Volker.  "I'm not sure if this is the right term, but they are pruned to have lower branches for easy picking and the trees look much younger. The alley of trees that leads to the waterfall have been left to grow at liberty and are therefore much larger."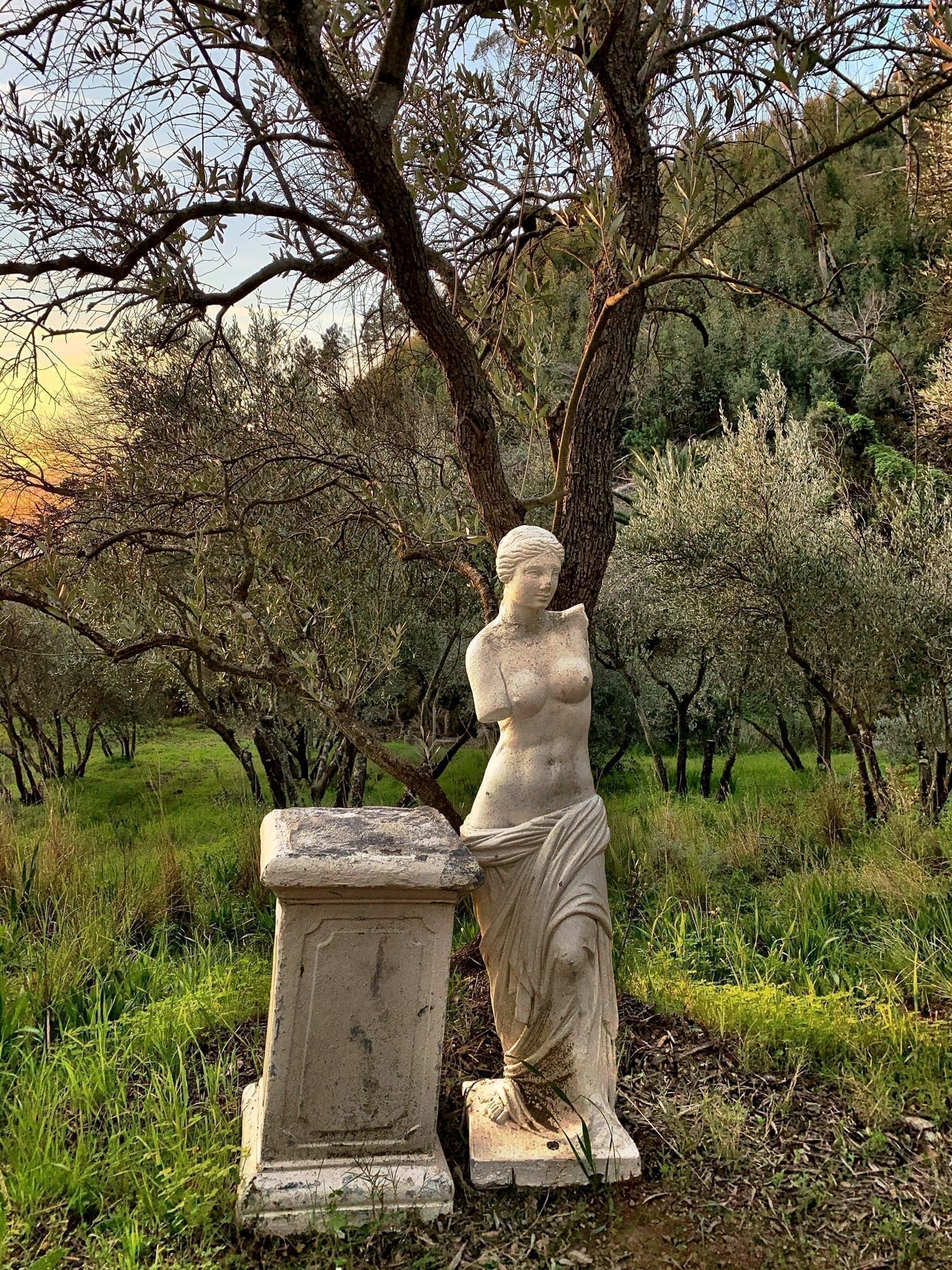 Spending a night or two at Cascade is a treat, and without a doubt comfortable and relaxing, day visitors are welcome too, at the spa (open for limited treatments, safety protocols in place, but the heated pool and sauna are not), to walk in the surrounding area (as long as they have announced their intentions to the spa therapist or reception), and to pop in at Volker's market on Fridays and Saturdays. I am still kicking myself that I knew about this but completely forgot on Saturday morning.
"The secret garden along the river can currently be booked for romantic picnics, late breakfasts or brunch for two – for example for a marriage proposal or date morning," suggests Maika.
"Creative husbands-to-be book a massage for their fiancée and when the treatment is done the therapist takes her to the secret garden 'to relax'. But in the meantime the partner has set up at the picnic spot ready to propose."
When the weather warms up in October, Maika says they intend to offer a couples' massage along the river, and once the therapists are done they leave guests to relax and enjoy a picnic. "This experience is available to book at 11am or 1pm any day of the week," she says.
The Barefoot Walk is Maika's passion, and when she gets a chance she even does the mountain walks barefoot.
"However, when you are only used to walking barefoot on carpets it takes some adjusting," she cautions. "That is where the Barefoot Walk comes in. In summer it starts off with cooling your feet in the pond with running water and then walking over the bamboo, the cobbles and the mulch – feeling each texture with your whole foot and between your toes. Our feet are our bodies connection to earth.
"And when you have done a 1km walk barefoot anywhere you will feel the tingling long after and the stimulation in your whole body," promises Maika.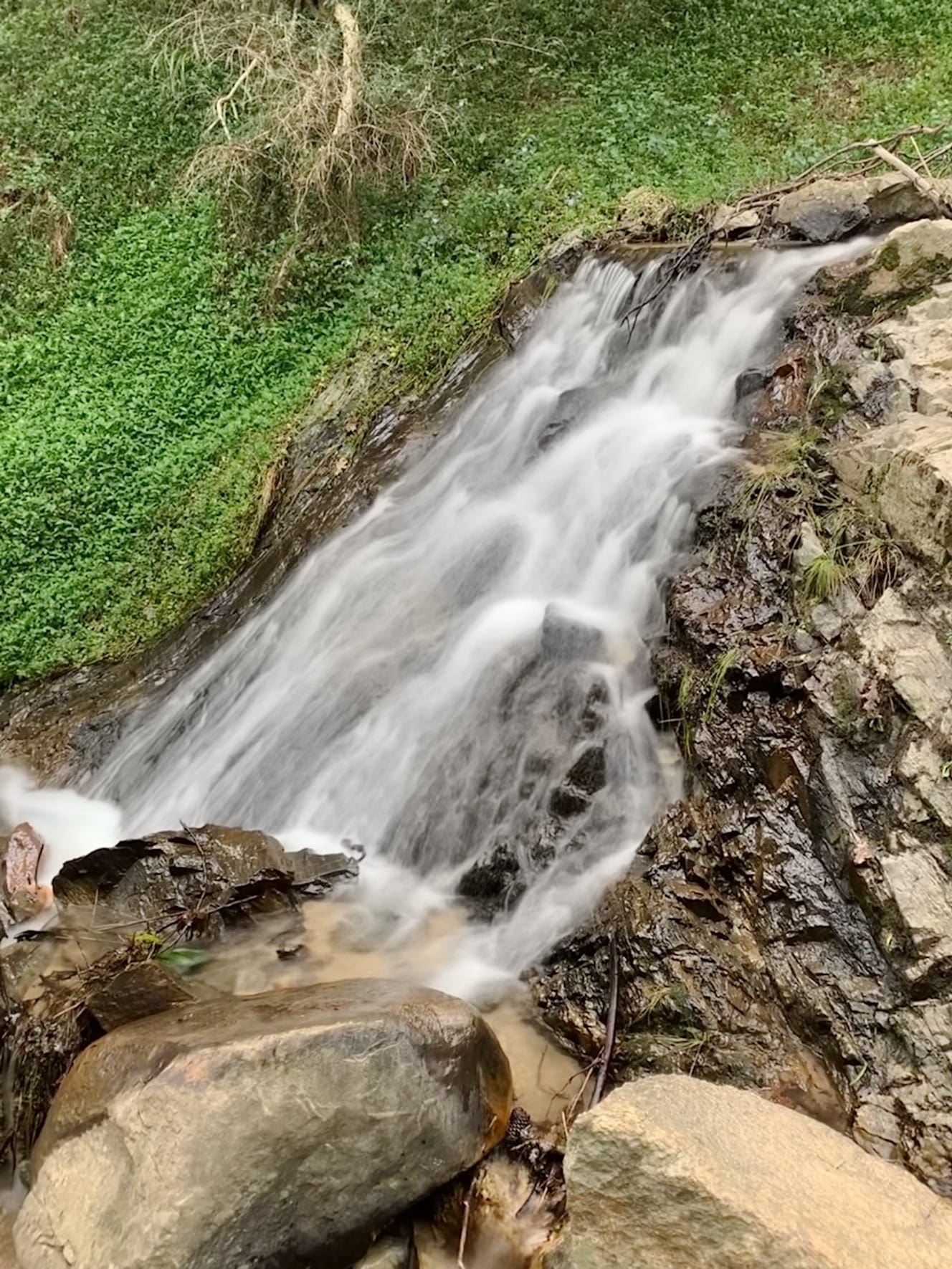 The Barefoot Walk takes place in a small garden setting near the waterfall. If you'd rather keep your boots on, there are two more walks to try. The Leopard Walk is just short of 2kms – slightly technical with uphill and contour walking but with beautiful views. "And we have a 5km hike through the pine forest with a panoramic view of the Paarl Valley and beyond," says Maika.
We gave it a try but apparently I'm not very good at taking directions, and I only got the map later. It didn't matter; it was still pretty and I suspect we veered on and off both the above walks because there was definitely an uphill contour path, which I assessed and decided I'd gone high enough.
The market I missed was born in lockdown when it was decided to sell essential items like sanitisers (Healing Earth), winter clothing (from Alpaca Loom) and the Manor's food products, says Maika. "These include breads, German-style cold meats, sauerkraut with fresh meat, and every week a different flavour or style traditional meal that you could prepare or heat at home.
"Patrons were encouraged to take a long walk back to the car (the one which leads past the waterfall) and even customers that were generally afraid to go out used this opportunity to catch fresh air and enjoy nature before getting back into their car and their homes.
"Even though lockdown is relaxed and people can enjoy destinations without essential reasons we continue to offer the products from Volkers Feinkost Deli every Friday and Saturday from 9am to 4pm."
The guesthouse is luxuriously equipped with all the desired amenities of a modern hotel and with only 15 luxuriously appointed and individually designed rooms – all leading onto a private balcony or patio – guests are ensured of an intimate and peaceful stay. We had a Fireplace Deluxe room, with one of those oven-type fireplaces which, once you get them going, burn like a roaring furnace and heat up a room to the point you might have to go outside in the rain to cool down a little bit.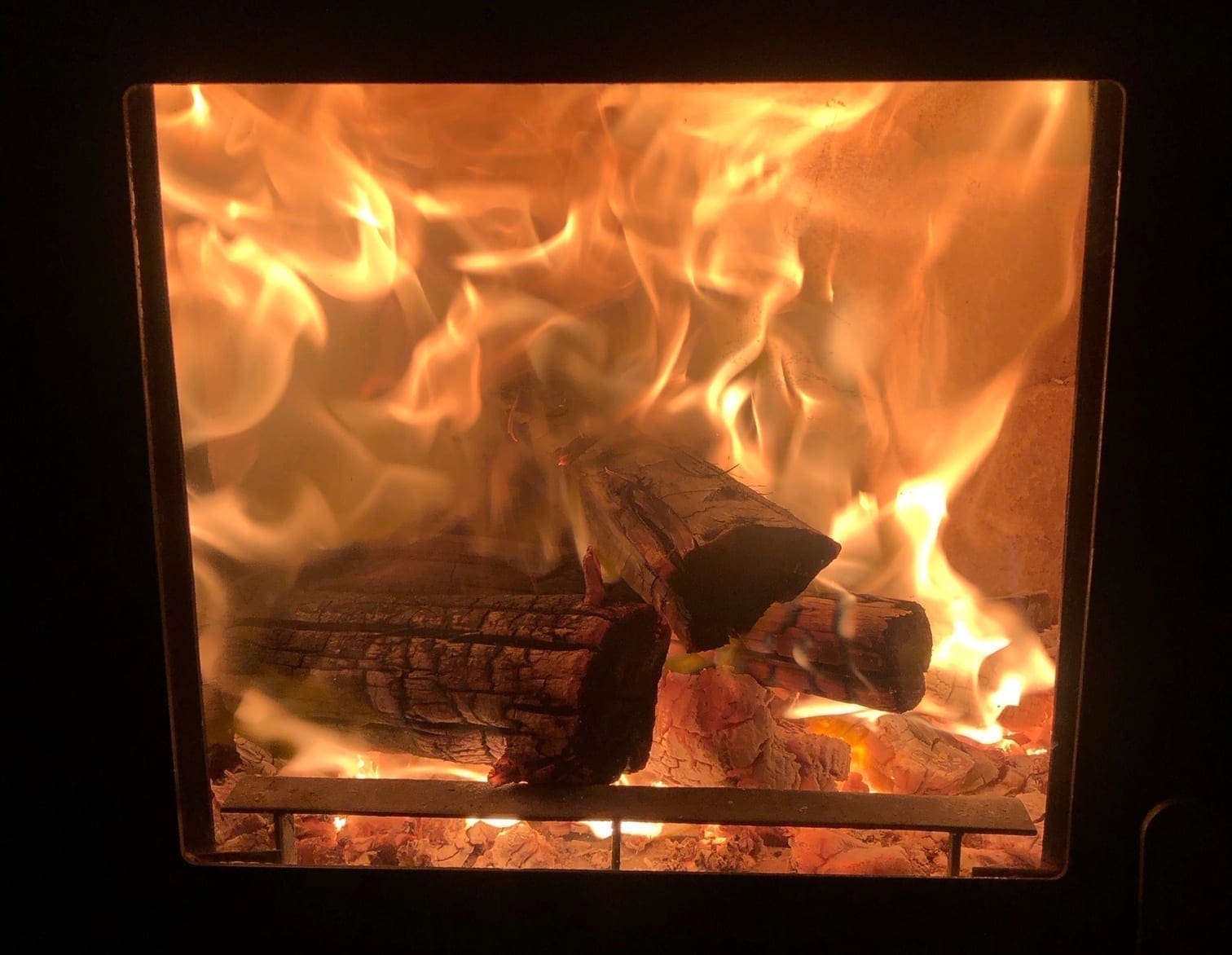 For the peace of mind of travellers who are still getting used to being out in the world, rooms are accessible from the outside or through a high and wide passage that has natural ventilation. Check-in is contactless and guests proceed directly to their room. Rooms are not serviced during a two-night stay. On the third night housekeeping service of the room is optional (bedding and towel change, but there were extra towels in the wardobe). Rooms are equipped with direct dial telephones, microwave (useful since the restaurant is still closed, and there are relatively limited dining out options), mini bar fridge (stocked on request), coffee and tea facilities. All surfaces and equipment have been wiped down with an approved disinfectant cleaner before your arrival. There is hand sanitiser placed in the room for frequent use.
Cascade has a winter special at the moment: book a two-night midweek stay in August and September in a Fireplace Deluxe or Fireplace Garden Suite for R1500 (total) and get spoiled with a bath bomb and complimentary bottle of grape juice (red wine once it is allowed).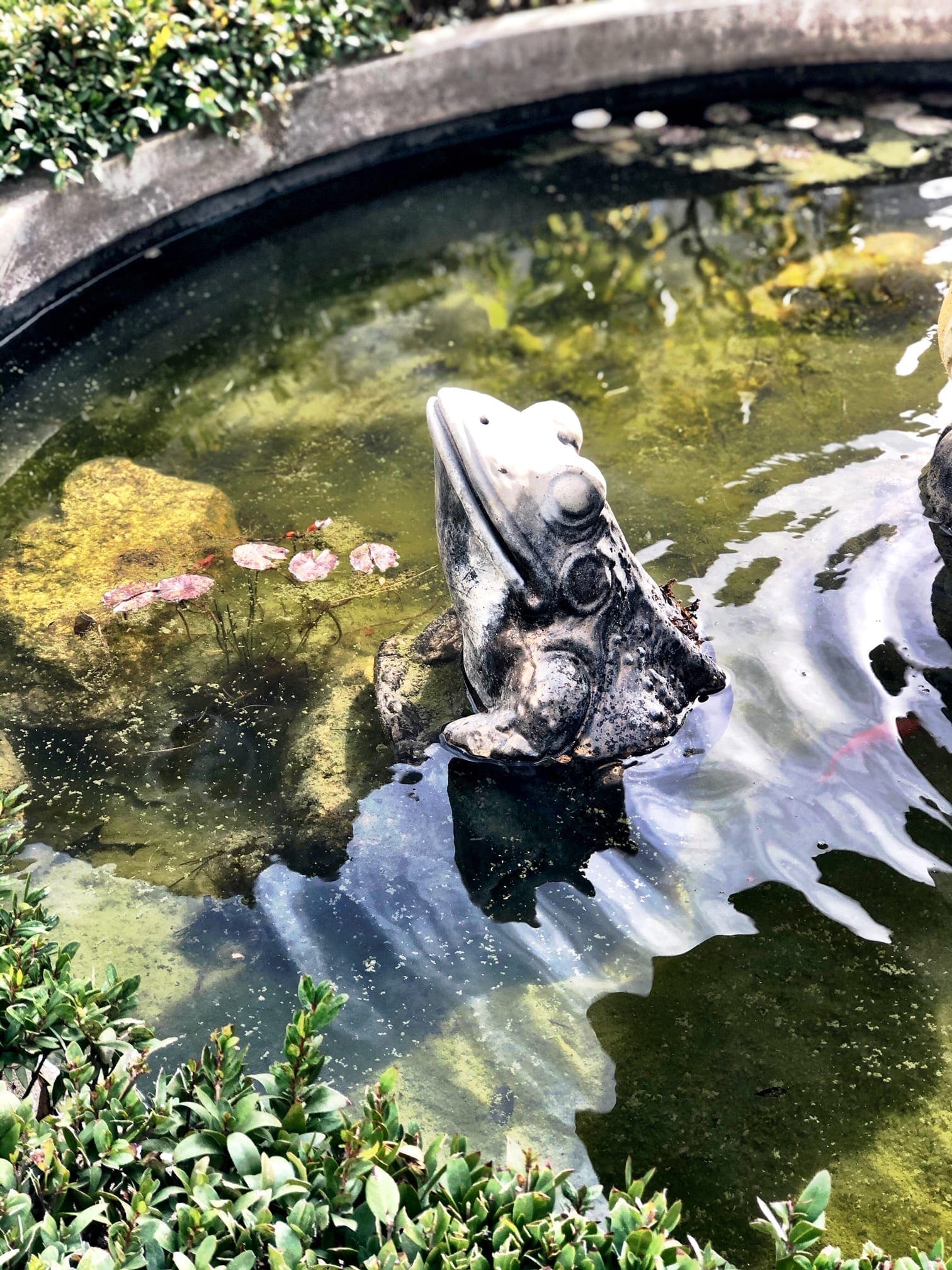 For more information, click here or WhatsApp 067 7850 855.
PHOTO CREDIT: BIANCA COLEMAN ©
Cascade Country Manor is part of Cape Country Routes (CCR) South Africa, a leading group of owner operated and managed accommodation and activity establishments – more than 20 privately owned hotels, lodges and guesthouses – located on the scenic and historic routes in the Western and Eastern Cape. All carefully selected for their character, charm and romance, they offer the best accommodation and activity options to suit every taste and budget.
The group has several multiple day/night packages at the moment. The Wellness Road Trip, for example, begins with two nights at Cascade Country Manor; followed by one night at The Arniston Spa Hotel; and the final two nights at the five-star De Hoop Collection. Booking is essential. Please use the reference: CCR 6 Day when booking. CCR Central Reservations: 076 203 8929 (also WhatsApp), [email protected]