SOMETIMES it's perfectly acceptable to scream like a girl. Like when, for example, you are whizzing along a zip line hundreds of metres high in the mountains.
To be fair, the shrieks are generally more expressions of delight than fear, because this adventure with Cape Canopy Tour is professionally handled by trained and experienced guides who place great importance on your safety. Everything is explained thoroughly at base camp before you set off on a hair-raising 4×4 drive to the first platform in the Hottentots Holland mountains.
There, you are clipped onto a metal cable bolted into the rock face and sent soaring across the void. You have one more chance on the second line to decide if you want to continue or turn back. I strongly recommend the former; as the lines of varying lengths, speeds and heights criss-cross through the craggy mountains, the exhilaration is like nothing you've felt before. Remember to smile, because there are go pros dotted around the course which are recording you for your own personal video memory moment which is emailed along with a certificate by the time you get back to your car.
Zip lining is suitable for all ages. Smaller children and those of nervous disposition can be strapped to a guide for tandem rides. You do need a certain level of physical fitness; the free hike included at the end, which takes you back to the 4×4, is a steady and steep uphill.
Whether you pronounce it with a soft G or a hard one, Elgin is exquisitely beautiful. The N2 from Cape Town separates it from Grabouw on the other side of the freeway, and it's about an hour's drive from the CBD. When you see Peregrine Farmstall – home of vintage tractors – you'll know you have arrived. Pop in there for braai supplies if you're self-catering, a fabulous freshly baked quiche, or a quick coffee. Out back is converted bus which sells new and second hand books, which are another weekend necessity.
Facing east, Grabouw is the village on the left, and the Elgin Valley is to your right. A network of tar and gravel roads connects several wine farms, guest houses, and eateries. Our accommodation for the weekend was at Elgin Vintners, a wine farm with a small three-bedroomed guest wing (with two additional rooms sharing a bathroom, good for families and very close friends).
We were welcomed by Juanrie Hickman-Boltt, who showed us around and urged us to make ourselves at home. "This is your farm now," she said. We promised we would look after it.
Later that afternoon, we spent a most enjoyable couple of hours tasting wine on the veranda (I recommend the Merlot rosé) followed by making our own braai in the garden after all the staff left. An honesty bar system is in place, and guests have access to the kitchen as well.
The next day was a busy one, as far as country days go. It began with breakfast at South Hill, overlooking the vineyards. The hot beverage was restorative, and my open omelette/frittata with cheese and bacon was delicious.
We popped in at Andrea's Topiaries where you can see – by appointment – Andrea Semple's collection of décor items made with indigenous Cape foliage which is treated to maintain its colour. At the moment, the showroom – reached after a pretty drive through the farm – is full of bunnies in all shapes and sizes. Because Easter, of course.
The afternoon was taken up with another wine tasting, this time at Almenkerk, a modern winery with an enviable hilltop position from which you can suck in the glorious view of the valley as it vies with the fine wines and sculptures in the garden for your attention; and lunch at the delightfully quirky Rojaal.
Housed in a former flower-packing shed overlooking one of the fruit region's many valleys, Rojaal (the Afrikaans word for Royal) was established late 2016 by apple farmer Arno Reuvers. It's managed by the friendly and bubbly Charmaine Valentine, who used to work with the area's tourism body so she's an absolute delight to chat with. Chef Orscilla Hitchcock's menu leans towards enormous portions of hearty food favourites with a distinct twist.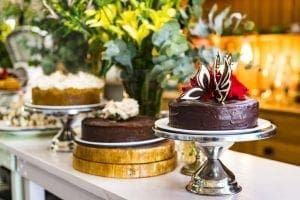 I had an amazing fish burger – made with hake, salmon and yellowtail – on a black brioche bun with mint and caper aioli and all the trimmings including potato wedges and fat onion rings. It's a dish that needs a sosatie stick to hold it all together, and was so big I had to duct tape the takeaway box closed.
Charmaine refused to let us go without something sweet – giant wedges of chocolate cheesecake and lemon meringue tart, garnished with whipped cream, fresh fruit and roses – which is what we had for supper later.
​On the Sunday, after we'd been zip lining, we finished our trip in style at the Pool Room at Oak Valley. This farm produces livestock, flowers and wine, all of which can be found in the restaurant. The pigs are famously happy and fed with acorns, and provided their belly for my main course which was accompanied by a big glass of Sounds Of Silence pinot noir served poolside. The superb coffee here comes from Elgin Coffee Roasters across the road in Grabouw.
When we left it was with armfuls of pink and white cut flowers to brighten our homes on the inevitable Monday morning.
Elgin is an easy day trip from Cape Town but with so much to see and do, try to spend a weekend. You won't be sorry. For more information, call 083 414 0552, email [email protected], or click here.
This story first appeared in Independent Traveller on March 17, 2018
Featured image: the view at Almenkerk, by Bianca Coleman ©