THERE are people out there who take their coffee extremely seriously, and you'll find many of them at Origin in De Waterkant.
They will be the casual drinkers who frequent the coffee shops of Cape Town and beyond, ever on the hunt for the perfect brew; and some of them – perhaps a somewhat smaller group – will be the ones who elevate even their home skills to barista level, with all manner of gadgets and methods which would thrill any engineer.
I've become a daily imbiber only in the past year, and for me, graduating from instant (shocking, I know) to a filter machine has been a fairly big deal, with a lot of trial and error as to what I put in it (at the moment I can't get enough of French vanilla). When I'm out, I've quickly learned what I like and what I don't like, and have discovered – disappointingly – that caffeine no longer keeps me awake all night. But when I was invited to Origin to discover "alternative brew methods" I soon realised I am still so very firmly in the amateur league.
Besides the good old fashioned and comforting filter machine, I know the French press (easy, I call it a plunger and a friend more experienced than me helpfully advised it to be used with all the delicacy of defusing a bomb) and the moka pot. You'll know them too – they go on the stove top and every Italian owns at least one.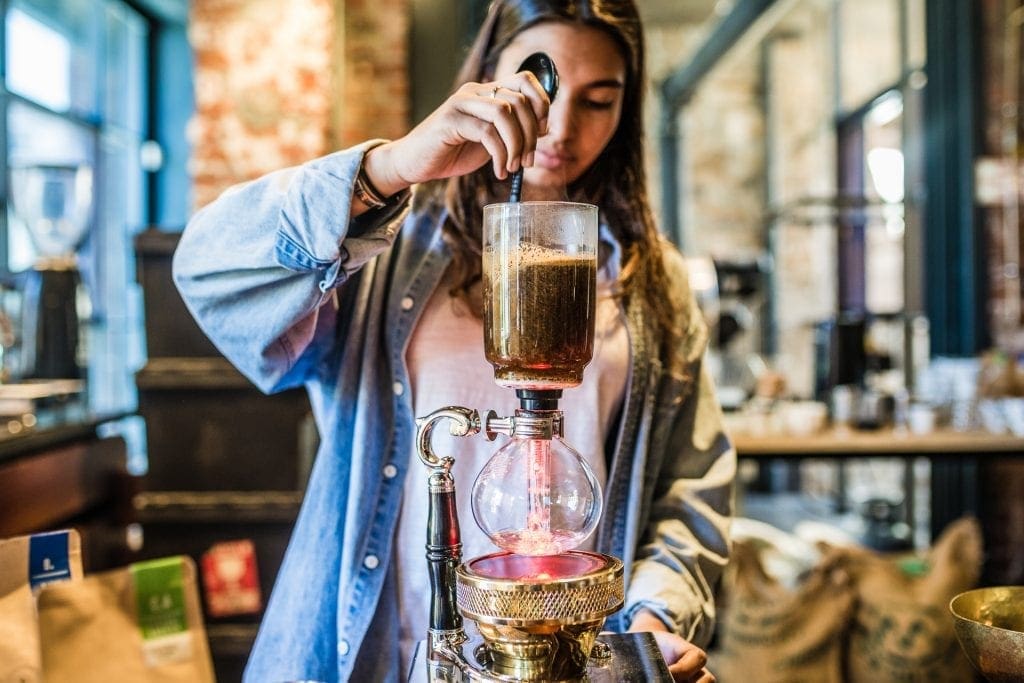 But Origin head roaster Michael McDonald also demonstrated the Chemex (which uses immersion and gravity), the AeroPress (immersion and pressure), and the siphon vacuum brewing system first used by German scientists (obviously) back around 1830.
Not only are these vastly different but each requires beans measured out and ground specifically to the correct consistency and weight per cup, exact temperatures, and – wait for it – water measured in grams. I've been around food and drink in a professional capacity for a very long time, but this was something I had never heard of.
"Okay," I thought inside my head, "this guy is a professional. Surely nobody does this at home?" Well, actually they do. There were two others in our media group who had all sorts of educated questions for McDonald, as I hung back and quietly observed while desperately trying to taste the subtle nuances between all the coffees and not look like a complete moron.
The good news is, if you are one of these heavyweights, you too can book yourself a place in a Home Brew Course where home baristas and coffee enthusiasts will "learn how to make good coffee at home without a machine." I assume by that they mean a contraption which does not plug into the wall. The course includes coffee theory, brewing basics, and hands-on alternative brewing. It costs R600 for three hours, and there is a maximum of 12 people in a class.
Origin offers various other courses, including barista training, cupping sessions in which you can explore and understand varying origins and characteristics of coffee while tasting like a pro, and coffee knowledge sessions called Sunday Brews. Don't play well with others? Look into a one-on-one coffee consultation with barista trainer to develop your barista skills or learn how to use your own coffee machine. These are private and personalised. Coffee nerd level: expert.
Origin is at 28 Hudson Street, De Waterkant. For more information, call 021 421 1000, email
[email protected], or click here.
Opening hours are Mondays to Fridays 7am till 5pm, Saturdays and public holidays 8am till 3pm, and Sundays 8am till 2pm.
This story first appeared in Weekend Argus Saturday Live, February 24, 2018