WHEN I sat down to write this story, I first Googled the restaurant. Not because I needed to but because I wanted to know what other people have been saying about it. One happy diner wrote on TripAdvisor: "Wow, wow, wow."
I can relate to that because I said exactly the same thing more than once during our lunch there yesterday. We may as well dig out the Thesaurus right now because many glowing adjectives will be necessary: synonyms for delicious like delightful, exquisite, delectable, lovely, pleasurable, extremely pleasant/enjoyable; and informally, glorious, heavenly, and divine.
Right. Now the flowery language is out the way, join me as I take you through the seven-course winter menu, with wine pairings.
At our window table we were attended to by no less than five staff members, from waiter to sommelier, each of whom is intimately acquainted with the menu. This level of training – and having everyone taste the dishes they are serving – always impresses me. While the menu has dish descriptions of a few key words, these people gave us detailed explanations of everything on the plate, just short of the actual recipe.
The feast began with caraway sourdough bread with house-churned butter topped with sesame and roasted yeast. Three of the courses offer two options (after any allergies, intolerances or dietary requirements are established), so first up was a Champagne poached oyster for my friend, paired with Avondale Armilla blanc de blanc MCC. My starter was ridiculously pretty, and not for the only time during the meal, I asked for one I could eat alongside the one to look at. A thin disc of yellowfin tuna rests upon orange mousse and is exquisitely decorated with aubergine, miso, kalamansi, avocado, apple, and lots of other teeny tiny garnishes. And yes, it tasted as good as it looked. My wine was 2016 Old Vines by Mullineux, a suitably complex blend to accompany everything going on in the dish.
Next up was quail for both of us – confit thigh and leg glazed with sticky bourbon. My scribbled notes says "hoisin, sweetcorn, red cabbage, sweet potato, lavender…" This was paired with Chamonix Troika.
Then there was a surprise. Just as I was pondering why they'd asked us if we eat foie gras, and also, "what was this 'meet the chefs' course for an additional R100?", they came and called us up to the chef's table outside the kitchen.
The marble surface holds a meandering garden of herbs and mushrooms in which nestled two eggshell bowls filled with pea mousse, a quail egg yolk, and cep foam. Resting across the brim was a foie gras-filled finger of toasted brioche. This is La Petite Colombe's take on the children's favourite of egg and soldiers. While we ate it, the chef explained the workings of the kitchen behind him, which is a fabulous insight for diners. The wine was the spectacular Rijk's 2009 Pinotage, available exclusively here.
Back at our own table, the palate cleanser of lemongrass sorbet with cucumber and apple jelly and gin and tonic foam awaited us. My friend's main course was springbok loin with wilted spinach and a variety of purées and fondants – beetroot, turnip, artichoke, rhubarb – and a reappearance of lavender, which had also been an ingredient in the quail dish. The wine was My Wyn Cab Franc, from Franschhoek's smallest wine cellar and recent winner in the 2018 Cab Franc Challenge.
On my side of the table was Mauritian sea bass (sustainable) with mussels, squid, endive, chorizo, creamed leeks and soubise (French sauce made with onions), served with Paulina's Reserve Semillon from Rickety Bridge. There was zero order envy; I loved every mouthful of this (and just look at that scoring on the squid!).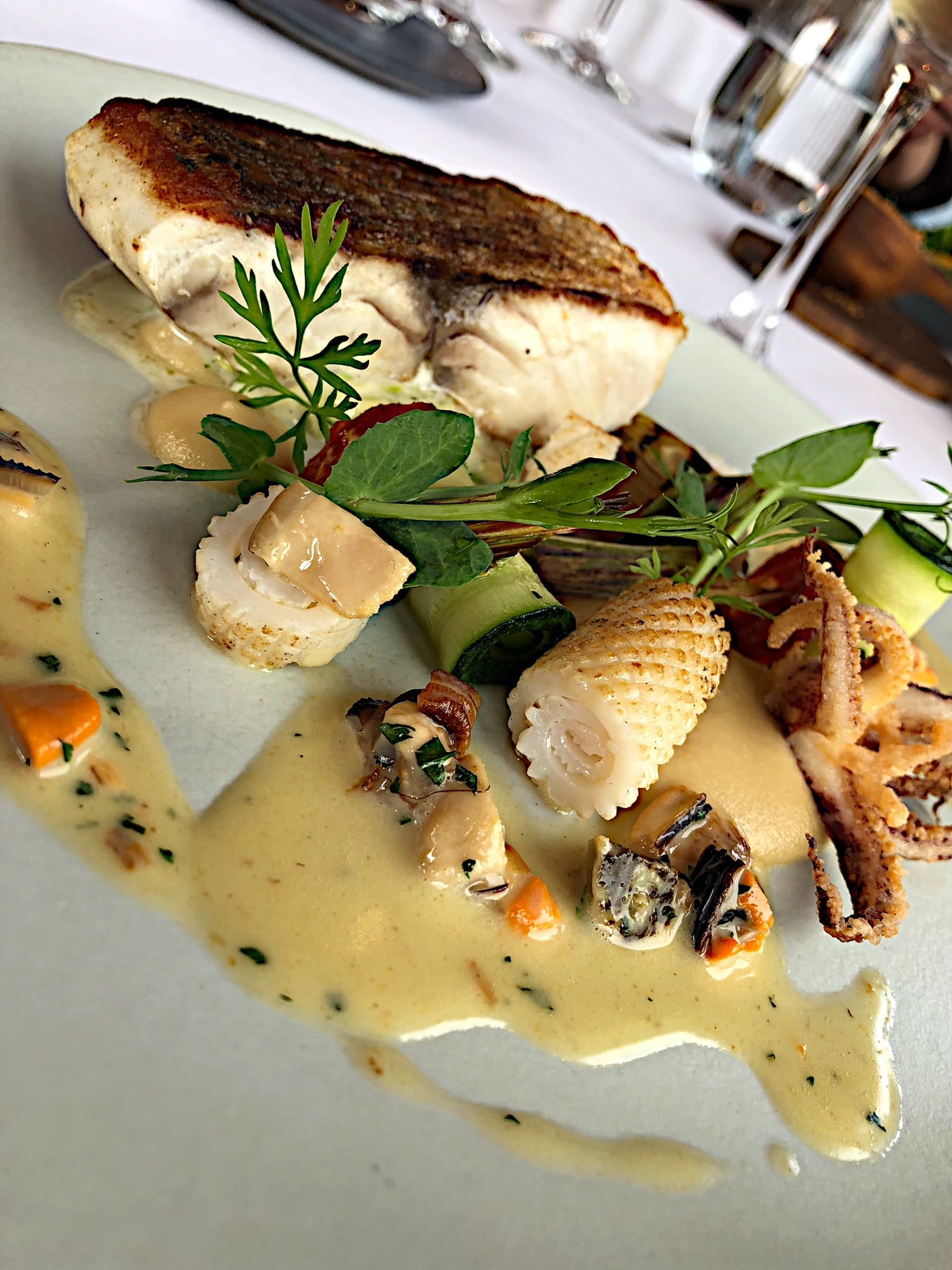 Finally, dessert. I swore I wasn't going to have any and my friend would take two for the team but the waitress smiled and said "I'll leave this spoon here, just in case…" When the Foxenberg goat's cheese with goat's milk caramel, cheesy crisps and elements of guava and tamarind to cut through the creaminess arrived, I crumbled like a shortbread cookie. My friend was almost squealing with excitement at her Valrhona itakuju crémeux (richer and denser than a chocolate mousse and even than a ganache – it has to do with the cooking method) with tropical fruits, macadamia and lemongrass. "There's something popping in my mouth, Bianca!" she informed me. When I looked up, the bowls and plates were empty.
We were almost done. Just coffee and "Treasures" followed – a wooden treasure chest filled with edible chocolate soil upon which rested two perfect macarons and two nuggets of gold-dusted salted caramel.
This was a marathon meal to be sure, but perfectly proportioned so as not to leave us in a food coma. Although someone may have had to take a nap when she got home.
The menu is R395 a person, R795 with wines. For more information, call 021 202 3395, email [email protected], or click here. La Petite Colombe is at the La Quartier Francais Hotel on the main road in Franschhoek.
PICTURE CREDIT: BIANCA COLEMAN