THE moon is new today and with it comes the end of Ramadan. Eid Mubarak to all Muslim readers and here are some recipes with a bit of spice, courtesy of South African Mushroom Farmers' Association.
CURRIED MUSHROOM & COURGETTE KEBABS WITH SPICED MANGO DIPPING SAUCE
(pictured above)
Makes 6 kebabs
Ingredients
± 250g portabellini mushrooms (18 similar sized portabellinis)
2 red onions, cut into large cubes
12 mixed courgettes / patty pans, sliced
Spiced ghee:
1 tsp cumin seeds
1 tsp coriander seeds
1 tsp mustard seeds
1 tsp garam masala
1 tsp chilli flakes
¼ cup ghee
Mango dipping sauce:
1 cup fresh mango pieces
1 Tbsp honey
¼ cup mango atchar
1 Tbsp lime juice
1 tsp fresh ginger, grated
Salt and pepper, to taste

 

Fresh mint, for serving
If using wooden kebab skewers, soak them in water for a few hours or overnight before preparing the kebabs.
Method
Using a blender, combine all the dipping sauce ingredients and blend. Taste for seasoning and then pour into a bowl and set aside. This can be made ahead of time and left in the fridge.
Alternating between the mushrooms, onions and courgettes, skewer the veggies onto the soaked kebab sticks.
In a small pan combine all the spiced ghee ingredients and sauté on low for 2-3 min or until spices become fragrant. Be careful not to burn the spices.
Using a pastry brush, brush the kebabs with the spiced ghee.
Cook the kebabs on the braai basting them with the remaining spiced ghee and turning often, until the mushrooms are just cooked though and can easily be pierced by a knife tip.
Serve the kebabs with the mango dipping sauce and a sprinkle of fresh mint. 
MUSHROOM & MINCE BOBOTIE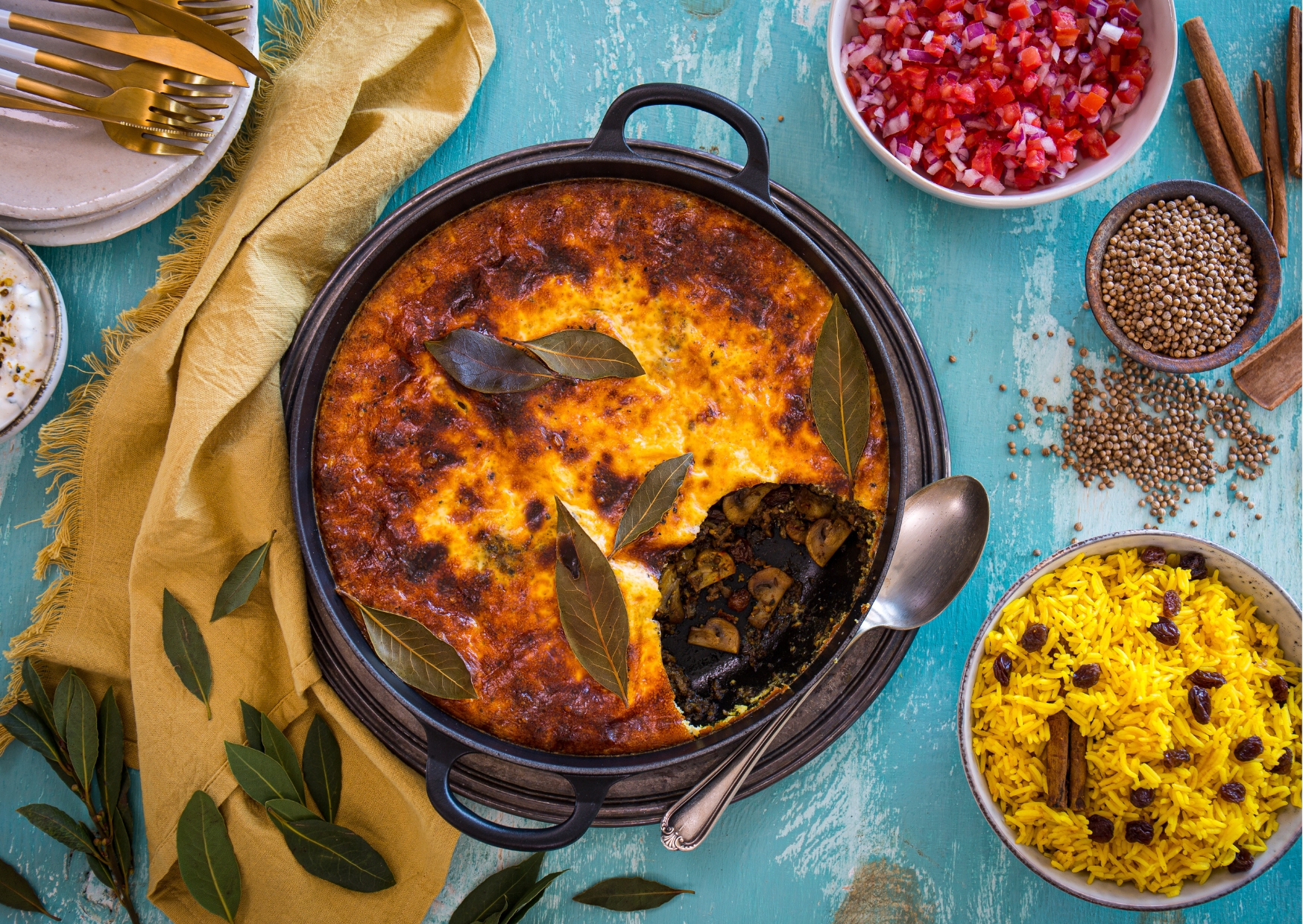 Serves 6-8
Ingredients
750g mushrooms (portabello, portabellini or button)

 

500g beef mince
1 large onion, diced
4 cloves garlic, minced
2 Tbsp curry powder
1 tsp turmeric
1 Tbsp apple cider or sherry vinegar
1 Tbsp worcestershire sauce
½ cup fruit chutney

 

⅓ cup raisins
Olive oil
Salt and pepper, to taste

 
Topping:
3 large eggs
300ml milk
3-5 bay leaves

 

Salt and pepper, to taste

 
Method
Preheat oven to 180˚C.

 

Cut mushrooms into smaller pieces if necessary and then place into the bowl of a food processor. Process in batches until finely chopped.

 

In a large frying pan (or oven safe cast iron / buffet casserole)

 

heat a drizzle of olive oil. Fry mushrooms until completely dry and turning golden brown. Fry in batches if necessary. Set aside in a bowl.

 

To the same pan add the beef mince and fry until beginning to brown. Add the onion, garlic, curry powder and turmeric. Cook until tender and fragrant.

 

Add the cooked mushrooms back into the mince mixture.

 

Add in vinegar, worcestershire sauce, chutney and raisins. Adjust seasoning.

 

Level out filling in oven safe dish or transfer to an oven safe dish.

 

Whisk together topping ingredients and season.

 

Gently pour egg custard onto the top of the mushroom and mince filling. Scatter with bay leaves and bake for 45-60 minutes until set and deeply golden brown.

 

Serve bobotie with sambals and yellow rice.

 
PORTABELLO STEAKS WITH SPICY CHIMICHURRI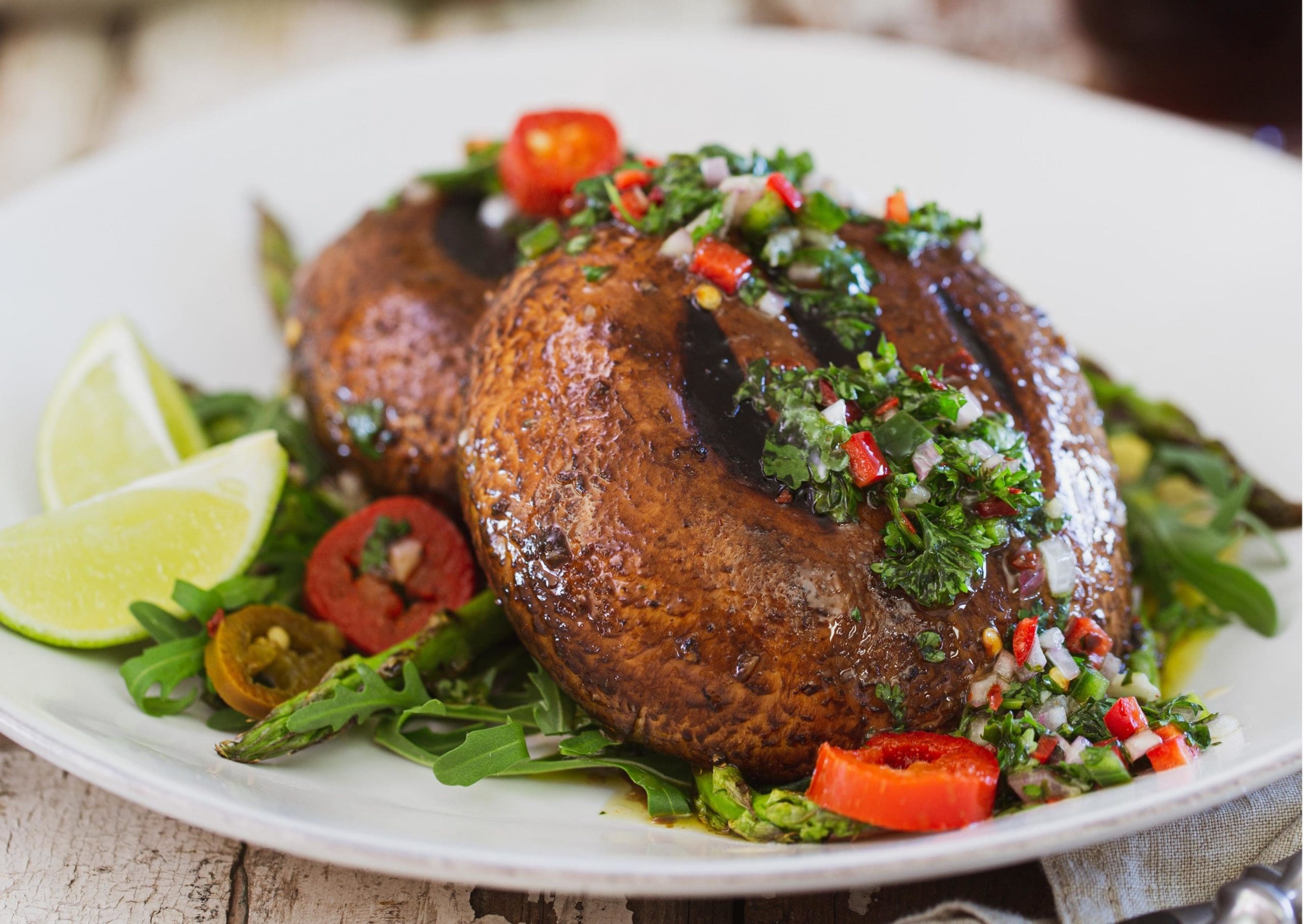 Serves 2
Ingredients
1 shallot, finely chopped
1 red chilli, sliced
3 cloves garlic, minced
½ cup red wine vinegar
1 tsp salt
½ cup coriander, chopped
¼ cup parsley, chopped
2 tbsp oregano, chopped
¾ cup olive oil
4 large portabello mushrooms
2 tbsp olive oil
Salt and pepper
1 lime
30g rocket
100g asparagus, when in season; or green beans
Method:
Prepare your braai and allow coals or wood to burn down, or preheat a gas braai on medium.
In a bowl combine the shallots, chili, garlic, red wine vinegar and salt. Mix well and let sit for 10 min. Add in the coriander, parsley, oregano and olive oil. Whisk well until combined.
In a large bowl combine 2 tbsp chimichurri, 2 tbsp olive oil, the juice of one lime, salt and pepper. Add in the mushrooms and asparagus/beans and toss to coat.

 

Braai the mushrooms and asparagus/beans until they are tender and begin to show some colour.

 

Serve the mushrooms on a bed of rocket and asparagus. Top generously with chimichurri, a squeeze of lime and fresh chilli.
SPICY CHICKEN LIVERS, BABY BUTTONS & CREAMY SAMP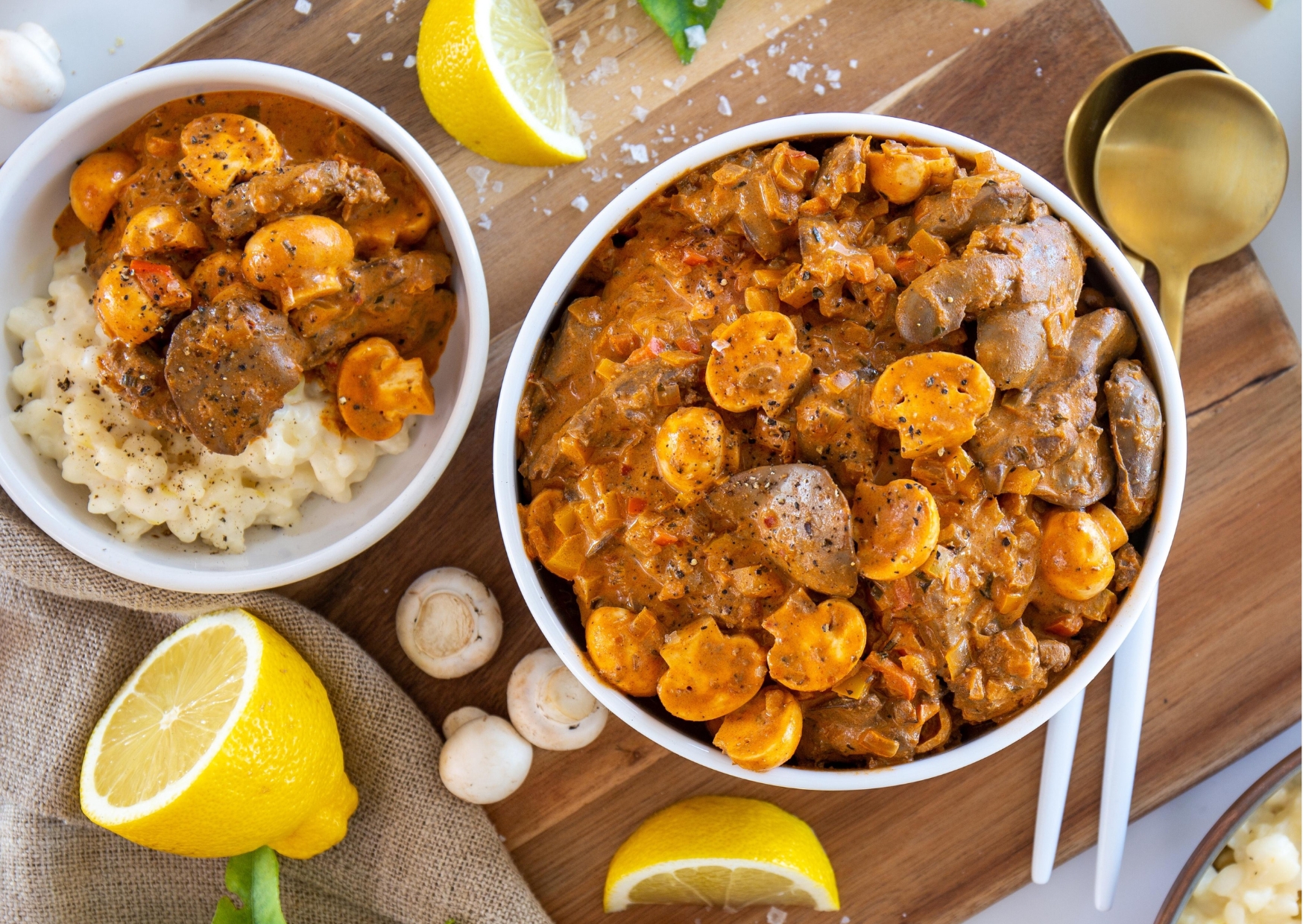 Serves 4
Ingredients
For the chicken livers: 
1 Tbsp butter
1 Tbsp olive oil
1 large onion, finely diced
2 cloves garlic, grated
500g free-range chicken livers, cleaned

 

250g baby button mushrooms, sliced in half

 

1 yellow pepper, diced
1 red pepper, diced
3 Tbsp tomato paste
1 tsp ground cumin
1 tsp smoked paprika

 

1-2 tsp chilli flakes
2 tsp dried oregano
Juice of ½ lemon
250ml cream
Salt and pepper, to taste

 
For the samp:
2 cups samp
4 cups chicken stock
125ml cream
125g crème fraîche
2 Tbsp butter
Salt, to taste

 
Method
For the samp:
Wash and soak samp overnight the day before you want to make the livers.

 

Drain the samp after soaking overnight and place it in a large pot, and cover with chicken stock.

 

Bring to a boil and then simmer gently for 1-2 hours or until soft.

 

When soft, stir in the cream and bring to a simmer. Reduce until creamy. Switch off the heat and stir in the crème fraîche and butter. Season well with salt to taste.

 
For the livers:
Pat chicken livers dry with a paper towel to encourage good caramelization and browning.

 

Heat butter and olive oil in a large frying pan over medium heat.

 

Sauté onions until soft and then add garlic and chicken livers. Sauté until chicken livers are browned, then add the mushrooms and bell peppers. Season well.

 

Add tomato paste, spices and lemon juice. Cook for a few minutes until the flavours have melded together and the tomato paste smells sweet.

 

Pour in the cream and simmer for 5-10 minutes. Season well with salt and lots of freshly ground black pepper.

 

Serve the livers on a bed of creamy samp with extra lemon wedges on the side.