VISITING Buitenverwachting is always a special occasion for me, whether it's for food, wine, or coffee. It's a place where everyone knows my name, and whenever they can, they join me for a chat and a glass of bubbles.
Publicist Sandy Bailey ensures I am spoiled rotten, and on this particular day, chef patron and partner Edgar Osojnik outdid himself by creating a seven-course tasting menu exclusively for me. We've known each other for a number of years and clearly he has been paying attention to what I order, and what I like, because every dish was perfect for my palate.
The restaurant has undergone a transformation over the past while, bringing it up to date with the new tasting room, and the coffee lounge (not to be confused with Coffee Bloc; it is an extension of that, however). The new look – which was revealed at the beginning of this month – is clean, uncluttered and modern with understated art, and muted earthy tones and textures. The wine lounge is nearing completion and this will be where guests can sample Buitenverwachting's older vintages which are not available in the tasting room.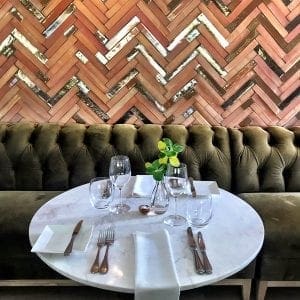 Along the length of the restaurant, floor to ceiling glass showcases the view across the rolling vineyards and the Constantiaberg, which created the backdrop for the glass of Buitenverwachting MCC which is the featured image for this story. Folding doors allow sections to be closed off for private events and parties.
Edgar's selection for me began with an "amuse bouche" – I put that in quotation marks because it's actually more of a mini starter than a simple tease of the mouth. Named "Vegetable Garden", it comprises tiny raw and pickled vegetables with horseradish mousseline, black rice dust, an olive oil poached egg yolk, and a kale cloud. I can say this is the only acceptable way one should eat kale.
The next course was tuna tartare and seared tuna which had been marinated in coconut, ponzu and lime, followed by confit quail leg, saltimbocca, and parfait with sweetcorn mousse, popcorn jus and brioche – a dish which is proving very popular with diners and I can see (and taste) why.
The next dish is called M-S-G, which stands for mielie, spinach, and garlic, served as three foamy soups bursting with their intense individual flavours. A rolled lamb fillet is served on the side, and a delicious little currant flammkuchen, all delivering a symphony of textures.
There was a bit of breathing space with the refreshing pear sorbet with a pear crisp, before the main course of lamb – oriental-style roasted rump (medium-rare naturally), and the most heavenly sticky confit rib. Complementing the meat were couscous, silky rich aubergine, oyster mushroom, and pomegranate jewels to cut the richness.
The final course was a crisp banana ravioli atop a scoop of tart lemongrass ice cream swimming in a glorious yellow sauce of passion fruit and spiced pineapple, a riot of tropical flavours on a cool rainy day.
Each course was expertly paired with Buitenvwerwachting wines. Sandy had her own personal menu too, catered to her vegetarian lifestyle and preference for smaller dishes.
There were chocolate truffles served with coffee but by that point I just couldn't any more. Every woman should know her limits.
For more information about the restaurant, click here.
PHOTO CREDIT: BIANCA COLEMAN