TODAY'S recipes from the South African Mushroom Farmers Association are two of my personal favourites to make. Some people may be intimidated by risotto and I blame MasterChef Australia, where the judges always put so much pressure on contestants… "Oh no, I can't believe she's making risotto!" they'd cry. It became known as the "death dish", seeing more than one contestant eliminated.
It's really not that difficult if you follow the steps and have patience. The end result – consistency and bite – is your personal taste. Yes, it's better if it's firm and not sloppy but you do you, Boo. I love mushroom risotto most of all because I've almost always got the ingredients on hand so it's a pleasure to put on some music, pour some wine, and nurture it to completion.
Quiche, crustless or otherwise, is also a winner, and this recipe packs in the flavour with the mushrooms complemented by broccoli and asparagus, which is coming into season as you read this. For much more on mushrooms, click here.
Mushroom & Lemon Risotto 
Serves 6-8
Ingredients
Risotto base:
2 litres mushroom stock

 

2 Tbsp olive oil
2 Tbsp butter

 

1 onion/2 shallots, finely diced
2 garlic cloves, minced

 

1 tsp chilli flakes

 

2 cups arborio rice
250ml dry white wine, or a splash of brandy

 

Salt and pepper, to taste

 
To finish off the risotto:
Zest of 1 lemon
50g butter, cut into cubes
60g Parmesan, finely grated
Mushrooms:
2 Tbsp olive oil
500g mixed cultivated mushrooms, sliced
5 sprigs thyme
2 garlic cloves, finely grated

 

2 Tbsp butter
2 Tbsp fresh lemon juice
Salt and pepper, to taste

 
To serve:
Parmesan shavings, micro herbs and lemon zest

 
Method
Keep mushroom stock warm in a pot on the stove.

 
For the risotto base: 
Heat olive oil and butter in a large pot. Add onion and a pinch of salt and cook until the onion is very soft. Add the garlic and chilli flakes and cook until fragrant.
Add rice and stir well. Toast the rice until the grains are translucent around the edges and beginning to brown. Add wine and stir until wine is completely absorbed.

 

Reduce heat to medium low, and ladle in hot mushroom stock stirring constantly and allowing liquid to absorb fully before adding more. Keep adding stock until rice is creamy but remains al dente. Adjust seasoning.

 

Switch off the heat. Stir through the lemon zest. Add the final butter and parmesan.

 

Stir quickly and then place the lid on the pot and leave until serving.

 
For the mushrooms:
Heat oil in a large frying pan. Add mushrooms and season with salt and pepper.

 

Cook, tossing occasionally, until golden browned and tender.

 

Add thyme, garlic, and butter and cook until garlic softens and butter is golden brown.

 

Remove from heat and add lemon juice. Toss to coat and discard the thyme sprigs.

 

Divide risotto among bowls.

 

Top each with a few spoonfuls of mushroom mixture.
Serve with micro herbs, an extra grating of lemon zest and Parmesan.

 
Mushroom, Asparagus & Broccoli Crustless Quiche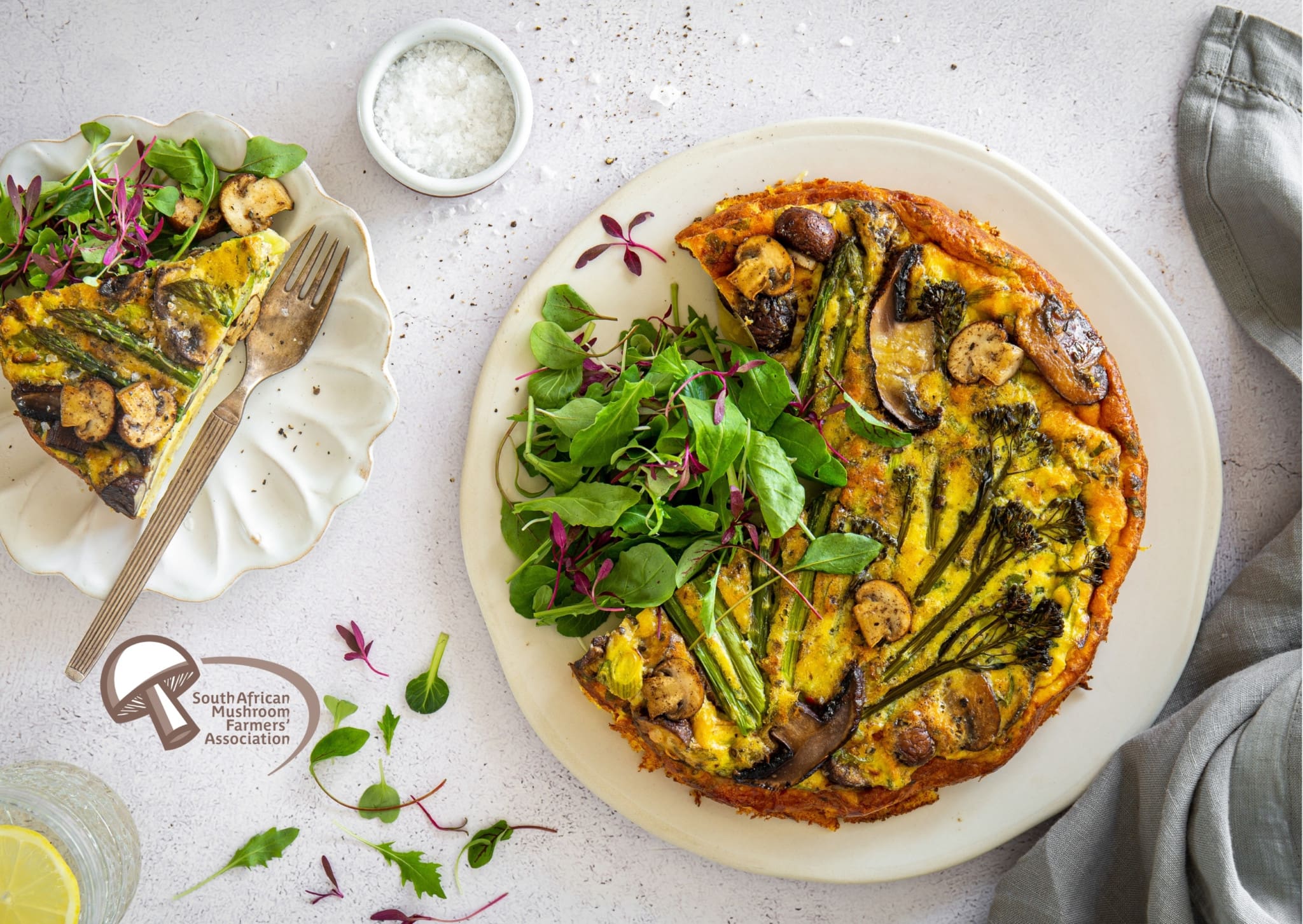 Serves 6-8
Ingredients
2 Tbsp butter, plus extra for greasing

 

400g mixed cultivated mushrooms, sliced (button, portabellini or portabello)
50g asparagus, sliced
50g tenderstem broccoli, sliced
12 XL free-range eggs
1 cup Greek style plain yoghurt
1 ½ cups grated hard cheese (mature cheddar, havarti & boerenkaas work well)

 

4 spring onions, sliced
1 tsp mixed dried herbs

 

Salt and pepper, to taste

 
Method
Preheat oven to 165˚C.
Butter and line a 22cm springform pan or tart tin.

 

Heat the butter in a large pan over medium-high heat.

 

When melted and foamy, add the mushrooms and cook until golden brown. Season.
In a large mixing bowl whisk the eggs and yoghurt together.

 

Add in the cheese, spring onions, herbs and season well.

 

Place cooked mushrooms, asparagus and broccoli into your prepared tin.

 

Pour over the egg mixture and make sure everything is evenly distributed.

 

Bake in the oven for about 1 hour until the egg is set.

 

Allow to cool slightly before removing from the spring form tin or slicing straight out of the baking dish. Serve with a crisp green salad on the side.