AS we hurtled along the N2 on our way to Bot Rivier last weekend, I spotted Hickory Shack on the left. Of course, I've known about it for a while – before it even opened at the end of last year.
"That's my friend Jay's place!" I yelled at my co-pilot, Divine Lady D. "We must stop there on our way back to Cape Town."
Fast forward through all the arrangements and we arrived there more or less on time, after overshooting the mark not once but three times due to confusion between signage and Google Maps. Who the hell gets lost on a national road? Us, apparently.
Hickory Shack is little more than an hour's drive from Cape Town, without any turning around or detours. Here, Jay Haupt has created a smokehouse in the tradition of Texas BBQ, where the meat is dry-rubbed and slow-cooked over a low heat, for full flavour and ultimate tenderness. Chicken wings have the shortest cooking time of two and a half hours; the brisket takes about a day. The meats are locally sourced…like free range grass fed beef, and happy pigs. Set on a farm surrounded by fruit orchards, Hickory Shack is exactly that – built of wood, rustic and relaxed. The children can be set free in the wide open spaces outside.
As a city dweller, the first thing I noticed is the prices – so damn reasonable. The Smokin' Meats & Skillet Lickers, which are the main dishes, range from R85 to R165. Jay laughed at my wide-eyed amazement. "Yeah, it's not Cape Town," he said. On Saturday nights you can get a kilo of ribs for R150. Breakfast is served till noon, priced between R60 and R70 and including things like cowboy beans, Hickory Shack's own sausages, bacon (obviously), and eggs in buns or a tortilla. This sounds delightfully messy, and is, I believe, the point of BBQ. If you don't have sauce up to your cheekbones and your elbows, you're doing it wrong.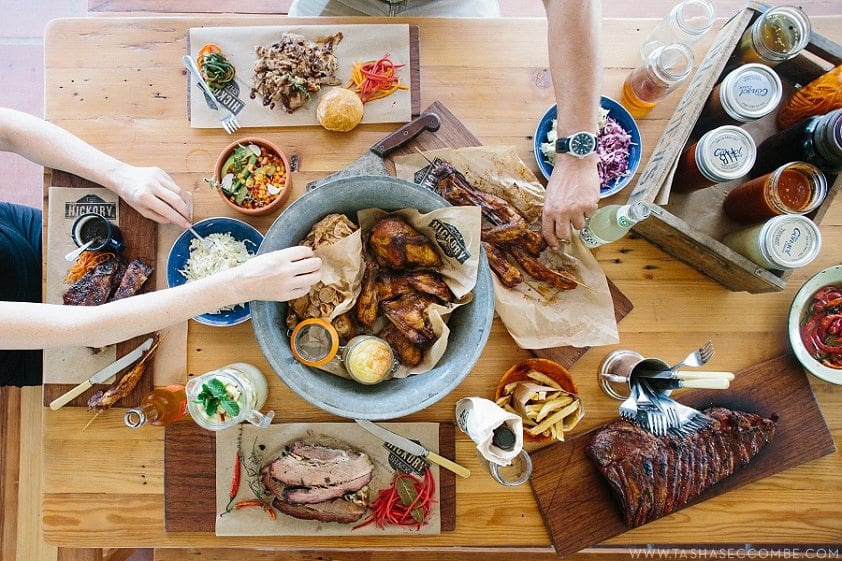 A quick glance of the menu and I couldn't wait to get stuck in. But what to have? Pulled pork? Ribs? Brisket? Jay solved the problem by taking the decision out of our hands, telling us he'd be serving us a mixed platter, which was a huge relief. But first he brought out a basket of cheesy nachos with salsa, guacamole and sour cream – and then took it away lest we get too full. Although Hickory Shack is clearly a carnivore's delight, apparently vegetarians still pitch up so this is for them.
The main attraction was the stuff of dreams. The big wooden board had chicken wings, pork ribs, wonderfully fatty brisket, sausages (pork and beef) and melt-in-the-mouth pulled pork. "That's not my favourite," said Jay. He's mad. It's fantastic.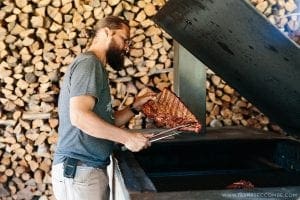 Side dishes were creamy buttermilk mash, beans, corn salad, fries, and crunchy slaw – red and green – to cleanly cut the richness of the meat. Table sauces include a chipotle mayo, Hot Bastard (self explanatory) and BBQ. "The trick is to mix just the right amounts of the Hot Bastard and the BBQ," advised Jay. It was quite the feast, washed down with beer served in a jar for me, and home made ginger beer for the Divine Lady D. As he sensed us fading, Jay said "would you like to take…" I cut him off right there with a "yes please!" We divvied it up and it made a delicious lunch the next day. Lady D's husband was grateful too.
The crew wear tops with the words "Bad Ass" emblazoned on the back, for this business of smoking meat is a serious one, not to be undertaken lightly or by sissies. They're super-nice guys though, and happy to show and tell you how it's done in the smokehouse. Hickory Shack does sit-down and take-aways. Make it a destination, or at least stop in there on your next road trip. If you need more encouragement, Jay is building his own brewery.
Check out the website here or call 021 300 1396.
For more information about upcoming events in the Elgin Valley, click here
PHOTO CREDIT: Tasha Seccombe