EVERYONE should have their favourite local sushi place to meet those cravings which can come out of nowhere (or is that only me?). I have a few in my 'hood, and Ben Wei in Wembley Square is one of them.
It's co-owned by entrepreneur Ian McMahon and chef Jim Dai – whose incredibly stylish look and impeccable hair just have to be mentioned; a man who takes such care with his personal grooming can only be as fastidious when creating food.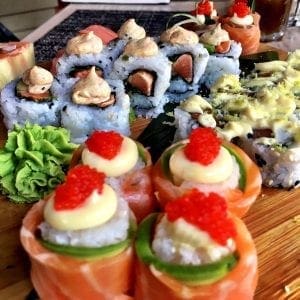 My dear friend Peter Marx and I had a "working" lunch there the other day, over a platter of our own design and a glass or two of Gorgeous, the appropriately named Graham Beck Chardonnay Pinot Noir. Grills – burgers and schnitzel – are new on the menu although I'll never understand anyone who orders this way at a restaurant which specialises in Asian food. What are you even doing here? Spring rolls, Vietnamese prawn rolls, miso and tom yum soups, and edamame beans are among the starter options, which you can follow with dishes like Thai curries, Kung Pao chicken, stir fries in oyster sauce, chow mein or Singapore noodles.
For me, it's all about the sushi…combination platters range in size from 10 pieces up to 40, or you can order à la carte with a selection of Western style and/or Jimmy's chef's specials, with Banting and vegetarian options available.
Salmon roses are always a must, so we had those, as well as the Banting roses which are made with nori, avo, and cucumber topped with mayo and caviar. To that we added bamboo rolls (cucumber around salmon, tuna, crab, ginger and carrot), and tataki salmon rolls – a California roll with seared salmon, coriander and avo topped with seven-spice and mayo. We had to try something new too, and that was California Sunshine, which is also a California roll, with salmon and Japanese mayo, topped with grated lemon zest for an unusual and refreshing zing.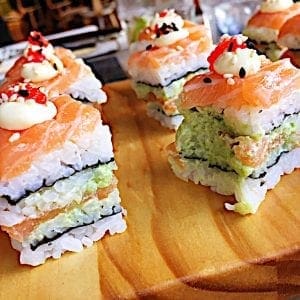 I wasn't done yet though. I'm a wuss when it comes to chilli but have a surprising tolerance for wasabi, so had to have Wasabi Bombs for dessert – salmon sandwiches layered with LOTS of sinus-clearing wasabi. Jimmy approved. Fun fact: wasabi is a plant of the Brassicaceae family, which includes horseradish and mustard. It is also called Japanese horseradish, although horseradish is a different plant. And it's the stem that is used, not the root.
One more reason to love Ben Wei: the prices won't break the bank.
Open Mondays to Saturdays 11.30am till 9pm, Ben Wei is in Wembley Square, Solan Street, Gardens. For more information, call 021 461 2966, email [email protected], or click here.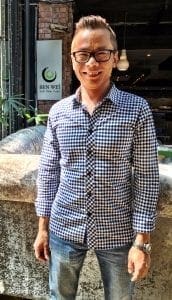 PHOTO CREDIT: BIANCA COLEMAN