WINE is truly a wonderful thing; I adore that I keep learning new things during time spent in the company of winemakers.
I've never professed to be an expert, heavens no. But I am a wine lover, one who apparently wafts around in a bubble, sipping and savouring but without questioning things too closely. Which is rather divine when suddenly presented with a piece of information which is new and exciting; a snippet of knowledge about which it never occurred to me to ask (although it's embarrassingly freely available).
My memory is useless so it's taken me forever to be able to recite the five (or six) red Bordeaux varieties off by heart, and to know what the white ones are. The grapes that birthed Pinotage are easy, and as a South African it should be one of the first lessons, but it didn't cross my mind to consider the origin of Cabernet Sauvignon, which I've claimed as my favourite single variety.
So imagine my delight when Spookfontein's winemaker, Sol Yerden Eksteen, told me the story of its parents: Cabernet Franc and Sauvignon Blanc. No wonder I've been leaning towards Cab Franc of late…and perhaps I'll even look at Sauvignon Blanc with new eyes.
So marvellous is this tale, I keep Googling it for the sheer joy it brings me. To be fair to my ignorance, the chance crossing of these two wines happened way back in the 17thcentury in France, which even so, makes it considered "new".
Spookfontein is in the Hemel en Aarde valley near Hermanus. In its wine range is a superb Cab Franc as well as Merlot, the Bordeaux-style blend called Phantom, Merlot Rosé, Pinot Noir of course, Syrah, Cabernet Sauvignon, and Sauvignon Blanc. There's also Cape Ruby, which I'm reliably informed one fan drinks in cool drink quantities. Sol is from Argentina, and is married to Pieter Willem Eksteen, son of Bartho Eksteen, whose farm is just down the road. They met in Napa Valley in California. The romance of wine is irresistible.
We spent a very pleasant afternoon in the tasting room/restaurant at the top of the hill, sampling the wines and eating chef Charl du Preez's food. The fried hake, mushy peas and fries with lemon mayo is one of the menu's winners and it's easy to see (and taste) why. Another hit is the pork belly ramen, which I ordered for dinner; the restaurant introduced almost-cooked meals for take away during lockdown, and these are available for guests staying in the cottages on the farm. It's a simple case of heat up and eat up.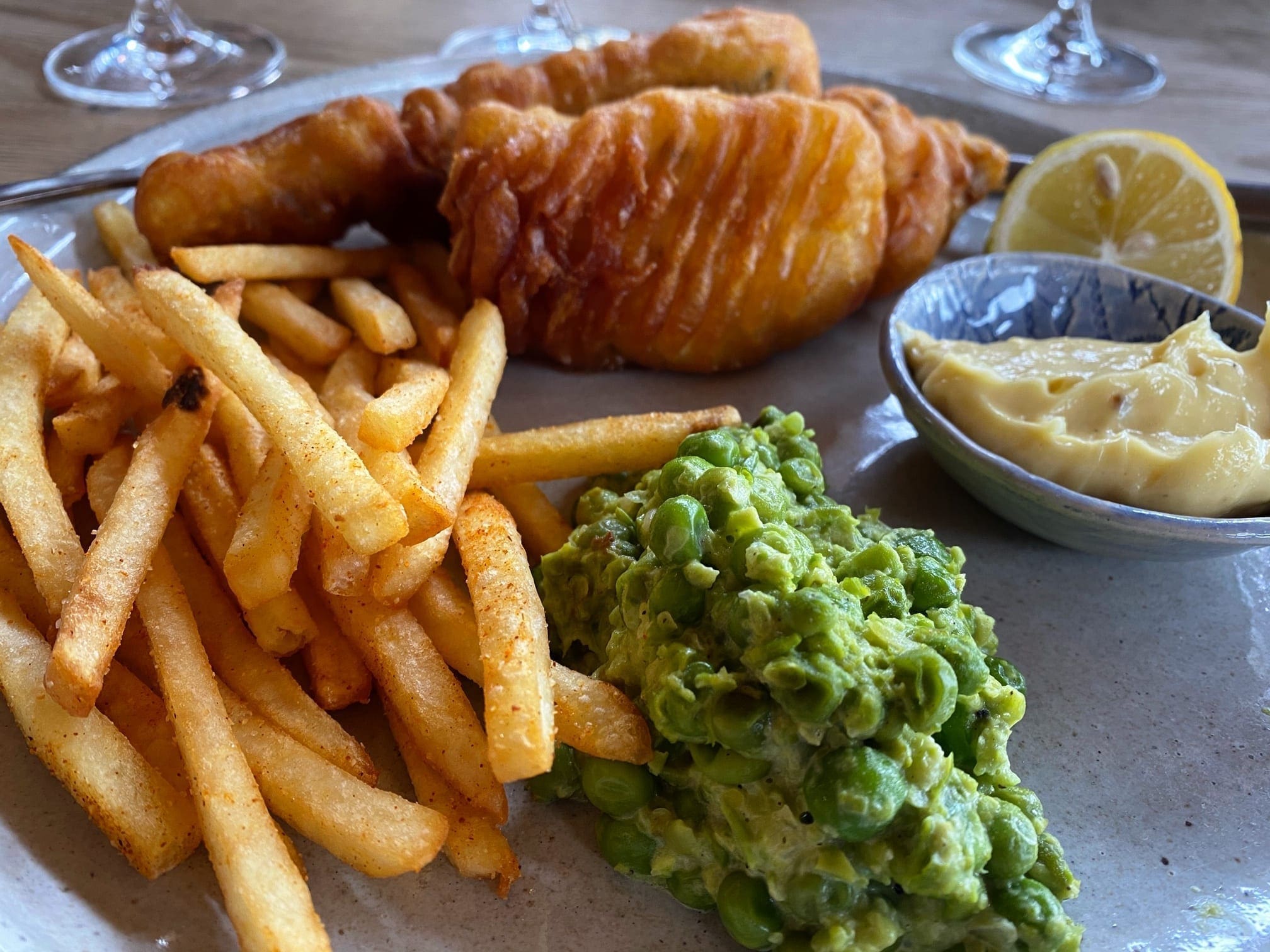 Yes indeed. There really is no reason to go anywhere else once you arrive at Spookfontein. Well okay, there are lots of other places to visit in the area but you don't have to; there is even farm produce available at the restaurant, including eggs for your breakfast.
The two self-catering cottages are gorgeous (I assume the other one is as beautiful as the one in which I stayed). Blue Crane is literally smack bang in the middle of the vineyards, alongside a small dam, and views across the valley. I didn't see much of that because it was a blustery day/afternoon/night/morning which saw the clouds descend in a manner about which my weather app had not warned me (and I put a lot of faith into YR). As I put more wood on the fire I contemplated having to wear every item of clothing I had packed until Current Me discovered Past Me had been clever enough to pack a long-sleeved hoodie. Lesson: always – always – pack a Warm Thing.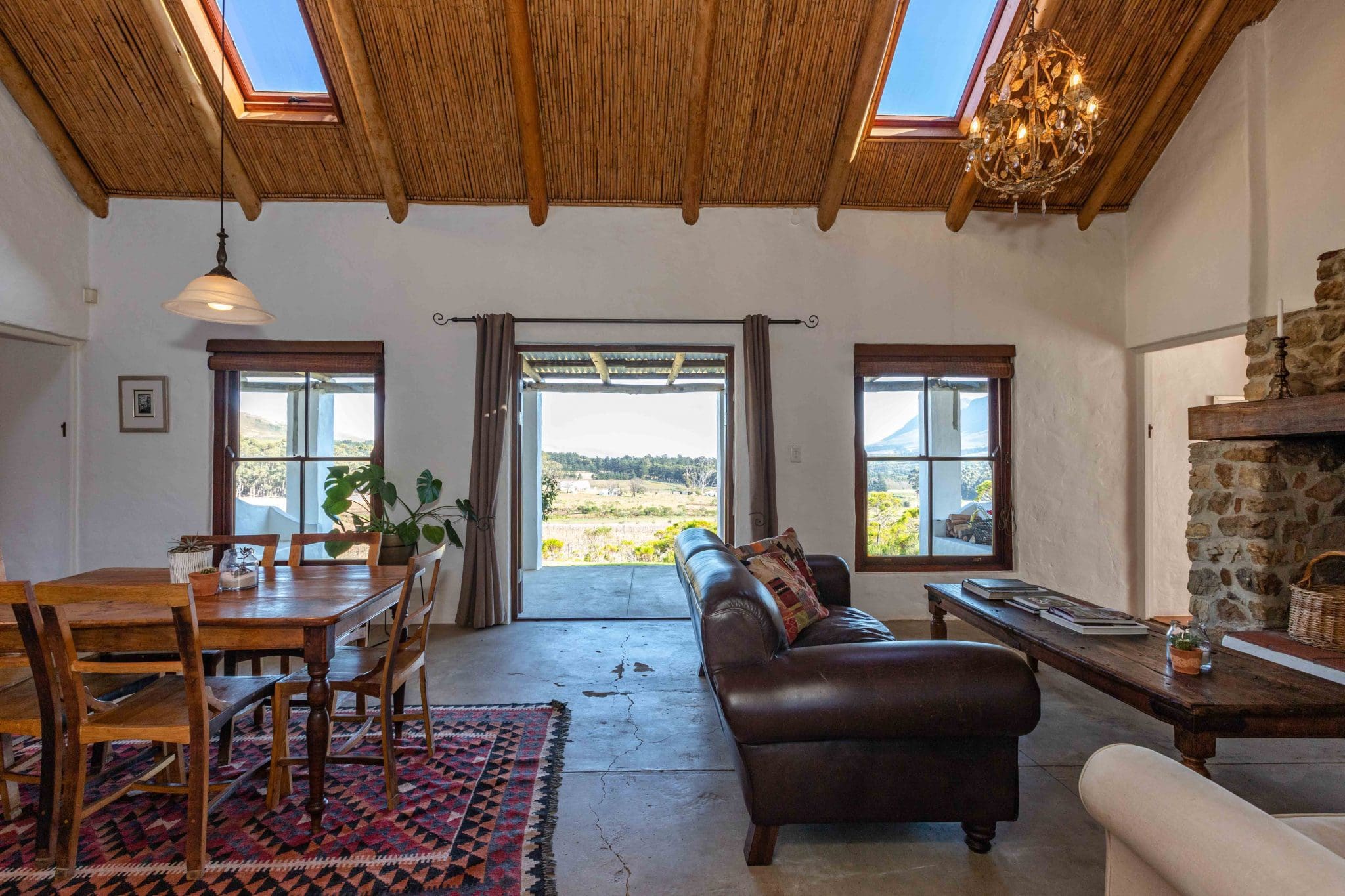 The two-bedroomed cottage, each with en-suite bathroom, has everything your heart desires (except wifi and decent cell reception but it's surprisingly easy to live without those when you have a bottle of the Cab Franc and a fireplace big enough for Hansel and Gretel). The long covered stoep can be accessed from the lounge/dining room, and both bedrooms, with half walls between them to ensure privacy if you prefer. There's a braai out there and I can easily picture summer evenings, lamb chops, a bottle of wine and not a care in the world other than who's making the potato salad.
I loved the rustic décor, big ol' leather couch, floaty curtains and white linen on wrought-iron four poster beds, combined with the modern conveniences which make life comfortable, and in particular, the huge green pot plants throughout the house (even on the stone wall of the shower). This is a homely touch I've not seen before in self-catering accommodation, and it was appreciated. There is even an orchid in bloom on the open plan kitchen counter; such a thing never fails to impress me, the orchid killer.
As one last punt for the Cab Franc: it was my choice for the evening, and it was my choice to take home with me. I may be a wine idiot, but I reckon I still have pretty good taste.
For more information, click here.
PHOTO CREDIT: SUNNY COTTAGE, SUPPLIED; CLOUDY SOL, FISH 'N CHIPS BY BIANCA COLEMAN ©