THE hospitality industry is in crisis, there's no other way to say it, but in the face of such adversity there has been so much encouraging innovation during this damn pandemic. As restaurants fold and close, and others hang on by their fingernails, there are those who are doing what they can to help. One way has been to present live cooking demonstrations with some of South Africa's top chefs.
Taking advantage of the technology available, these can reach into our very own kitchens via platforms like Zoom, YouTube, Facebook and Instagram. Viewers can tune in to simply watch, or they can take advantage of the various offers to buy a box of ingredients to cook at the same time (with a portion of the proceeds going towards helping the chefs, and their staff).
Last week I joined celebrity chef Benny Masekwameng (MasterChef SA, Ultimate Braai Master) on the Live-Cook channel so he could show me how to cook his dish of salmon trout with dill and caper hollandaise, creamy mashed potatoes, tenderstem broccoli and crispy potato matchsticks. The event was emceed by Pete Goffe-Wood, which was rather wonderful given the history he has with Benny (they've been TV judges together). Their friendship (which extends beyond the camera; I seem to recall one long ago night in Joburg when I tagged along with them after some or other media event, and there might have been whisky) and easy rapport was quite clear, and brought an extra special element to the proceedings.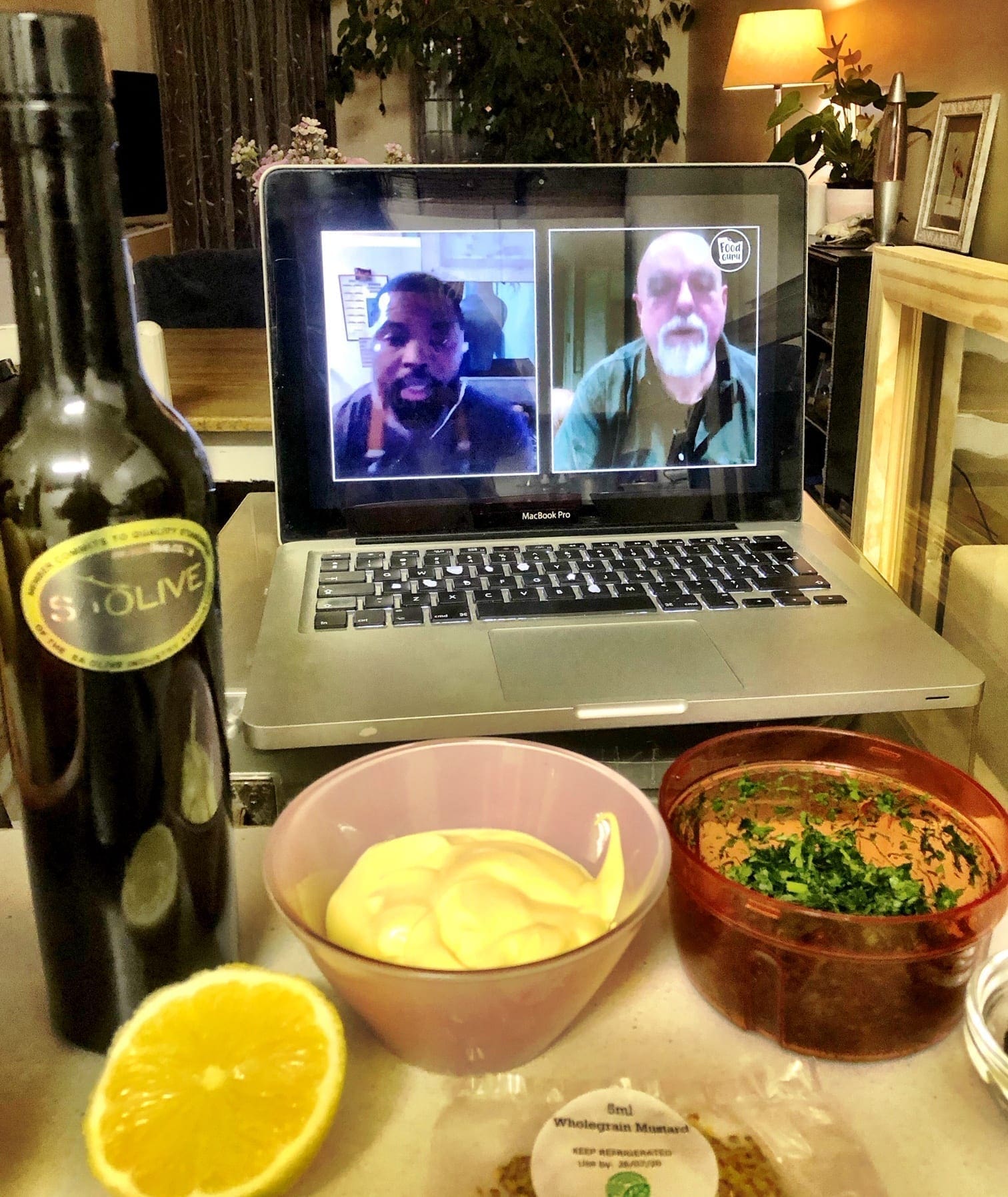 In this case, the platform is YouTube and it's interactive so anyone who's unsure about what they're doing can ask questions, which are answered during the broadcast. If you've booked to cook, you will receive your box of ingredients via Daily Dish. I was very impressed with the beautiful fish from Three Streams, and because we all love a little bit extra, the gift of a bottle of extra virgin olive oil from SA Olive Industry Association was a bonus. This particular episode also brought with it another gift – a bottle of Chardonnay from Simonsig selected because it paired brilliantly with the salmon trout, and because one should always cook with wine. Oh, how I miss the old days of last week when we could still get wine…
I did all my prep beforehand so I was ready for Benny, although he walked viewers through all the steps via the miracle of live streaming from his own home kitchen in Gauteng. Pete was in his lounge in Cape Town with a bowl of biltong and his cat (and his wine of course). "The only way to stop the cat climbing all over me was to put the bowl on the floor," he told me afterwards. "I was worried the cat would walk on the computer and we'd lose the feed."
Thankfully, that didn't happen, and it's also quite a lot of power to give a cat.
The box of ingredients comes with a recipe card as well, for those with kitchen confidence. I later reflected on how amazing this experience is, to have access to some of the top names in our culinary circles, to see them cook, and to cook with them. It's something that would hardly ever have happened before Covid-19; now it's quite normal.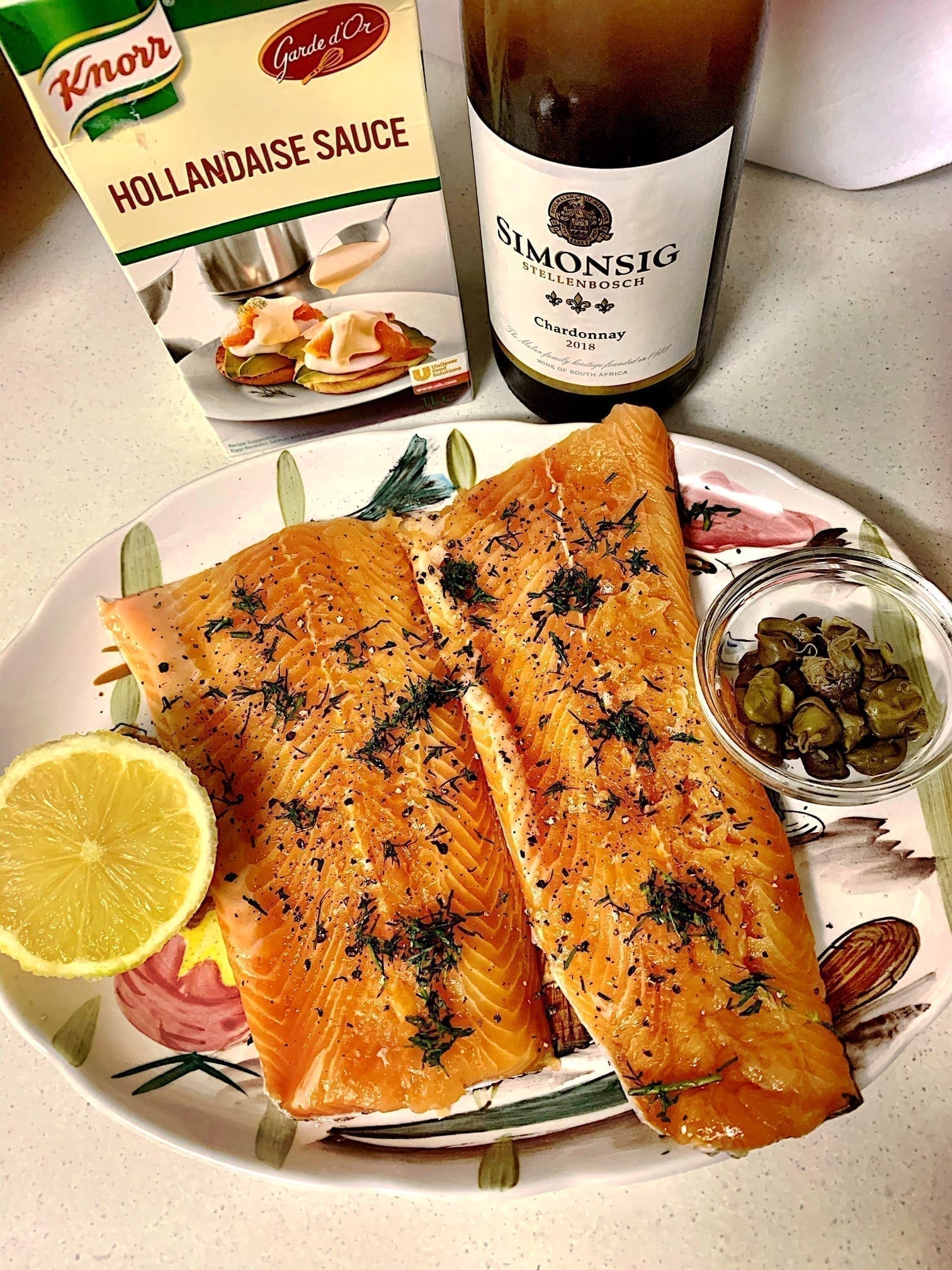 "It's definitely the way of the future. We've become accustomed to extending our entertainment at home, and there is intimacy in cooking with someone in their own kitchen – especially professionals," said Pete. "I thought there was something very real about following Benny on a solid plate stove that a lot of people could identify with."
Personally, I found the recipe easy to follow, and I'm comfortable enough with my cooking skills to roll with the slight differences between that and what Benny was doing. For the ambitious, Benny demonstrated how to make a "real" hollandaise sauce, but the delivery had included a readymade one in a box. After some consideration, I decided it wasn't the night, and used the box one. I wasn't initially completely convinced with its flavour, but once the dill and capers and wholegrain mustard had been added, it was just fine. The overall result was perfect, and very, very tasty. That's another thing about this lockdown nonsense: not only have I expanded my horizons with these live cooking shows, and flung myself enthusiastically into online shopping for ingredients and what-not, but as a result I've cooked more new dishes in the past 100+ days than probably in the past 10 years. It's exciting, and it's different, and when it turns out well, it's a fabulous ego boost.
Launched on June 11, 2020, Live-Cook has thus far contributed more than R120 000 towards the restaurant and food supply economy. See? You have fun, you get an awesome meal, and you provide much-needed aid to the ailing industry.
The next Live-Cook episode is on July 23, with award-winning chef Bertus Basson making his signature fragrant coconut poached chicken with jasmine rice, cucumber and cashew pickle. Tickets are available on Webtickets for R425 for two-portion meal box and R595 for four-portion meal box. Frankly, at that price I'd take the four-portion box and cook twice, or have leftovers. Portions are not stingy, by the way. Ticket sales close on July 19.
Jenny Morris will be sharing her culinary secrets to success – with more than a few laughs along the way – on August 6. Jenny is perhaps best known as The Giggling Gourmet, and has a host of titles under her belt: author, magazine writer, radio and TV presenter, celebrity chef, teacher and culinary tour guide to name a few. She loves the sensory side of the culinary world. "Feeling your food is important," she says. "Caress it, stroke it, and know it intimately." Her formula is to entertain informatively and inform entertainingly, so viewers are in for a lovely treat.
Follow Live-Cook on YouTube, Instagram, Facebook or Twitter on @livecookchannel and follow the hashtag #LiveCookChannel for regular updates. Click here for more information.