SUNDOO is the brainchild of restaurateur and chef Seelan Sundoo, who has not one but two namesake restaurants in Cape Town; his other is Seelan at the V&A Waterfront.
This small eatery in Regent Road, Sea Point, pays tribute to Seelan's roots with authentic South Indian dishes, full of flavourful spices and heady aromas. With just 40 seats at its maximum capacity, Sundoo offers a menu available in "tapas" size portions designed to be shared.
We began with crispy fried prawn chilli bites, and lamb samoosas with coriander chutney. The samoosa pastry was light and crisp, which I loved.
For main courses, we presented a slight dilemma since neither Divine Lady D nor I can handle super hot spiciness. In our food, that is. The menu announces that in the south, they like it hot, so to please specify the strength we prefer. The options were medium, hot and vindaloo. After a discussion with our waiter, who was able to explain all the dishes and answer our questions, it turned out we could downgrade to mild with no problem. Thus we sallied forth and ordered.
Our initial selection was Kavaratti chicken braised with fennel, cumin and garam masala; and lamb kebabs (minced balls off the stick) with coriander, chilli and tumeric root, both served with basmati rice. I would dearly love to be able to cook rice properly. It's one of those things that can defeat even the greatest of chefs. Just the other day, David Higgs admitted on My Kitchen Rules SA that he cannot do it properly, but that may have been just to protect the contestants' feelings.
Chef Jenny's rice is beautiful, light and fluffy. She also sent out some extra dishes – slow cooked lamb with a special blend of herbs and spices; and Pondicherry kingklip which is simmered in fresh tomato, garlic, spring onion, coriander and tamarind root. There was also a plate of warm, soft, flaky rotis to mop up all the delicious sauces, and sambals. Amazingly, every dish hit just the right heat note, and each one had its individual flavours meeting somewhere in the middle between delicate and robust. Jenny herself came out to see how we were doing.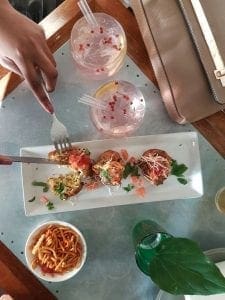 "It's fabulous," I told her, sauce dribbling down my chin. "It's made from the heart," she assured me. An unscientific theory, but I'm sure many would agree this does make all the difference to the taste of food.
We couldn't finish everything but were happy to once again share it out into take away containers. As Divine Lady D sipped on her coffee and I drained the last of my Striped Horse beer (because that's what goes best with Indian food), Jenny sent out another surprise – tasters of the desserts, which are soji with vanilla ice cream, vermicelli with cardamon milk (my favourite), and flan cheese cake. We just couldn't do it justice, although we appreciated the sentiment.
If there's anything better than a good curry, it's a good curry the next day. Those leftovers were superb.
Sundoo Indian Tapas & Bar
Shop 6, La Rhone
77 Regent Road, Sea Point
Email [email protected]
Telephone 021 433 0542
No reservations, so arrive early to get a seat. There can be up to three sittings in the evening. Take aways are available. Sundoo is open from noon till 11pm.
PHOTO CREDIT: Supplied, featured image BIANCA COLEMAN