TO attend a carefully thought out luncheon – or dinner party – is a singular pleasure for the fortunate guest. There is much planning to be done to perfectly execute such a gathering.
One must consider the guest list and the seating plan. The food, obviously, must be memorable; the accompanying wines impeccably paired. The hosts should at all times be gracious and entertaining in their speeches, and do their utmost to make everyone feel comfortable – making introductions and incorporating witty remarks. The ideal venue must be located, and at the end of it all, as the full and happy guests slowly begin to depart, a small gift to see them on their way is a classy touch. The handwritten, personally addressed, note accompanying it will mean more than you can imagine in the age of hasty WhatsApp messages ruled by hateful blue ticks.
All of this was achieved at the Somertafel, or Summer Table, hosted by Errieda and Ian du Toit at Herman Lensing's home studio in Welgemoed, with Du Toitskloof wines, in a mixture of English and Afrikaans. And because sometimes translations steal from the original meaning and true sense of what was said, I'm going to – for the first time – include quotes in Afrikaans. If you don't like it, do send an email to the editor, I'll make sure she gets it.
First of all, Errieda and Ian. I've had the pleasure of knowing them for many years. Ian is a wonderful photographer, and not only is Errieda an amazing cook (please, follow her on Facebook and Instagram for dishes to make you drool, and beautifully written descriptions) but she is kind and generous, and frequently an staunch ally when I need information for various stories.
Herman Lensing. Well! Sarie's food editor at the age of 22 is where you need to begin. He's a qualified chef (ICA). He's done TV (most recently Food Producer for MasterChef SA), he's done stage productions at arts festivals, and he's written six cook books, he's won awards, and now he has his home studio where you too can try your hand at hosting fabulous events for 10 to 20 guests.
Speaking of guests, after so so long, it was a balm for the soul to see Ingrid Jones, Samarie Smith, Ilse Van der Merwe, Maryke and Clifford Roberts, and Guy McDonald. To all the new people I met, I am sorry, I do not remember your names and am unlikely to until we've met a further dozen times or so. You were all very nice though. I do remember Ed Beukes. He's hard to forget, especially when Errieda introduces him as a former model who looks good in a Speedo, if I understood correctly. The sales and marketing guy at Du Toitskloof Wines, he spoke eloquently and sincerely from the heart about what we were drinking.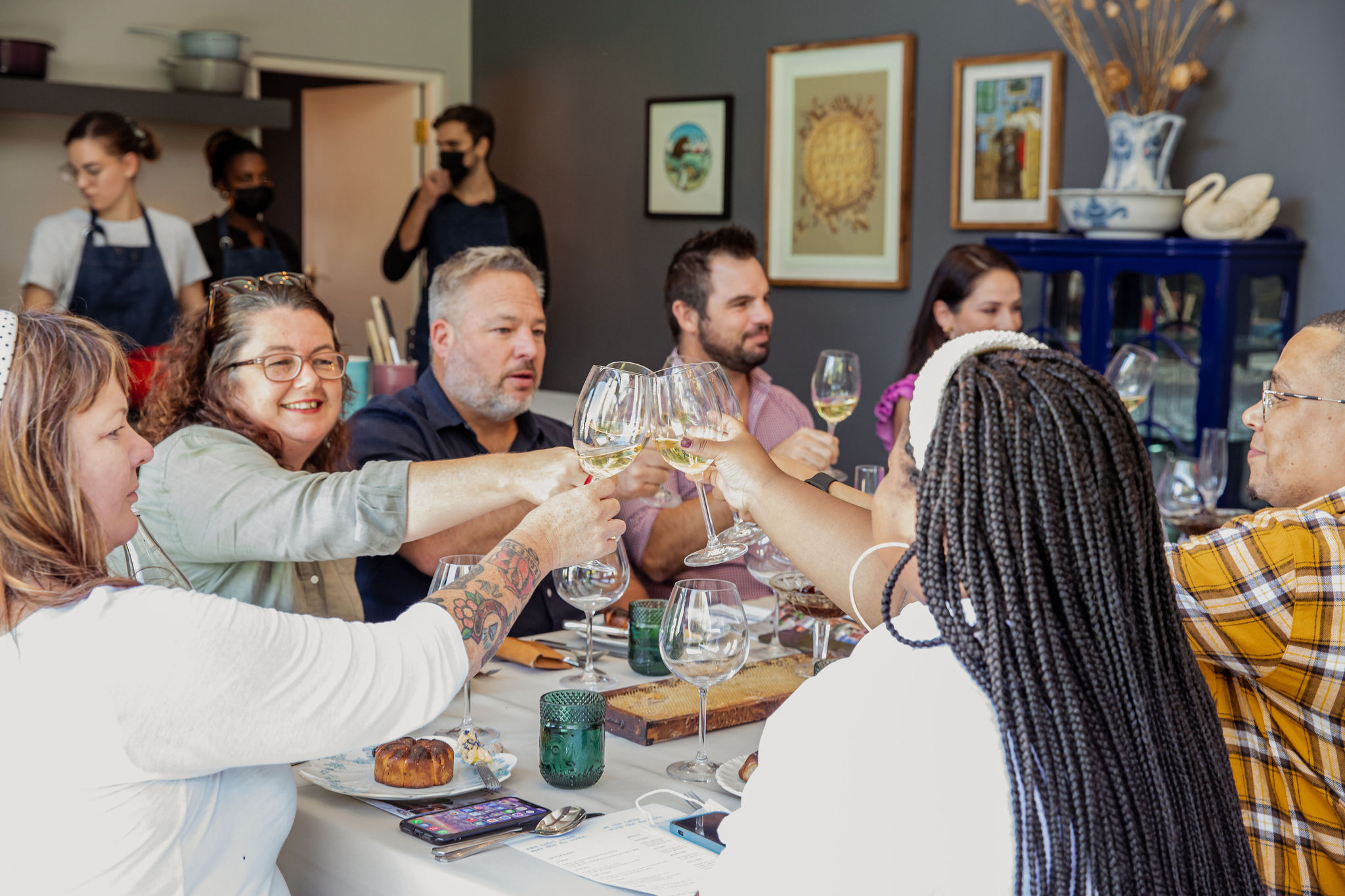 The first course was bokkom and aniseed mosbolletjies with korrelkonfyt and vanilla butter, creatively served on knives. The wine was Old Vine Sauvignon Blanc 2020. "Die wingerd waarvan hierdie wyn gemaak word, was geplant in 1985, toe my ma swanger was met my. Almost like an analogy, Du Toitskloof was also pregnant with something special at the time – a new era was being born as the winery began to produce bottled wine from a region mostly known for producing high quality bulk wine," said Ed.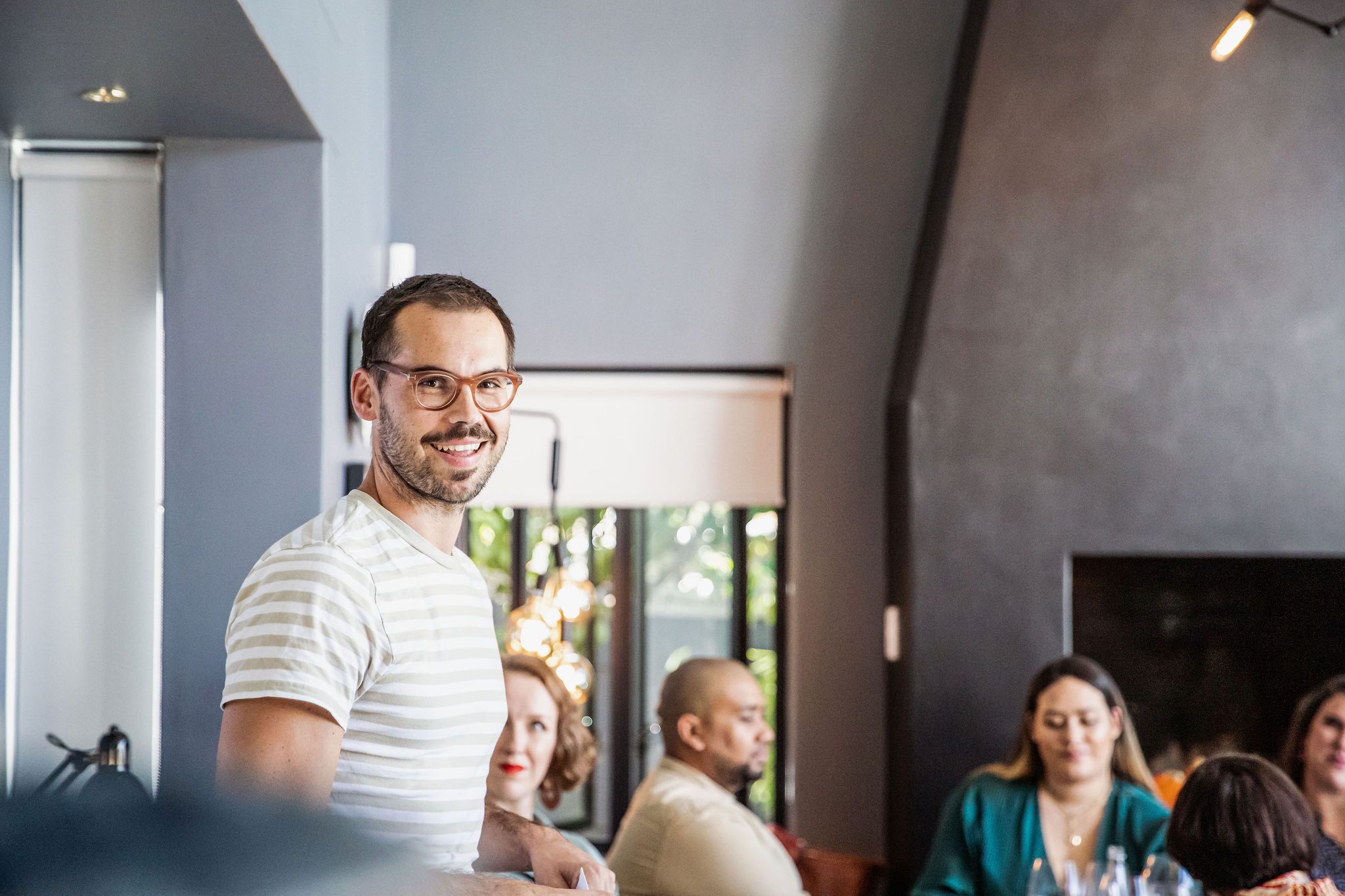 "Dit is hierdie einste blok, Blok no.20 ook bekend as 'Oupa' en 'Old Faithful' waarvan die heel eerste Du Toitskloof Sauvignon Blanc gemaak was. Dit is ook hierdie einste blok wingerd wat vir Du Toitskloof bekend gemaak het toe die wyn as een van die Top 10 Suid Afrikaanse Sauvignon Blanc wyne aangekondig was, veral teen die prys waarteen dit verkoop het daardie jare. Vandag, 37 jaar later, is hierdie spesiale wingerd geregisteer by die Old Vine Project, waar dit net een van 8 Sauvignon Blanc wingerde in Suid Afrika is wat ouer as 35 jaar is."
The wine has a bit of oak on it, and I've come to approve of that as it mellows it, and makes it more palatable for me.
The next course (above) was exquisite: Wheat risotto with chorizo cream, with Pinotage Rosé 2021, festooned with stickers. Ed brought out his inner poet for this one. "Hierdie wyn is vir my speels, bietjie spuls, spontaan, smeulend. Wanneer ek my oë toegmaak sien ek 'n swembad, hakskoene, 'n neon vizer, 'n tannie in 'n sarong, 'n oom met 'n wit kortbroek onder 'n son sambreel. Ek ruik sondbrandolie, Beechies, iemand se parfuum.
"Die Pinotage Rosé sit vir my die P in Pret, Plesier, Pamperlang, Ponie-stert, Partytjie, Pennywhistle, Prikkel-kos, Passie." And you just can't argue with any of that, neither can you translate "pret" to fun because where's the P in that.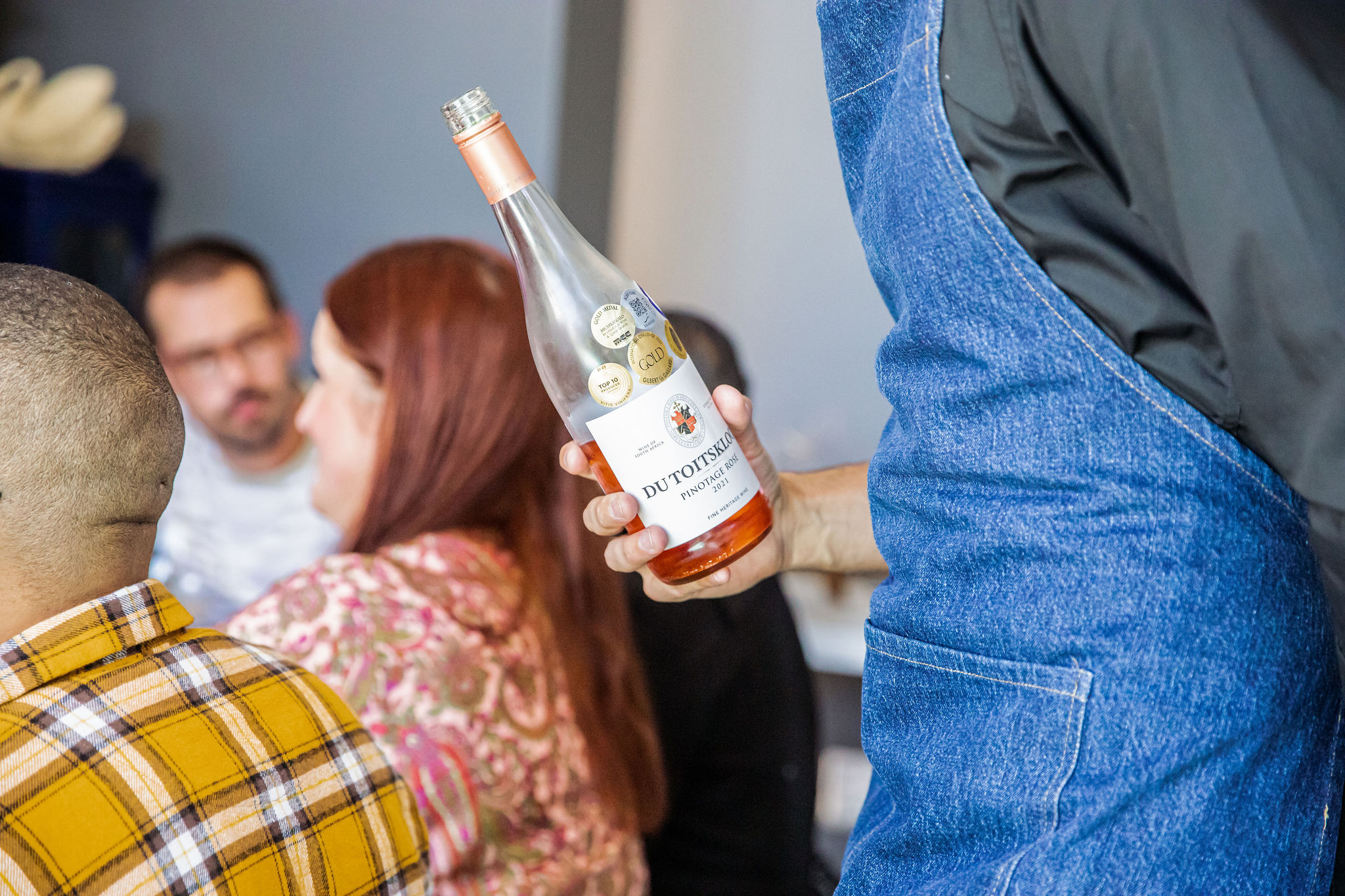 Denningvleis tortellini with a light coconut and coriander broth was joined by a Nebbiolo. "Du Toitskloof is one of about six wineries in South African that produce Nebbiolo, most people I speak to don't know that we produce this single variety, or even that it exists," said our Ed. I'm glad I'm not most people.
"It's an Italian variety from Piedmont area in Northern Italy known as the 'King of the Reds'. The word 'Nebbia' from which the name is derived means 'fog' or 'mist' and there are two schools of thinking as to the reason for giving the grape this name. Some say that there's a thick, natural bloom covering the ripe berries as if covered by fog. Whilst the other crowd believes that the best climatic conditions for the variety is a misty environment. I believe in the latter."
The main course was Herman's take on chicken pie, based on a fond memory of when he was a student and ate garage pies, but drank Merlot for the first time and felt like a grown up. The dish of chicken and mushroom roulade with pickled cucumber, potato fondant, smoked mint and pea purée and porcini cream was of course, served with Merlot.
Ed's comments: "Our Merlot can be described as a crowd pleaser, approachable, down-to-earth, easy to get along with, uncomplicated and the type of red wine that you can pour for almost anyone and they would enjoy it – and that's Herman to us. The Merlot won't be overbearing to a starter, it won't disappear in a main course and can even be paired with dessert, almost like Herman and his versatile nature. Jy voel nie bedreig deur ons Merlot nie, jy voel gemaklik en dat jy net jouself kan wees."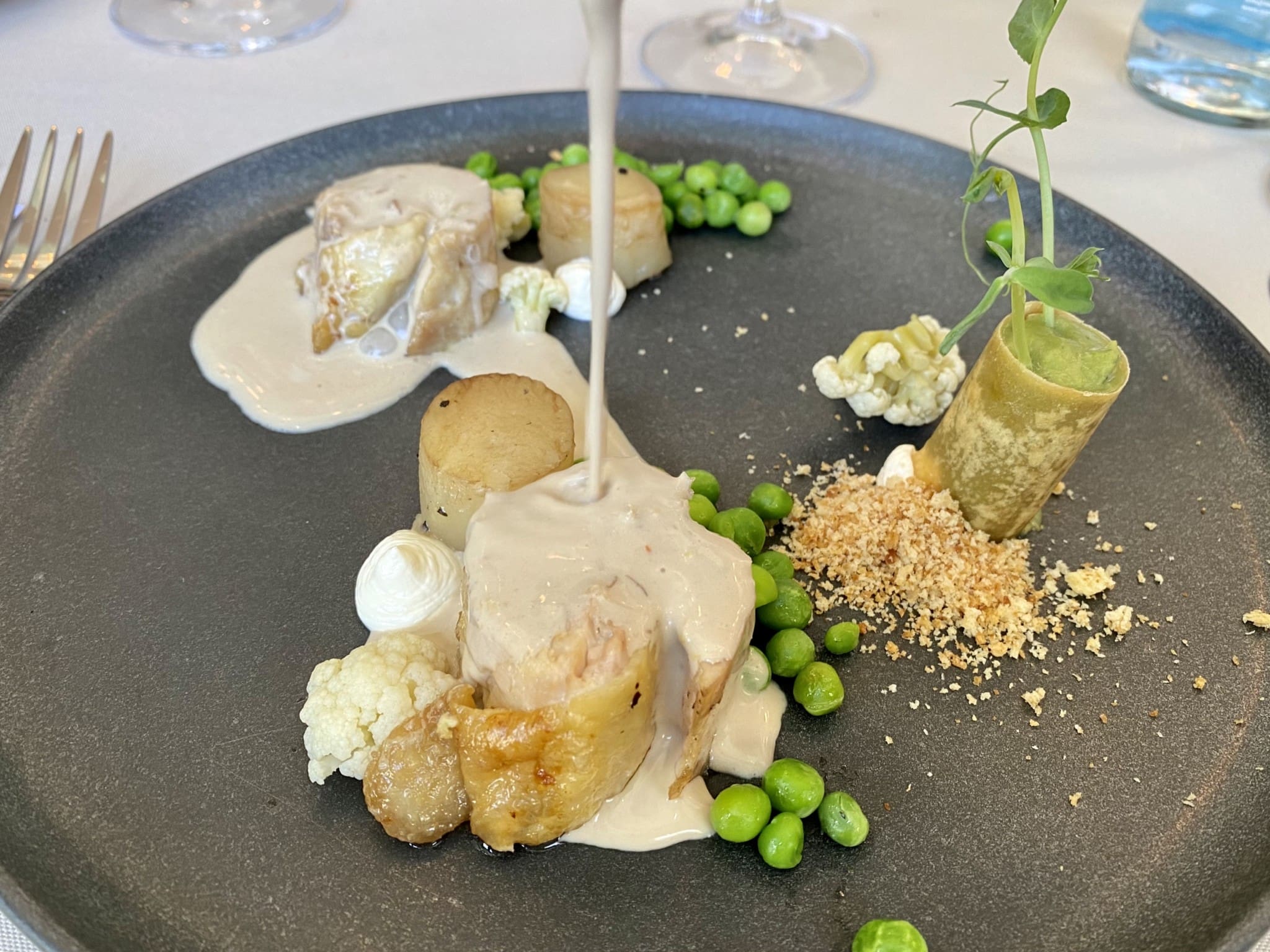 The sweet course was fig leaf panna cotta with Moscato jelly and prickly pear sorbet (above). I passed on the 2021 Moscato because I'm not a fan of the sweet or semi-sweet wines and my lesson to myself that I'm currently working on is saying no thank you to things that do not entirely please me. I'll give Ed the floor again.
"Terug na waar ek begin het met ons erfenis en nalatingskap – dis vir my lekker om af te sluit met die begin. Die eerste Kaapse wyn wat 'n paar eeue terug gemaak was, was 'n soetwyn. Napoleon Bonaparte het gevra vir niks anders as Kaapse soetwyn op sy sterfbed. Suid Afrika is en was nog altyd een van die beste soetwyn produserende lande in die wereld. Dis ons erfenis – soetwyn – en iets wat ek hoop ons altyd sal deel hou van ons kultuur – want dis ikonies en ook nou deel van ons Du Toitskloof Erfenis reeks."
And finally, the thank you note (although it is I who should be writing one; perhaps this story will serve the purpose), the gift of wine – a bottle of Merlot from Herman, and one more of my choice (Nebbiolo because as I said, I'm not most people and I'm always thrilled when it comes my way), and a T-shirt. We could select from ones that said "Mosbolletjie", Koekstruif", "Pap en Wors" (sadly not available in my size), and "Pampoentert", which was. I can't wait for exactly the right moment to wear it.