RAISE a glass of the finest bubbles to celebrate the glory of South African bubbly on #CapClassiqueDay, Tuesday, September 1, 2020.
Joining fellow producers of fine bottle fermented sparkling wine in this annual celebration of the diversity and splendour of Cap Classique wines, Steenberg gives you a reason to celebrate with an inviting 20% spring special for September.
Perfected by time in the tradition of French Champagne, it takes a minimum of 12 months for the base wine to be transformed into a vibrant Cap Classique. The magic happens during a second fermentation in the bottle where the lively bubbles are created and captured to form a fine mousse, allowing the bubbly to develop its signature yeasty character.
Steenberg 1682 Chardonnay MCC is a richly layered Blanc de Blanc that matures for up to 18 months on the lees (spent yeast cells) to reach its full potential. The result is an alluring Cap Classique with Granny Smith apple, candied lemon rind and white peach wafting from your flute. The palate is lively with zesty acidity layered with lemon cordial, honeyed nectarines, toasted croissant and pistachio.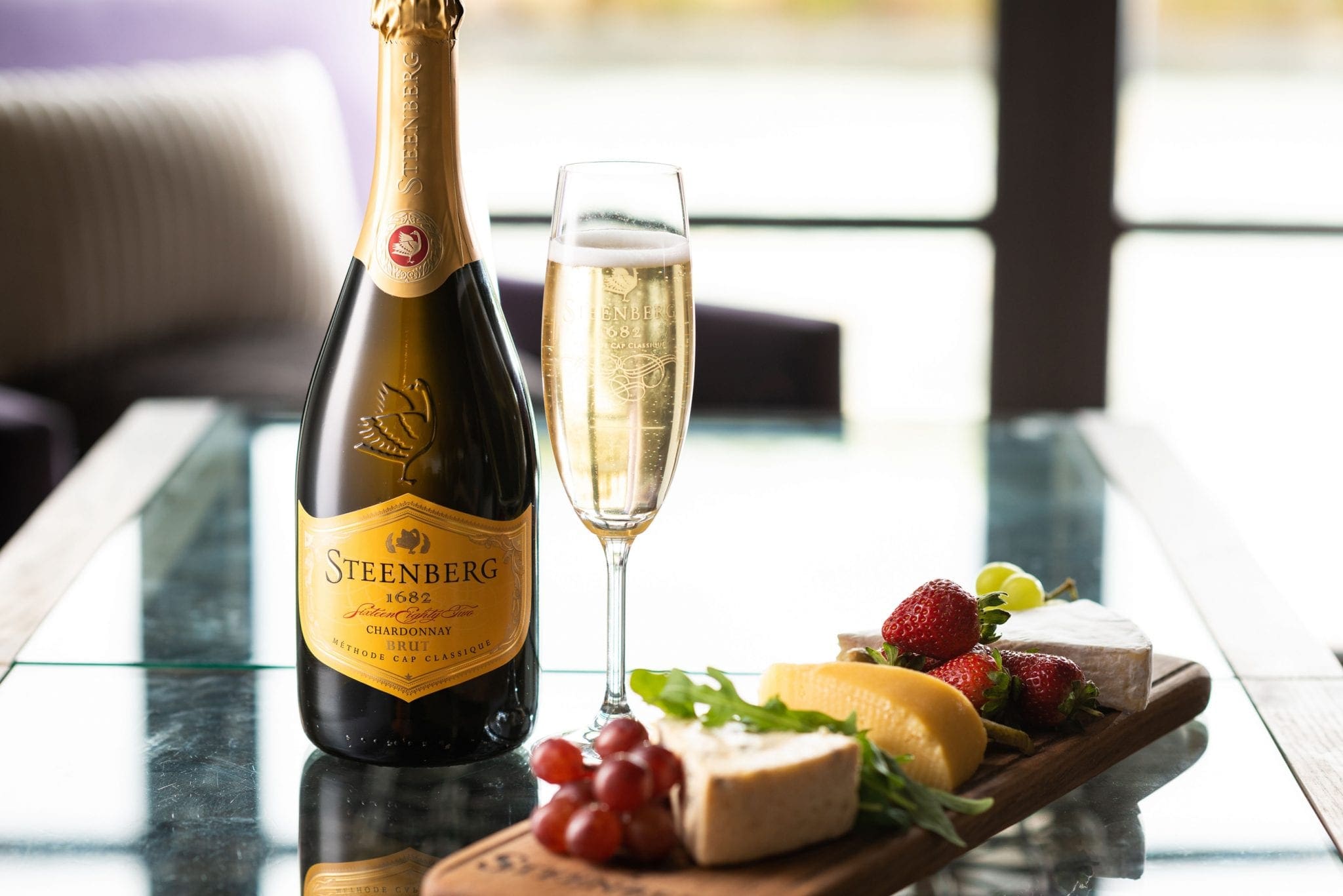 "Our Brut Chardonnay MCC exudes freshness and fruit purity with great finesse and complexity. It's the perfect way to celebrate spring," says cellar master Elunda Basson.
Crowned South Africa's Best Rosé at the 2019 Amorim Cap Classique Challenge, Steenberg 1682 Pinot Noir MCC (pictured at the top of the page) strikes an elegant pose with its blushing hue and beguiling scents of raspberry jelly, wild strawberry sorbet, red apple skin and toasted brioche. Its ultra-fine mousse lifts the raspberry-like aromas and the creamy texture, in perfect balance with bright acidity, lingers long after the last sip.
During September, Steenberg 1682 Brut Chardonnay MCC is available at R152, and Steenberg 1682 Pinot Noir MCC at R196 at the Steenberg tasting room. Steenberg's refreshing Sparkling Sauvignon Blanc is also available at a special spring price of R116. For online purchases, click here.
Cap Classique Day is as good a reason as any to pop open a bottle of Krone Rosé Cuvée Brut… and perhaps try your hand at a classic French mille-feuille for a complementary sweet treat (recipe below), by food stylist, chef and photographer Bianca Davies, specially created to enjoy with Krone Rosé Cuvée Brut.
The wine is salmon-pink. A floral bouquet of rosewater meets the sweet-sour-salty scent of coastal sour figs. Fresh red fruits—pomegranates, cranberries—take centre stage on the full, soft palate, unfolding into candied orange and white-fleshed nectarine. The complexity of the 2018 vintage is on show here; the drought resulted in smaller harvests that culminated in base wines with pure fruit expressions. There's a fragility and elegance to the Pinot Noir. The vivid acidity is cushioned in a fine, creamy mousse, finishing with lingering notes of toasted hazelnuts.
Krone Rosé Cuvée Brut delights in food that favours honest expression; from a simple picnic with slivers of charcuterie, crusty sourdough bread, ripe, melty Camembert. A tug-of-war between density and weightlessness, the structure lends itself to the refined too; salmon with crispy skin crackling and wild black rice to rolled porchetta, and duck with cherries. For a sweet treat, the ultimate pairing is a classic French mille-feuille.
Krone Vintage Rosé Cuvée Brut 2018 is available nationally in select liquor retailers and grocers at approximately R165 per bottle.
Nicolas Feuillatte Champagne has unveiled its latest spring edition of the Réserve Exclusive Brut Rosé inspired by the famous Sakura (cherry blossom) season in Japan. This Rosé Champagne, bursting with red summer fruits, is made in a Brut style and is composed of 45% Pinot Noir for roundness and structure, 45% Meunier for fruitiness and soft, supple character and 10% Chardonnay, for elegance and finesse.
A gorgeous pomegranate pink, and a delicious cavalcade of redcurrant and raspberry notes combined with a hint of strawberries, it is fresh and vibrant with a touch of floral enchantment and perfect for alfresco sipping, for picnics and delicious with Japanese cuisine.
Exquisitely adorned with the delicate pink petals of the iconic cherry blossom set against a beautiful blue sky, Champagne Nicolas Feuillatte Réserve Exclusive Brut Rosé NV retails nationally for around R780.
The mere mention of "rosé champagne" evokes memories of picnics, poolside sipping and warm evenings – sun-kissed, glass in hand and embracing an eagerly awaited new season.
"Rosé has become the Champagne of millennials," said anthropologist Richard Delerins at the 5th International Rosé Symposium (Rencontres Internationales du Rosé) in Marseille in 2019. "Rosé is more than a colour: it is a mode of self-expression that captures the moments of spontaneity and inner truth that are the values of a new generation." Indeed, as the quality and variety have grown, rosé is a style that's been afforded a new kind of respect by champagne drinkers globally, from globetrotting Hollywood actors and social media personalities to fine-wine aficionados.
Contributing to this heightened esteem is the move towards a vinous style that's drier and more terroir-based, making rosé champagne's food pairing potential remarkable. While historically it was regarded as a more frivolous feminine wine, rosé is actually the most "masculine" and gastronomic of champagne styles due to its red wine component. The particular levels of the grapes in the blend will determine other aspects, such as how dry a sip will feel and which food pairings work best – but champagne and seafood always make for delicious pairings.
Moët & Chandon Rosé Impérial is known for its radiant colour, intense fruitiness and seductive palate. It's a spontaneous, romantic expression of the Moët & Chandon style, distinguished by its bright fruitiness, seductive palate and its elegant maturity. Whether you're celebrating at home or popping out and about, this is springtime sipping at its most glamorous. Available from R689.95 at select retailers
Moët & Chandon Nectar Impérial Rosé is a sophisticated sip for rosé champagne enthusiasts. Not shy on the fruity notes, it's reminiscent of a medley of berries (strawberry, raspberry, redcurrant) and peaches. Champagne connoisseurs may also notice subtle notes of menthol. The balanced palate combines structure, smoothness and freshness, boasting a persisting finale with a fresh note of blood orange. Available from R749 at select retailers.
The aroma of fresh red and dried fruits makes Veuve Clicquot Brut Rosé quite the alluring sip. Full bodied and deliciously fruity, with intense flavours of juicy ripe strawberries and cherries, Veuve Clicquot's Rosé is a burst of red fruits and the expression of Madame Clicquot's ingenious and audacious spirit. Available from R749.95 at select retailers.
Serving champagne over ice is sure to garner quite a few side-eyes at your next gathering, but with Veuve Clicquot Rich Rosé, you're encouraged to do exactly that. Created expressly for mixology, it's a bold, versatile champagne designed to allow champagne fans to create their own playful drinking experience. Supported by cellar master Dominique Demarville, specialist mixologists selected ingredients that added a unique twist and magnified the signature notes of the wine. Veuve Clicquot Rich Rosé is best enjoyed over ice with fresh ingredients, including lime, pineapple or ginger. Available from R929.95 at select retailers.
Archives revealed that Ruinart shipped the first rosé champagne more than 250 years ago. The exuberant red-fruit flavours make this rosé champagne one of the finest, even now. Its excellent quality remains the essential feature of the production of this delicate wine to this day. Expect a sophisticated rosé with an intense aromatic profile, perfect to complement dinner in – or out. Available from R969,95 at select retailers.
A bolder expression of its iconic blanc champagne, the 2006 rosé maintains the intensity characteristic of Dom Pérignon, with intriguing aromas of dark spices and candied fruit, and smoky accents. Rose gold, coppery, deep hue. With air, the initially creamy, rich nose gives way to notions of soft, freshly-baked rye crumb and dried blood orange peel. The palate opens with a certain juiciness and fills the senses with its fine mousse. Available from R3999.95 at select retailers.
For the hedonists among us who endeavour to savour every sip and create bold gourmet experiences, Krug Rosé will surprise you, as it replaces a good red wine at the table with brio. Inspired by the dream of the fifth generation of the Krug family to conceive a rosé champagne that did not yet exist, and one that could be re-created each year, it's a delicate blend of wines of the year with wines from selected plots of the House's vast reserve library. This is then completed with traditionally macerated Pinot Noir to add structure and spice and a rest of around seven years in Krug's cellars gives Krug Rosé its refined elegance and character. Available from R4399.95 at select retailers.
CLASSIC FRENCH MILLE-FEUILLE
Ingredients:
500ml full cream milk
5 XL free-range egg yolks
125g sugar
30g cornstarch
30g flour
1 vanilla pod or 1 Tbsp vanilla paste/extract with seeds
350g raspberries
2 x 250g all-butter puff pastry sheets
¼ cup pistachios, roughly chopped
Icing sugar for dusting
Method:
If using a vanilla pod, slice lengthways and using the back of the knife, slide it down the length of the exposed pod to scrape out the seeds. Add both the pod and the seeds to the milk.
In a large saucepan add the milk, roughly a third of the sugar and vanilla. Heat to a simmer.
While the milk is heating, whisk the egg yolks with the remaining sugar in a large bowl until pale and fluffy. Then add the cornstarch and flour. Whisk well to combine.
Once the milk has come to a simmer, remove the vanilla pod if using. Pour a third of the hot milk over the egg mixture in a very slow stream and whisk vigorously until smooth and thoroughly combined.
Pour the egg and milk mixture back into the saucepan with the remaining hot milk and continue to whisk over a medium heat. Cook, whisking constantly, until mixture thickens, being careful not to let it burn on the bottom of the pan. Once the pastry cream starts to bubble cook for another two minutes, then remove from the heat.
Pour pastry cream into a shallow dish and place a layer of plastic wrap directly on the surface of the pastry cream to prevent a skin forming. Leave to cool slightly and then refrigerate until cold.
Make the puff pastry layers: preheat oven to 220°C, and line two baking trays with baking paper. Cut squares of pastry in half to form 3 identical rectangles out of your pastry and place on baking trays. Save the fourth piece for something else like cheese straws or cinnamon sugar twists.
Place another piece of baking paper on top of each tray of pastry rectangles. Place another baking tray on top of the parchment – this helps weigh the pastry down during baking, so it doesn't puff up too much.
Bake the pastry layers for 15 minutes, then remove the top baking sheet and baking paper and bake for 4-5 minutes more, until they are deeply golden brown. If the underside isn't crisp- flip them over and bake until both sides are golden and cooked through. Let cool completely.
Assemble the mille-feuille just before serving.
Whisk the cold pastry cream until smooth again. Add a dot of pastry cream to the serving plate/ board to act as "glue" and put a piece of pastry on top. Generously spread a layer of pastry cream over the pastry and add a layer of raspberries. Scatter with a few pistachios and repeat the stages until you have a three layered showstopper of a dessert. Finish it off with a generous dusting of icing sugar.
Serve immediately with a cold bottle of Krone Brut Rosé.