NEVER mind it being the trendiest spirit of the year, there's something about gin that just makes it the automatic go-to drink on a hot summer's day. This season, the place to do it is at The Gin Dock, a pop-up bar in the V&A Waterfront.
It's a collaboration between three Cape Town distillers: Geometric Drinks, A Mari, and Hope On Hopkins. Here you can learn more about each of the gins – six altogether – with a guided tasting by Raphael Cristini; his brother Jean-Baptiste, who has a background in the wine industry, makes the Geometric. Afterwards, choose a gin and tonic to enjoy on the deck overlooking the yacht basin alongside the Cape Grace Hotel.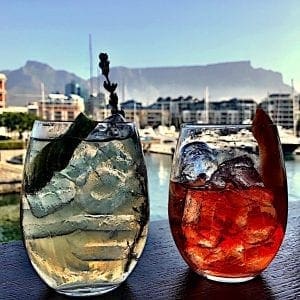 I know the headline here is the gin, but may we take a moment to talk about tonic? It's a horrifying truth that a mixer which is not at all sweet contains the same amount of sugar as cola. This translates to about 32g per 330ml, at 4g per teaspoon. You can do the math from there. I love a G&T as much as the next person, if not more, but tend to avoid them – and cocktails – because of this. Sure, there are low-sugar or sugar-free tonics but they are not the same, and can bring down a perfectly good drink. It's very sad.
But now! Let me tell you about Geometric Drinks' tonic cordial, called Symmetry. Packaged in a sexy 500ml bottle that would not look out of place on an apothecary's shelf, it comes in three botanical flavours – citrus, spice, floral – and is available at good bottle stores or online. Raphael says to mix it one part cordial to one part gin, and top up with soda water. At a quarter of the of the sugar content of regular tonic, this is a game changer. It's wonderfully refreshing just on its own, and sublime in the glass with gin.
Geometric gin is distilled from Mullineux wine, with juniper berries of course, and base botanicals including cassia bark, coriander, citrus, pelargonium, kapokbos (snow bush) and a "big mix" of other different herbs. No one's ever going to tell you their secret recipe. Hope On Hopkins has three gins in its range – London Dry, Mediterranean, and Salt River, a unique spirit which reflects its origins. A Mari stands apart from the rest by being distilled with Atlantic Ocean water and enhanced with botanicals from that coastline, and a new one from the Indian Ocean side was launched this month. The bottle didn't even have a label on it yet.
Tastings are by request, so give Raphael a call to book one. There are six gin and tonics on the menu, as well as martinis and Negronis, and a cocktail of the week. While the gin and tonic combinations are recommended, you can mix and match according to your taste if you prefer.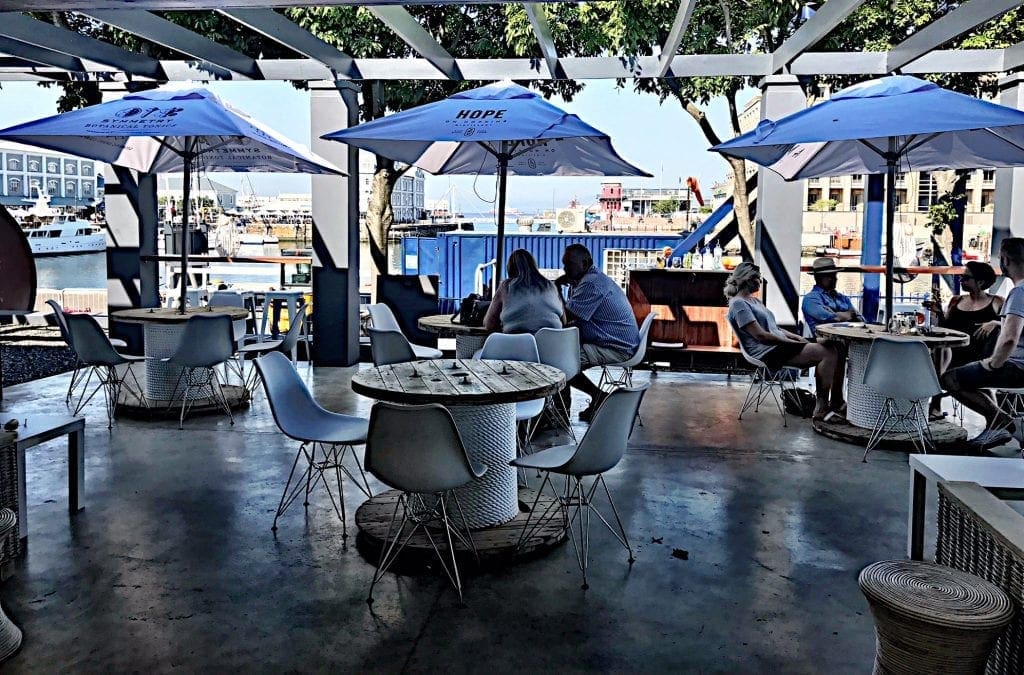 WHERE: Scheryn Pavillion, Bascule Bridge, V&A Waterfront
WHEN: daily until the end of February, 2018
CONTACT: call 064 897 9287 or click here.
PHOTO CREDIT: BIANCA COLEMAN