SPECIALTY Scotch whisky producer Bunnahabhain has been awarded the coveted Cask Strength Scotch Whisky Trophy for its 18-year-old single malt at the 2017 International Wine & Spirits Competition (IWSC) in the United Kingdom.
The whisky was also the best performer in the category of unpeated single malt Scotch of 18-25-year-old with cask strength of 45% and more, to bring home a double gold medal.
Bunnahabhain's 25-year-old single malt earned a gold medal.
The Islay distillery's ensemble of hand-crafted single malts has captivated palates the world over for many years. Other recent accolades include a double gold medal for its 25-year-old and gold for its 12-year-old malts at the San Francisco World Spirits Competition earlier this year. The 12-year-old also took gold at the 2017 World Whisky Awards.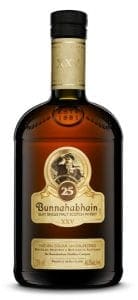 These awards come as no surprise, considering the exceptional quality and taste profile of these exclusive and rare whiskies, hand-made with the utmost attention to detail.
Bunnahabhain (pronounced Bŭ-na-ha-venn) is the only producer of single malts on the island of Islay, off the west coast of Scotland, to use a natural spring water source in the production of its malts. The Margadale river that flows deep underground, untainted by the peaty moors on the island, enable the distillery to make lighter-flavoured, unpeated single malt whiskies.
Honouring tradition, Bunnahabhain, founded in 1881, has returned to the original un-chillfiltered way of making whisky. Says Kirstie McCallum, master distiller and blender of Bunnahabhain: "That's how it was done by our predecessors many years ago. We have revived the technique in appreciation of their craft, which creates whisky in its purest form with a full depth of colour, aroma and flavour, thereby enhancing the enjoyment for the connoisseur."
For more information on Bunnahabhain, click here.